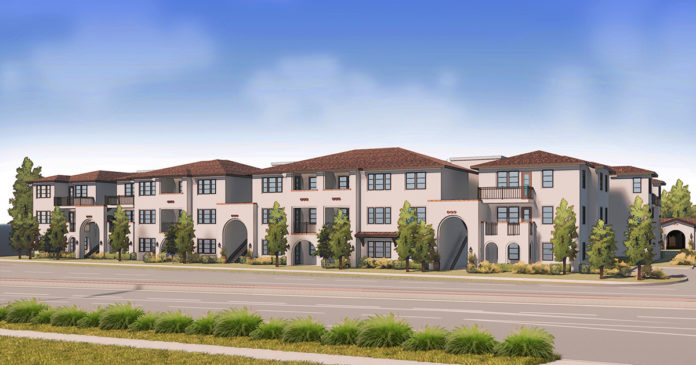 JEMCOR Development Partners today announces the groundbreaking for Ageno Apartments, a 171-unit, mixed-income, transit-oriented development located at South Vasco Road and Brisa Street in Livermore, Calif. Ageno Apartments marks the final construction phase in the master-planned "Vineyard Crossing," a 34.5-acre community of 465 single-family homes, townhomes and apartments originally entitled by SummerHill Homes and built by KB Homes.
As a developer specializing in market-rate, affordable and mixed-income housing, JEMCOR purchased the five-acre site from SummerHill Homes in September 2016 and took on the responsibility of satisfying the inclusionary housing requirement for the community by incorporating affordable units within the 171-unit development. While plans originally called for 85 percent of those units to be market-rate and the remaining 15 percent to be affordable units, JEMCOR opted to increase the total number of affordable units to 20 percent in order to utilize specialized financing that includes low-income housing tax credit equity, tax-exempt bond proceeds and a first-of-its-kind, construction-to-permanent loan from Citi Community Capital completed in conjunction with Freddie Mac's newly launched "LIHTC Enhancement" program. The deal will result in 35 apartments permanently affordable to very low-income families earning up to 50 percent of Alameda County's area median income (about $52,150 for a family of four).
"Ageno Apartments will be Livermore's first large-scale, newly-built apartment community in nearly 25 years," said JEMCOR President Jonathan Emami. "We're very happy that it will also help provide critically needed rent relief for very low-income families and individuals in the San Francisco Bay Area, where housing costs continue to rank among the highest in the nation."
"We are proud to work alongside our developer partners to help solve California's affordable housing crisis, one project at a time," said Jay Abeywardena, director, Citi Community Capital.
Transit-oriented development sits on Silicon Valley commuter rail corridor
Located adjacent to the Altamont Corridor Express (ACE) Vasco Road commuter rail station, Ageno Apartments residents will have quick access to weekday trains serving Silicon Valley with stops in Pleasanton, Fremont, Santa Clara and San Jose. In addition, residents will have access to buses with direct service to the Dublin Bay Area Rapid Transit (BART) station. The Ageno property is less than three miles from two world-renown research and development facilities: Lawrence Livermore National Laboratory and the California campus of Sandia National Laboratories.
Designed by award-winning KTGY Architecture + Planning, the development will consist of four, three-story residential buildings and a single-story clubhouse. The project will incorporate a number of "green" features such as solar photovoltaic systems covering the energy usage in common areas and drought-tolerant landscaping to help ensure long-term energy efficiency and sustainability. The one-, two- and three-bedroom units will have Energy Star appliances, energy-efficient lighting, low-flow faucets and toilets, walk-in closets and storage closets. Residents will have access to a host of resident services and amenities including parcel lockers and delivery service, a fitness center, swimming pool, spa, green space, outdoor barbecue areas as well as connections to two neighborhood parks and pedestrian paths. The development, which is located less than a mile from Interstate 580, will have 282 covered parking spaces. FPI Management will provide leasing and property management services.
Financing for the approximately $60 million development includes a $45 million loan from Citi Community Capital, the project's construction and permanent lender. Alliant Capital, Ltd., syndicated the tax credit equity. Pacific Housing, Inc., and Lyon Street Interests are partners on the project, and the general contractor is JEMCOR Construction Partners, Inc. Construction is expected to take about 22 months, with lease-up beginning in the summer of 2019.
---
About JEMCOR Development Partners, LLC
JEMCOR Development Partners, LLC, along with its in-house general contractor JEMCOR Construction Partners, Inc., is a vertically integrated real estate developer focused on the acquisition, development and construction of market-rate, affordable and mixed-income apartment communities throughout California. JEMCOR is based in San Mateo, Calif.