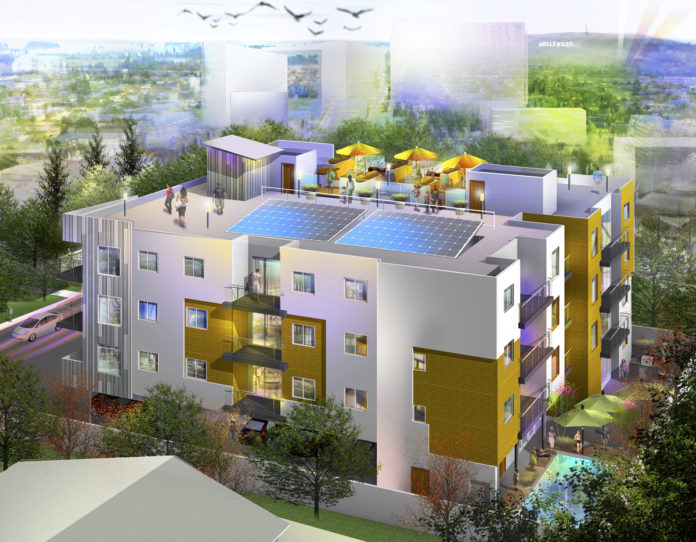 Strategic Legacy Investment Group, Inc. (SLIG), a Los Angeles-based private placement investment firm primarily focused on real estate development, announces that it has commenced demolition of existing properties for the construction of a new multifamily development called The Reality @ Tamarind North. SLIG is celebrating the occasion with a groundbreaking ceremony on the property on Sunday, March 25th from 2:30 PM – 5:00 PM.
Located at 1432 & 1436 Tamarind Avenue, just north of Fountain Avenue, the site for the new project is the result of a two-lot assemblage that measures 13,000 square feet. Prior to the demolition, a duplex and a triplex structure occupied the site.
The Reality @ Tamarind North will consist of 21 two-bedroom, two-bath units, which will be available for lease as of June, 2019. SLIG's subsidiary, Strategic Legacy Management Corp, will be handling the marketing and leasing. Architect Babak Azimi designed the new complex, which will be built by Burrell Construction, led by George Robles, along with senior project manager, Emanuel Sabet. The project's amenities include smart home technology, a media room, secured subterranean parking, solar rooftop panels, bike stations, indoor/outdoor rooftop lounge, ground level pool and lounge area, BBQ area and electric car charging stations. In addition, residents will get private access to all amenities located at the future "sister" multifamily development, called The Reality @ Tamarind South, which will contain 32 units.
With a Walk Score of 83, the property is centrally located within blocks of all that Hollywood has to offer, including The Dream Hotel, ArcLight Theatre, W Hotel, Emerson College, Netflix Corp Headquarters, Sunset Bronson Studios, and numerous amenities, designer stores, restaurants and Hollywood's famous nightclubs. In addition, this project is only two blocks away from two Metro Redline stops.
SLIG is an active investor and developer in the Hollywood market. The Reality @ Tamarind South is part of a six-property multifamily portfolio with an estimated total value of $72 Million. Four of these are currently being developed by SLIG within a mile of this project. The total SLIG portfolio is now valued at an estimated $270 Million.
Commenting about developing The Reality @ Tamarind North, Abraham Mehrian, President and Chairman of SLIG, said, "In this housing crisis, it is gratifying to know that we have removed a duplex and triplex with substandard units and are replacing them with 21 units in a new complex, thereby improving the quality of life deserved by the residents of Hollywood."
Added Emanuel Sabet, Senior Project Manager of SLIG, "To me, overseeing four simultaneous multifamily projects in Hollywood is not only a great honor but also a great responsibility. With many new developments in Hollywood and particularly on Tamarind Street, we felt it was important to deliver a product that was a bit more elegant and well-designed, with the latest in technology and amenities."
---
ABOUT STRATEGIC LEGACY INVESTMENT GROUP, INC.
Based in Downtown Los Angeles, SLIG brings together experts from diverse investment fields to help their distinguished investors and partners achieve their unique financial objectives through strategic investments. SLIG combines traditional values with great passion, leadership, integrity and a critical vision to reach its primary goal of maximizing the profits of each innovative investment project.
SLIG's real estate operations include the development of four multifamily projects in Hollywood, one in Ladera Heights, and three Seniors Housing communities in San Diego's prominent Vista, Encinitas and Carmel Valley neighborhoods. SLIG also owns its corporate headquarters property, known as the Downtown Executive Multiplex, a four story mixed-use office/retail building located in the heart of the world famous Fashion District in Downtown Los Angeles.
In September 2015, the SLIG Charitable Foundation was established to give back to the communities where it develops properties. It is a 501(c)(3) non-profit organization, compassionately committed to giving back to the community at large by promoting social welfare and supporting other non-profit organizations, with an emphasis on enriching the health, education, and overall well being of all people. With that said, The SLIG Charitable foundation donated all proceeds raised from the groundbreaking ceremony of The Reality @ Tamarind South to the Le Conte Middle School, located a block from this development project and will do so again with the upcoming groundbreaking of the Reality @ Tamarind North.