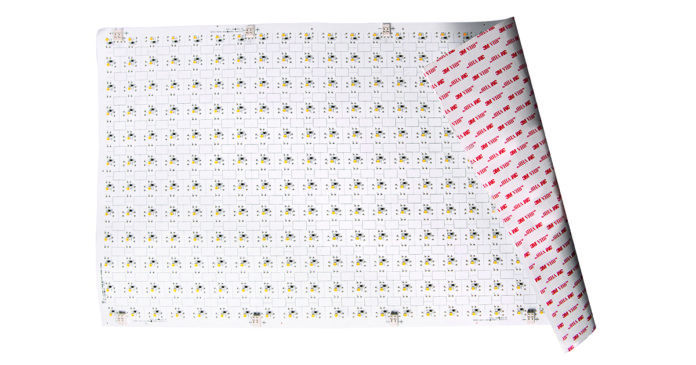 WAC Lighting introduces Pixesl for tailored architectural lighting solutions in multi family buildings. Pixels is unlike anything else– easily specifiable, scalable and modifiable in the field, imaginatively extending boundaries of what can be evenly illuminated through flexible, modular, customizable LED sheets.
Pixels illuminate virtually any surface with a flexible paper thin, modular and scalable product. Uniquely versatile, Pixels can backlight architectural features and signage or can be applied to stone, acrylic, glass, mica and other fine materials to extend the boundaries of what can be illuminated imaginatively on  ceilings, walls, floors and other surfaces in any shape or size.
Pixels allow you to tailor architectural lighting solutions with flexible, modular customizable 12″ x 24″ LED sheets. Its lightweight, ultra-thin 1/8″ profile, which is space on 1-inch center, easily mounts to curved or flat surfaces by tacking, stapling or using 3M adhesive on the back. Pixels is unlike anything else– easily specifiable, scalable and modifiable in the field, extending boundaries of what can be illuminated. Push-in connectors are located every 6″ to provide power on either side, and you can create unusual shapes or avoid obstacles by cutting along the dotted lines in the field. It's the future of fixture-free lighting.
Pixels is 24V DC powered by daisy chaining with integral push-in connectors or power from any square at soldering points provided. The luminaires are 0-10V dimming while delivering a 90 CRI and even illumination of translucent surfaces from as little as 1½ inches behind.
Five color temperatures are available: 2700K, 3000K, 3500K, 4000K and 5000K. Pixels can provide up to 1,000 lumens per square foot.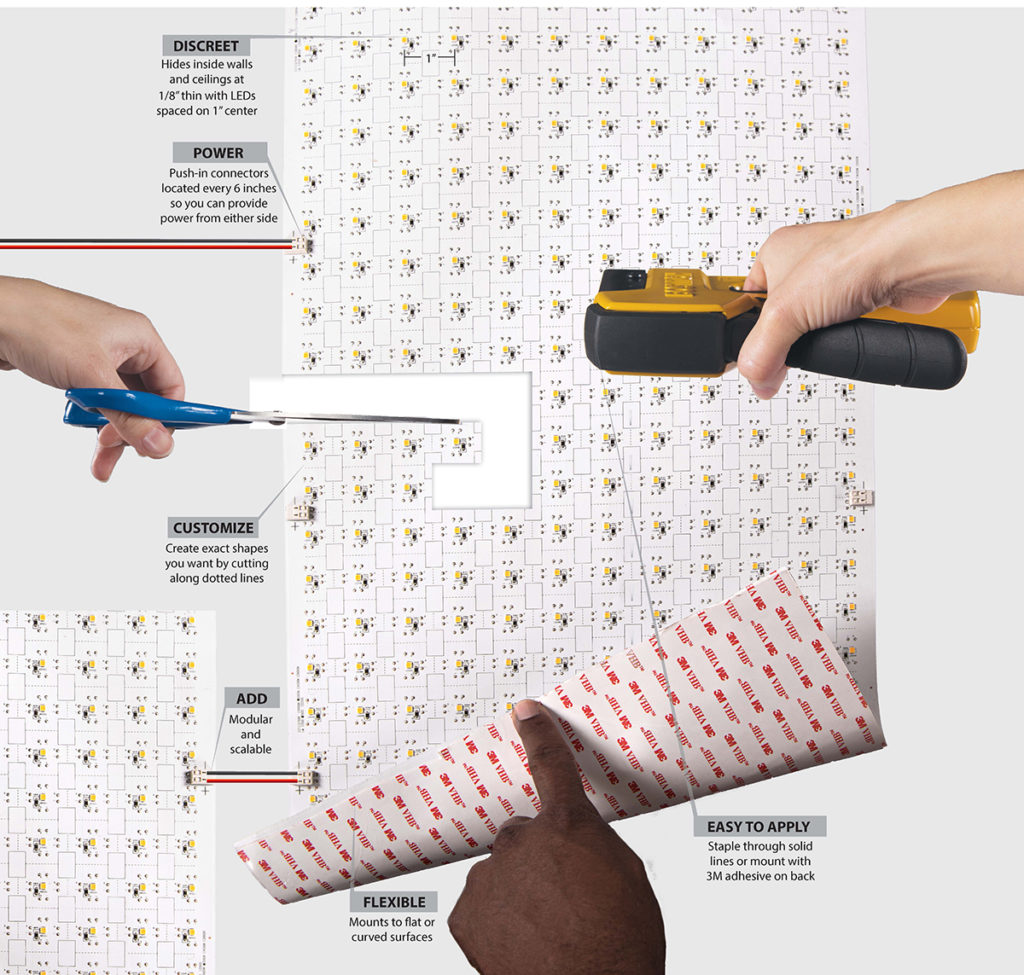 ---
About WAC Lighting
WAC Lighting believes that a key part of being a Responsible Lighting company is to provide a product offering that is progressive in both design and technology. Groundbreaking innovations in LEDs, materials engineering and creative optical design are paving the way for endless possibilities. With over 100 engineers on staff across four factories in the US and China, WAC puts creative and forward thinking minds behind solving the most challenging lighting needs with lighting technologies. All designs are thoroughly tested in internationally recognized NVLAP, UL and ETL certified testing laboratories for safety, durability and robust long-term performance far beyond required standards.
With over 1 million square feet of fabrication and manufacturing capabilities, WAC offers an industry-leading infrastructure that turns concepts into fast to market products. But above all WAC is a company that cares about employees, products, and reputation and clients. As a family owned business WAC chooses to manufacture products responsibility with zero landfill impact and help to preserve the planet for our children and grandchildren. Its merit-based mission is to build the most respected lighting company and be a shining example of American ingenuity.
WAC Lighting Global Headquarters is located in Port Washington, New York, with Factories in New York, Ontario, California, and Atlanta, as well as China.