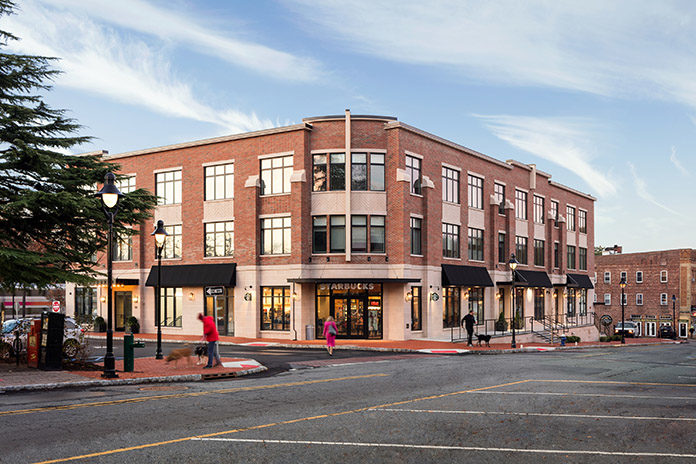 JMF Properties announced today that Clarus Maplewood, the boutique residential community right next to the Maplewood train station, is now 100 percent leased.
Clarus Maplewood opened last summer as the first residential community in New Jersey designed for WELL certification. WELL-certified buildings are designed to maximize residents' comfort, health and wellbeing to the standards of the International WELL Building Institute™. Certified WELL Multifamily Residential buildings create an environment that helps improve resident sleep patterns, nutrition, fitness and mood.
From the moment the project was conceived, JMF Properties decided to pursue WELL certification. Luxury renters embraced the concept. Clarus leased at a steady pace due to its convenient location, beautiful interior spaces and unrivaled dedication to resident health and wellness.
The building's street-level retail also leased quickly. Starbucks, BCB Bank, Abby Haliti Salon, and The Cassidy Bar + Kitchen have all opened at the community.
"We are extremely proud of the one-of-a-kind community we have created here at Clarus Maplewood, and we are happy to announce its lease-up," said Joe Forgione, the Founder and Principal of JMF Properties. "Our residents enjoy a lifestyle that is unlike any other offered in New Jersey, with an intense focus on improving resident health and wellness, all in a commuter-friendly location in one of New Jersey's most beautiful and highly-desirable downtown settings."
Clarus is located on Maplewood Avenue in Maplewood Village, among the community's many boutique shops, restaurants and sidewalk cafes. The train station is just steps away, whisking commuters to and from Manhattan in about 35 minutes. Residents enjoy Maplewood's high walkability score, with destinations such as Kings food market and the Maplewood Theatre right across the street.
Clarus means "clear" or "bright" in Latin, and its namesake ambience is evident throughout the property. It offers a balanced lifestyle with light-filled residences, exquisite finishes and appointments and a curated collection of amenities. Spacious residences feature such high-end finishes as Jenn-Air and Whirlpool appliances and Quartz countertops.
All Clarus residents have access to a full suite of amenities including a WELL studio with a state-of-the-art fitness center, yoga and spin, resident lounge, billiards, and a beautifully-designed luxe lobby with double-sided fireplace. A digital, fitness-on-demand personal trainer is also available 24 hours a day in the virtual fitness room. The distinctive three-story Clarus building includes a parking garage with an electric car charger, personal storage space for residents and elevator service.
WELL certification is an active standard, with thorough annual evaluations by inspectors. Fewer than 300 buildings worldwide have been certified by WELL, and only a small handful are residential buildings.
"The first residents of our community have wholeheartedly embraced everything that makes Clarus special," Mr. Forgione said. "We have set the highest of standards and are actively committed to maintaining them day-in and day-out for many years to come."
---
About JMF Properties
Under the leadership of Joseph M. Forgione and his 20 years of experience in the industry, JMF Properties has developed a reputation for creating residential, retail and mixed-use communities of lasting value in some of the state's most desirable locations. Mr. Forgione has developed more than 2,000 residential units and multiple commercial and retail properties during his career, with more than a dozen current projects in various stages of approval or construction, ranging from transit-oriented developments to urban and suburban retail centers to sprawling office parks.
As a former long-time Commissioner of the New Jersey Sports and Exposition Authority and a member of the New Jersey Civil Engineers, Mr. Forgione understands the unique responsibilities and needs of all stakeholders involved in the development process, including local government officials, architects, construction managers, investment partners, community members and end users. This holistic approach to development has been vital to JMF's success, allowing the company to identify under-valued assets, forge strategic partnerships, and develop dynamic residential and retail properties that enhance their host communities.