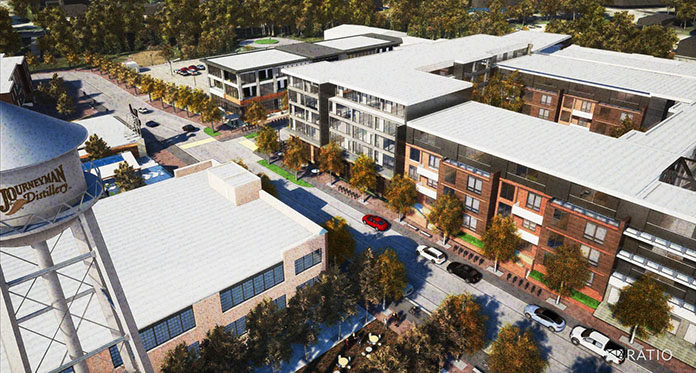 Flaherty & Collins Properties has been selected by the City of Valparaiso to negotiate and develop a proposed $120 million mixed-use, transit-oriented project that will include over 500 apartments and 12,000 square feet of retail and restaurant space at the site of the former Anco factory. Journeyman Distillery, based out of Three Oaks, Michigan, will serve as the anchor tenant. As part of the construction, Journeyman would rehab a nearly 130,000 square foot office building. The project also includes 25,000 square feet of commercial office space.
"We are excited to be selected by the City of Valparaiso to work with them on this project that will have tremendous impact on the city and its residents," said Brian Prince, Vice President of Development for Flaherty & Collins Properties, who will serve as the project's lead developer. "Having Journeyman as a part of a team is a wonderful component to this project, and we're looking forward to getting started."
Journeyman plans to restore and repaint the water tower at the site, and this second location for the distillery would include a hotel, restaurant and banquet facilities.
Ed Duda, a Construction Project Executive with Flaherty & Collins Properties, will be a project partner and will oversee construction of the development. Duda, who recently completed the 28-story, mixed-use 360 Market Square project in downtown Indianapolis, is a 30-year resident of the Valparaiso area.
"It is exciting to work on a project in my home area, especially one this unique with the distillery aspect," said Duda. "This is really going to be a fantastic project for the City and its residents, and we're ready to go."
The project is expected to break ground in late spring or early summer next year.
---
About Flaherty & Collins Properties
In business since 1993, Indianapolis-based Flaherty & Collins Properties is an award-winning developer, builder and manager of mixed-use, multifamily properties, with over a half-billion in projects under development in Indianapolis, Chicago, Cincinnati, St. Paul, Kansas City, Tulsa, Kokomo, New Albany, Brownsburg, Elkhart, Mishawaka and Washington, D.C. Flaherty & Collins Properties current manages nearly 120 properties and over 17,600 units in 12 states.