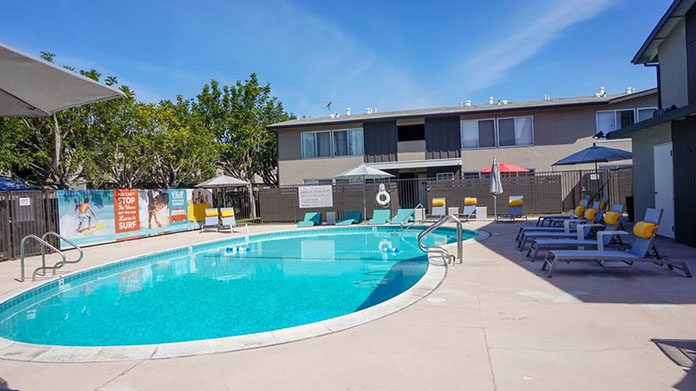 Marcus & Millichap, a leading commercial real estate investment services firm with offices throughout the United States and Canada, has announced the sale of Vio Costa Mesa, an 84-unit multifamily property in Costa Mesa, Calif. The asset sold for $28 million, which equates to $333,333 per unit.
"Client benefits of the exchange include obtaining a larger, newer property in a superior location and increasing potential annual gross rental income by 96 percent," says Tyler Leeson, senior managing director investments in Marcus & Millichap's Newport Beach office.
Leeson, Kurt Hediger, senior associate and Matt Kipp, vice president investments, represented the buyer and arranged the sale of a 54-unit apartment asset in Westminster, California in phase one of the exchange. Michael Derk, senior managing director capital markets and Nick Gray, associate director, both with Marcus & Millichap Capital Corp. (MMCC), arranged $14,715,000 in acquisition financing for the purchase of Vio Costa Mesa. The debt placement was structured on a nonrecourse basis with four years of interest only and a $2 million post-closing earnout.
"Year-over-year rent growth continues to trend upward in Westside Costa Mesa and multi-housing stock keeps increasing in value," comments Hediger. "Vio Costa Mesa's sales price and potential for revenue growth demonstrate the strength of this submarket."
Built in 1973, Vio Costa Mesa is currently under renovation. The property sold in "as is" condition after a 14-day due diligence period.