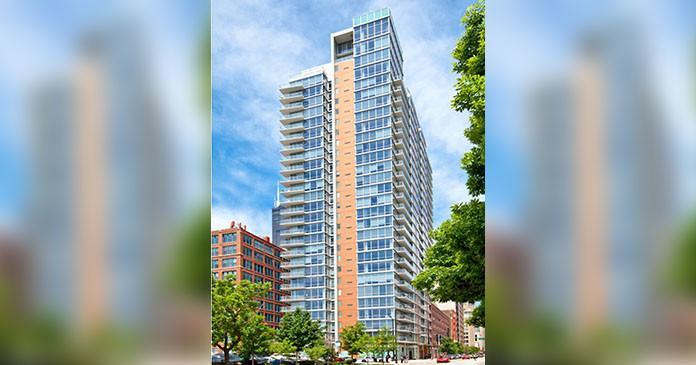 Chicago-based Draper and Kramer, Incorporated, along with equity partner Intercontinental Real Estate Corporation, has expanded its Chicago-area portfolio with the acquisition of Burnham Pointe, a 28-story, 298-unit rental building in Chicago's Printers Row neighborhood. The off-market transaction was brokered by the Chicago office of HFF. Terms of the acquisition were not disclosed.
Located at 730 S. Clark St., Burnham Pointe includes a mix of large one- and two-bedroom units and a 255-stall parking garage, as well as 14,391 square feet of ground-level retail and restaurant space. The property's location in the sought-after Printers Row neighborhood offers residents a walkable lifestyle with many nearby shopping and dining options as well as easy access to Chicago's financial district, the Loop, South Loop, Grant Park, Millennium Park and Museum Campus. Additionally, the building is a short walk from multiple CTA stations.
"With its location in the heart of Printers Row, which continues to be a vibrant, sought-after area thanks to its eclectic, urban vibe, proximity to downtown employers, and strong renter demographics, Burnham Pointe presented an ideal investment opportunity to expand our Chicago portfolio," said Blas Puzon, senior vice president of acquisitions with Draper and Kramer, one of the leading privately held, full-service real estate firms in the United States. "And while the building is in great condition thanks to its solid construction, it also offers the opportunity to add value through updates to common areas and improvements to retail curb appeal."
Completed in 2008, Burnham Pointe offers apartments ranging from 735 to 2,256 square feet, including a selection of one- and two-bedroom ultra-luxury penthouse residences on the 27th and 28th floors. Units feature generously sized open layouts with floor-to-ceiling windows, 10-foot ceilings, well-appointed kitchens, and washers and dryers. Additionally, all units include hard surface countertops, wood floors and oversized balconies.
"Burnham Pointe was originally constructed as a condo development before being transitioned to rental following the real estate downturn, so the asset possesses certain physical advantages relative to its competitors," said Puzon. "This made it especially appealing to us from an investment standpoint, because we can modernize and improve upon its solid bones to offer renters the best value proposition in the neighborhood."
Draper and Kramer's renovation plans entail reprogramming the property's current on-site amenities, which include an indoor aquatic area with resistance pool, spa and sauna; fitness center; business center; outdoor terrace; club lounge with demonstration kitchen; and pet run.
"We've evaluated the current amenity offerings and will be retooling them based on our own expertise and research into how residents really use these areas," said Puzon. "For example, knowing that pet-friendly amenities are a high priority for today's renters, we plan to expand and relocate the existing dog run by taking advantage of underutilized space in the parking garage."
Peter Palandjian, chairman and CEO of Intercontinental Real Estate Corporation, commented, "We are thrilled to partner with Draper and Kramer for this acquisition. It is the start of a wonderful relationship. We have seen excellent returns in the Chicago area, a niche that our team knows very well."
As part of the acquisition, Draper and Kramer, which provided third-party management for Burnham Pointe from its original lease-up until it was sold in 2010, will again assume management of the property. The firm's residential management division currently has a portfolio of more than 10,000 rental units across Chicago, St. Louis, San Antonio and Minneapolis, as well as 25,000 condominium residences throughout Chicago.
---
About Draper and Kramer, Incorporated
Founded in 1893, Draper and Kramer, Incorporated, is celebrating 125 years as a trusted financial and property services provider with a deep commitment to people, excellence, service and integrity. Family-owned and one of the leading privately held real estate services firms in the U.S., Draper and Kramer is headquartered in Chicago with a national reach and broad offering of services. The company's decades-long heritage has evolved over the years to meet the needs of its clients and today spans expertise in residential and commercial development, acquisition, property management and leasing; debt and equity financing for commercial properties; and residential mortgage services through affiliate Draper and Kramer Mortgage Corp. Draper and Kramer provides a single source of real estate-related counsel to a diverse group of real estate investors across the U.S including corporations; private and institutional owners and users of real estate; government agencies; condominium associations; and foundations.
About Intercontinental Real Estate Corporation
Intercontinental Real Estate Corporation is an SEC Registered Investment Adviser with decades long experience in real estate investment, finance, development, construction management and asset management. Since 1959, Intercontinental Real Estate Corporation and its affiliates have managed, developed, or owned collectively over $10 billion in real estate property. Today, Intercontinental Real Estate Corporation manages a real estate portfolio of approximately $7 billion for its clients. The Intercontinental Real Estate Corporation portfolio is diversified both by robust property mix and by geography. Fund strategies actively seek opportunities to invest in both Core and Core-Plus properties, as well as in Value-Add operating properties and development projects.