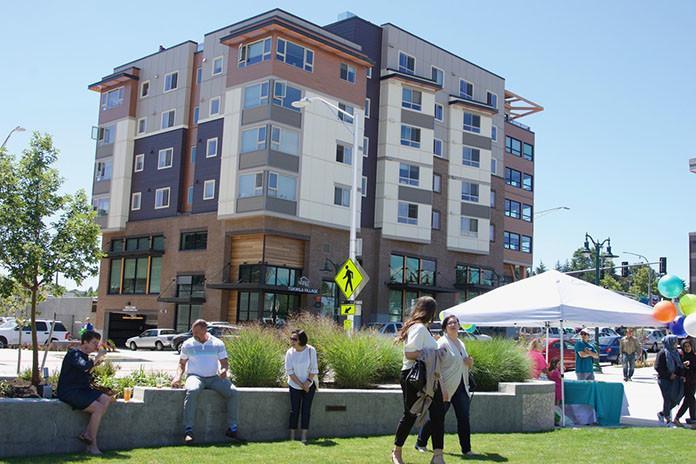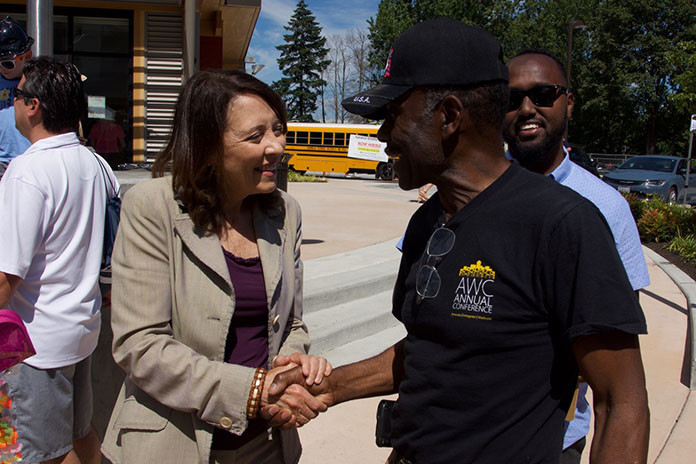 Sustainable Housing for the Ageless Generation (SHAG) and the City of Tukwila recently held the Tukwila Village Community Celebration to commemorate the culmination of a 20-year vision by the City of Tukwila to transform a formerly challenged stretch of Tukwila International Boulevard into a vibrant community. This festive and inclusive gathering marked the opening of Tukwila Village Phase 1, which brings two new state-of-the-art buildings encompassing 193 income qualified senior apartment homes to the region, a new library by the King County Library System, a community plaza and cafe.
At the event, dignitaries speaking included long-time affordable housing advocate U.S. Senator Maria Cantwell, Tukwila Mayor Allan Ekberg, Lisa Rosenblum, executive director of King County Library System, and Bryan Park, CEO of Pacific Northern Construction Company, project developer. The official program was held at the Tukwila Village Plaza, and was bracketed by musical performances, cuisine from many cultures, tours of the new senior apartments, and tabling by local community-based organizations offering fun family activities.
Phase 1's launch represents the culmination of a 20-year vision by the City of Tukwila to transform a formerly challenged stretch of Tukwila International Boulevard. When Tukwila asked SHAG to become its development and revitalization partner in 2011, a long-awaited effort to improve the quality of life for Tukwila residents began its path to fruition. The Washington State Housing Finance Commission (WSHFC), the statewide agency overseeing the federal Low-Income Housing Tax Credit (LIHTC) program, played a critical role in this undertaking. It is because of this federal program that SHAG can build affordable housing for older adults with low-to-moderate income levels. As rents throughout the region continue to sky-rocket, the vital necessity of the LIHTC program grows increasingly evident.
"As one of the largest affordable housing developments for seniors in Washington state, the Tukwila Village project is yet another success story of the Low Income Housing Tax Credit. By combining for the first time affordable senior housing, health care, a library, community plaza and cafe, Tukwila Village will help bring economic revitalization to this neighborhood," Senator Cantwell said. "LIHTC has built 90 percent of affordable housing in our country, and the expansion I passed this spring will enable our state to build 20 percent more affordable housing developments, like Tukwila Village, in 2018 alone."
While senior housing stands as the cornerstone of Tukwila Village, its spacious, six-acre campus features wide-ranging resources to enhance the lives of residents and neighbors, while striving to foster authentic community. These amenities include the Sullivan Community Center, that will offer intergenerational programs, job trainings, multicultural arts experiences, and many other needed programs and services.Kona Kai Coffee Company, a non-profit organization, under the same roof as the Sullivan Center teaches underserved youth and adults food service skills, while offering customers specialty beverages and light meals. An art-filled plaza, reminiscent of an Italian palazzo, surrounds this central building, and a new KCLS library branch is just steps away.'
"SHAG's 30-year commitment to providing quality accessible homes, and to fostering dynamic, vibrant communities that support older adults and people with disabilities to successfully age in place, remains our foremost priority," said SHAG Executive Director and CEO, Jay Woolford. "And we are deeply proud of having joined forces with the City of Tukwila to engage in the critically important neighborhood revitalization work which the construction of Tukwila Village advances. We're excited to celebrate this achievement with Tukwila's extraordinarily diverse community."
The first senior apartment building of Phase 1 opened in May 2018.  The second building of Phase 1 will open in August, and is already 40% pre-leased. Phase 2 of Tukwila Village Construction will begin in fall 2018, offering a third and fourth SHAG senior residential buildings. Scheduled for completion in 2020, Phase 2 buildings will offer market-rate and affordable apartments. Upon its completion, Tukwila Village will also include an innovative mini-food hall and small business incubator, managed by the non-profit Food Innovation Network; small retail businesses; and a total of 398 apartments (primarily for seniors). As a transit-oriented community, Tukwila Village is located within 10 minutes of downtown Seattle and 5 minutes to SeaTac Airport. It is served by two active bus routes, and walkable to the Tukwila light-rail station. The neighborhood around Tukwila Village boasts parks, a public swimming pool, a performing arts center at Foster High School, a grocery and pharmacies.
Tukwila Village Senior Living is intended to serve older adults of varying income levels. Each member of the resident's household must be at least 55 years old, and at least one member of the household must be at least 62 years old or disabled.
---
About SHAG
Sustainable Housing for Ageless Generations (SHAG) is a private Washington State non-profit corporation dedicated to providing quality, affordable independent living opportunities for older adults. It operates nearly 30 tax-credit communities licensed by the State of Washington to provide affordable senior housing. In addition to promoting sustainable apartment lifestyles for older adults and people with disabilities, SHAG's mission is to enhance and enrich residents' lives and support their ability to live and remain independent as they age. Formed in 1988, SHAG has become the largest operator of affordable senior living communities in the State of Washington, and one of the nation's largest providers of affordable senior living communities. SHAG serves nearly 6,000 residents throughout the Puget Sound region.