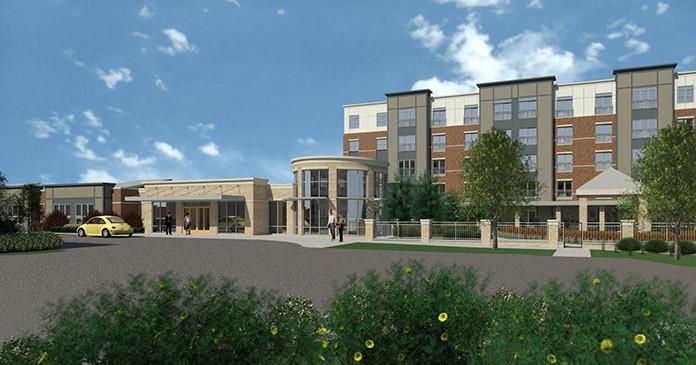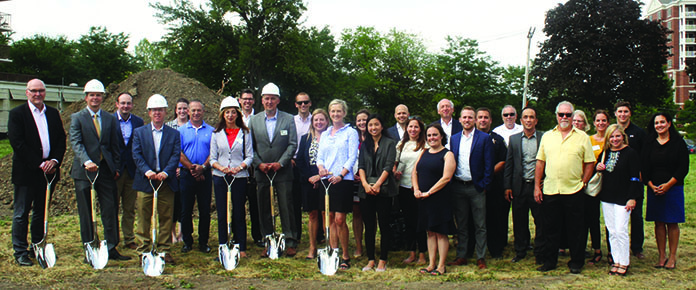 Pathway to Living, a Chicago-based developer, owner and operator of senior living communities, today announced the start of construction on Aspired Living of La Grange, a 116-unit assisted living and memory care community in La Grange, Ill.
Scheduled to open in January 2020, the five-story community at 35 Shawmut Ave. will offer 84 assisted living apartments and 32 memory care studios adjacent to the 17-acre Gordon Park. Principals from Pathway to Living and general contractor The Opus Group joined La Grange Village President Tom Livingston, other village officials and future residents of the community at a ceremonial groundbreaking held at the site on Aug. 2.
"Aspired Living of La Grange meets the growing need for modern residences and best-in-class care in the La Grange and Western Springs area," said Maria Oliva, chief operating officer of Pathway to Living, which will own and operate the community. "Our signature VIVA! lifestyle will provide limitless opportunities for purposeful living, recreation, education and socialization in a setting that allows longtime residents of Chicago's western suburbs to remain close to family and friends."
Assisted living residences at Aspired Living of La Grange will include a mix of studio, one- and two-bedroom plans, each with one or two baths. Apartments will feature kitchens with granite countertops and stainless steel appliances, private bathrooms with walk-in showers, large closets and a separate dining area adjacent to the kitchen and living room.
Residents will also have access to a full suite of amenities that serve as an extension of their homes. Featuring interiors by renowned Arizona-based senior living design firm Thoma-Holec Design, the community's common areas include a bistro/wine bar; community life room with demonstration kitchen; movie theater; art studio; restaurantwith all-day dining; and salon and spa. On-site wellness amenities include a therapy and fitness center, physician consultation area, and landscaped outdoor courtyard with walking paths.
Pathway to Living's award-winning VIVA! culture will guide residents toward accomplishing their life's goals, whether it be through daily engagement in and outside the property, or by exploring various social, educational and recreational pursuits. For example, residents might sign up for a yoga class one day, go golfing the next, and volunteer to support a local charity another day.
"We ensure residents are offered the lifestyle choices they want while meeting their health and wellness needs," said Oliva. "Recognizing, celebrating and instilling a continued sense of purpose is a key point of differentiation that speaks to the level of personalized care and supported living experience provided at each Pathway community."
A secure neighborhood on the community's first floor will house studio apartments for residents requiring memory support. These residences will feature thoughtful sightlines, contrasting paint colors and special lighting to help residents live successfully within their environment. The planned circular layout of the neighborhood encourages movement and activity, while a private courtyard will allow residents to enjoy the outdoors in a safe and enjoyable setting.
Other memory support amenities include a country kitchen where residents can cook alongside neighbors and members of the Pathway team, as well as a sensory room that offers therapeutic experiences through touch, sight and sound. Residents with Alzheimer's disease and other forms of dementia will be provided exceptional person-centered support, understanding and specialized programming from Pathway to Living's A Knew Day® memory care.
"Loved ones requiring memory support thrive on individualized care and attention, which we provide through a high level of engagement and emotional connection," said Oliva. "Our specifically trained team members are always on hand to offer encouragement and foster each person's abilities, which results in peace of mind for families and rekindles the spark in each of our residents."
Aspired Living of La Grange is conveniently located near retail, restaurant and recreation offerings at the intersection of La Grange Road and Ogden Avenue, such as a Trader Joe's grocery store, the La Grange Theatre and several restaurants. The community is also close to nearby expressways, including Interstates 294, 290 and 55.
"We look forward to working with Pathway to Living in bringing this housing option to the La Grange community," said Jim Caesar, regional vice president of Opus Design Build LLC. "Our collaborative design-build approach provides a customized solution for clients, and we're committed to creating a space that serves Pathway's long-term vision."
The La Grange community is the third developed by Pathway to Living since the company formed an equity partnership with Waterton, a Chicago-based real estate firm specializing in multifamily and hospitality properties. Pre-leasing for the community is expected to begin in May 2019. Pathway now has 32 communities currently operating or under construction throughout the Midwest.
---
About Pathway to Living
Founded in 1997, Pathway to Living (formerly Pathway Senior Living) is a Chicago-based developer, owner and operator of senior housing communities. The company's portfolio includes a wide range of community types – senior apartment, independent living, assisted living and memory care – spanning 32 owned or managed properties with more than 2,900 units in Illinois, Michigan, Minnesota and Wisconsin. Pathway to Living implements best practices to deliver person-centered care while maximizing returns on behalf of investors and third-party owners. Since its inception, the company has managed more than $480 million in total investments.