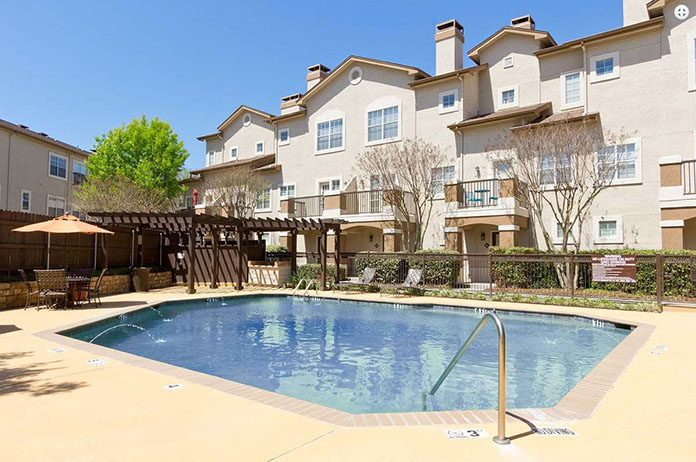 Institutional Property Advisors (IPA), a division of Marcus & Millichap, announces the sale of Monticello Oaks, a three-story, 63-unit apartment complex in Fort Worth, Texas.
"Monticello Oaks is a compelling value-add opportunity in the heart of thriving Fort Worth," says Will Balthrope, IPA executive director. "We knew there was good upside for a buyer in this excellent infill location, and immediately located a buyer eager to step up," says Will Balthrope, IPA executive director.
Balthrope, Drew Kile, IPA senior director, and Joey Tumminello, IPA director, represented the seller, Venterra Realty and procured the buyer, SPI Advisory.
"A 100-percent-townhome product surrounded by some of Fort Worth's best neighborhoods, the property has been able to maintain strong performance even with significant new supply coming online in the Intown Fort Worth market," adds Kile.
Built on more than three acres in 2000, Monticello Oaks is located within Fort Worth's Cultural District, which is home to the Modern Art Museum of Fort Worth, the Fort Worth Museum of Science and History, and the Kimbell Art Museum. Trinity Trails, West 7th Street and Sundance Square are nearby.
"Monticello Oaks is a one-of-kind product that cannot be replaced in today's market due to rising construction costs," comments Tumminello. "Each unit has a direct access garage, which makes the property unique in the submarket and provides the new owner with a durable amenity that keeps pace with the ongoing new multifamily construction in the West 7th and Downtown submarkets of Fort Worth."
---
About Institutional Property Advisors
With a network of senior-level investment advisors located throughout the United States, Institutional Property Advisors (IPA) is qualified to meet the needs of institutional and major private investors. IPA's combination of real estate investment and capital markets expertise, industry-leading technology, superior support services and acclaimed research offer customized solutions for the acquisition and disposition of institutional properties and portfolios.