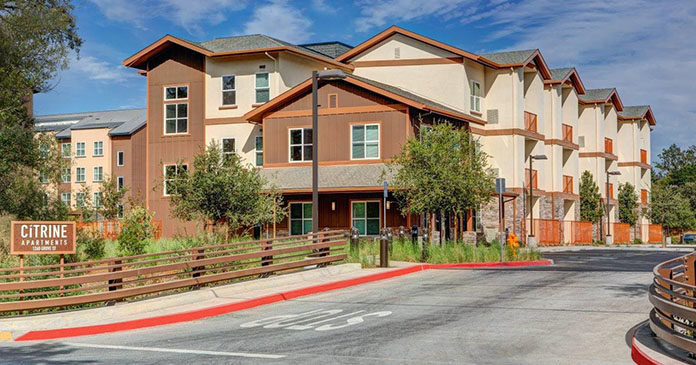 R.D. Olson Construction, an award-winning general contracting firm in California, recently marked the completion of a ground-up, two-part construction project in Healdsburg. The project included Hotel Trio, a 122-room hotel, and Citrine Apartments, a 37-unit affordable housing community. Located at 110 Dry Creek Road in the heart of the Sonoma County wine region, the area connects the Dry Creek, Russian River and Alexander wine valleys, giving the hotel its "Trio" name.
The 82,638-square-foot Hotel Trio includes 13 one-bedroom layouts and 109 studios. The hotel offers guests myriad amenities such as in-room kitchens, outdoor patios, firepits, a fully equipped fitness center, outdoor pool deck, wine and coffee bar, lounge, BBQ area, a meeting room and third-floor lounge overlooking Dry Creek. The hotel is walking distance to downtown Healdsburg and a host of local wineries. Guests also can enjoy on-site bicycle rentals and shuttle service, providing convenient access to hundreds of wineries within a 30-mile radius.
Citrine Apartments, a 41,048-square-foot affordable housing community, is located adjacent to the hotel at 1260 Grove Street. The community offers residents one-, two- and three-bedroom options. Amenities include a bike storage area, playground, outdoor lounge area, laundry facility, community room with Wi-Fi and a BBQ beach area. The development brings a much-needed affordable option for residents in a high-cost-of-living area.
"We are excited to introduce a two-part project to California's wine country that brings much-anticipated options for affordable accommodation to travelers and area residents alike," said Bill Wilhelm, president of R.D. Olson Construction. "The combination of a hotel and affordable housing project is a first-of-its-kind for R.D. Olson Construction, and adds to our robust portfolio of hospitality and multi-unit projects."
R.D. Olson Construction project partners include: Axis/GFA Architecture + Design, Roche + Roche Landscape Architecture, ZFA Structural Engineers, CSW/Stuber-Stroeh Engineering Group, Inc., Design Force Corporation and Robison Engineering.
The firm's other hospitality projects in Northern California include Hotel Monaco in San Francisco as well as the Hyatt Place, Courtyard Marriott and Riverside Country Club in San Jose. Recently completed affordable housing projects include Fullerton Family Housing, a five-story, 52,407-square-foot apartment building in Orange County.
---
About R.D. Olson Construction
Founded by Bob Olson in 1979 and led by President Bill Wilhelm, R.D. Olson Construction is one of the top 50 general contracting firms in California. R.D. Olson Construction is a premier builder of hotel properties for several national hoteliers, including Marriott, Hilton, Hyatt, Ritz Carlton, and Starwood. The firm also has a rich history as a builder of office, retail, restaurant, multifamily, education, assisted living and recreational projects.