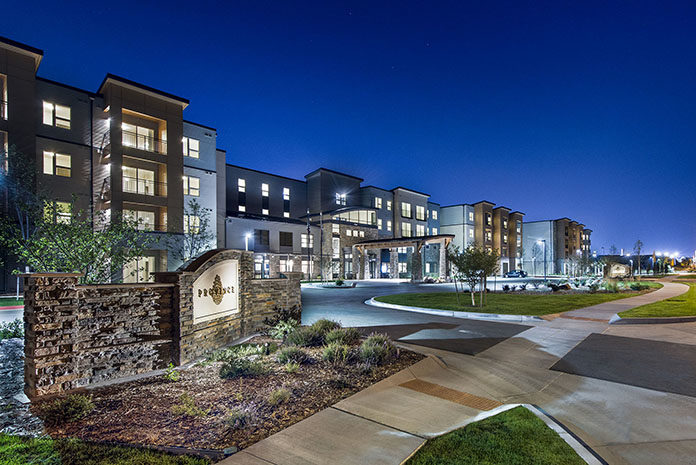 The Wolff Company—a Scottsdale-based private equity firm and multifamily developer—today announced the grand opening of Province Springs, a new, refined senior community located at 2960 Tutt Blvd in Colorado Springs, across the street from First & Main Town Center. The community will celebrate its grand opening on October 24th, 2018 from 3pm – 6pm with festivities to include tours, a menu tasting with Food Network star and acclaimed chef, Beau MacMillan, and a ribbon-cutting ceremony led by the Colorado Springs Chamber of Commerce at 4pm. Residents, members of the media and the community are invited to attend the festivities.
"The opening of Province Springs marks a shift in the way that people think about independent living, and how they live their lives after 55," said Danielle Morgan, President of Clearwater Living, management partner at Province Springs. "We are proud to lead the way in refined senior living in Colorado Springs and are excited to celebrate this at our grand opening event."
The Wolff Company is currently developing numerous senior living communities throughout the US with plans to broaden its portfolio by investing $300-$400 million annually in the development of additional market-leading communities
The 4-story Province Springs property offers 160 studio, one-, and two-bedroom independent living residences, and two guest suites. Focused on the six pillars of wellness, Province Springs aims to keep residents connected and engaged with their neighbors, their communities, and themselves. Highlights of the property and its unique amenities include a full-service salon and spa, state-of-the-art fitness center, movie theatre, and chef-driven dining experiences in a modern-American restaurant and pub created by Chef Beau MacMillan.
"Province Springs is all about improving the lives of residents by keeping them connected and engaged, from the food they eat to the activities they enjoy and the people they meet," said Morgan. "Combining our strengths with The Wolff Company brings a fresh perspective to living well and that makes all the difference for residents."
The National Investment Center (NIC) reports that the nationwide growth rate of senior housing options—4.5% in 2017—is too slow for the demand. This has been especially true in Colorado, where estimates predict a 77% spike in the 65+ population by 2030. While Colorado may be one of the fastest aging states in the country,  it's also been ranked by US News and World Report as the best place to experience the years following age 65, with better overall physical health, mental health, emotional health, and healthcare contributing to the ranking.
Province Springs, which opened to residents in February 2018, provides those 55+ with the options that make aging well a reality, and not just a dream.
"Province Springs opened at an ideal time as the need and desire for flexible lifestyles focused on all areas of wellness is growing. People want a lock-and-leave home that gives them the freedom to live life on their terms," said Morgan. "Colorado is the best state for aging, and the lifestyle choices offered by Province Springs are our way of keeping it that way."
---
About The Wolff Company
The Wolff Company is a private equity firm headquartered in Scottsdale, Arizona, with offices in Washington, Massachusetts, and California. For more than six decades, Wolff has invested in, acquired and developed high-quality, amenities-based multifamily properties.
About Clearwater Living
Clearwater Living is committed to providing the most superior customer service and living experiences that celebrates individual relevance, from our residents and their families to our family of associates. Clearwater is growing through strategic acquisitions, development and operational management of senior living communities throughout the western United States. Every Clearwater Living community includes cutting-edge technologies and care practices that improve the daily lives of residents.