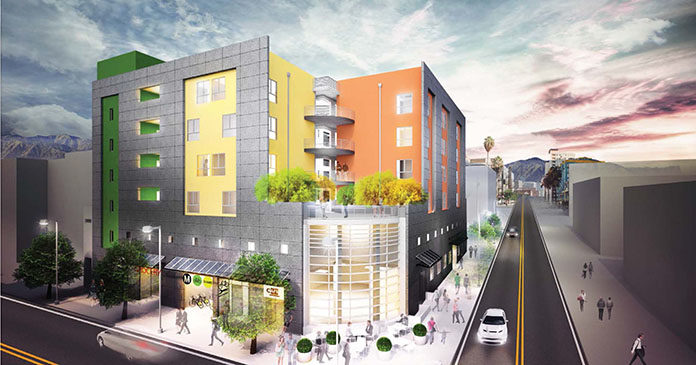 Riverside Capital, a leading provider of capital for high quality affordable housing developments, has invested $17.7 million in 7th and Witmer Apartments, an affordable housing community being developed by Deep Green Housing and Community Development in the Westlake neighborhood of downtown Los Angeles.
Deep Green Housing and Community Development is a California-based non-profit developer that has been developing supportive affordable housing since 1990.
"This is Riverside's first of many investments in Los Angeles, and we are thrilled to help play a small role in addressing the shortage of quality, affordable housing in Los Angeles," said Sebastian Corradino, President, Riverside. "Deep Green is the ideal partner to develop and manage this type of property and we are committed to helping them deliver this important project to the Los Angeles community."
The newly constructed 7th & Witmer will offer 76 apartment homes, the majority of which will be available to households with extremely low incomes. Of the 76 apartments, 50 will be reserved for residents whose incomes are at or below 30 percent of the county's area median income (AMI). There will be 16 apartments set-aside for residents at or below 40 percent of AMI, and nine set-aside for residents at or below 50 percent of AMI. One unit will be reserved for the on-site manager. The six-story building will also feature ground floor retail and commercial space.
All residents of 7th & Witmer will be eligible to receive supportive services, including medical and psychological case management, benefits advocacy and income support assistance, money management services, nutrition counseling, and assistance in obtaining other resources and support such as transportation, job training and job placements.
7th and Witmer is being financed with 9% Federal Low-Income Housing Tax Credits, a permanent Fannie Mae mortgage through Berkadia Commercial Mortgage, a soft loan and grant from the Affordable Housing and Sustainable Communities Program (AHSC) of the State of CA Department of Housing and Community Development (HCD) – "Cap and Trade" funds, and a soft loan from the Los Angeles Housing and Community Investment Department.
Financing also includes 50 project-based Section 8 vouchers administered by The Housing Authority of the City of Los Angeles,  as well as subsidies provided by the Los Angeles County Department of Health Services' (DHS) Flexible Housing Subsidy Pool Program, which will be administered by the non-profit supportive housing agency, Brilliant Corners. As part of the DHS rental subsidy, 25 units will be set aside for the homeless.
---
About Riverside Capital, LLC (Riverside)
Riverside Capital, LLC, a joint venture of Berkadia and The Michaels Organization, is a full-service tax credit investment company offering capital solutions to developers of high-quality affordable housing. National in scope and serving both for-profit and nonprofit developers, Riverside has guided the financing and syndication for more than 7,700 affordable apartment homes across the country, representing $1 billion of equity capital. With a network of strong investor relationships and a focus on transparency, competitive pricing, and long-term value creation, Riverside is committed to providing financial solutions for affordable housing communities and that lift the lives of the residents who call those communities home.