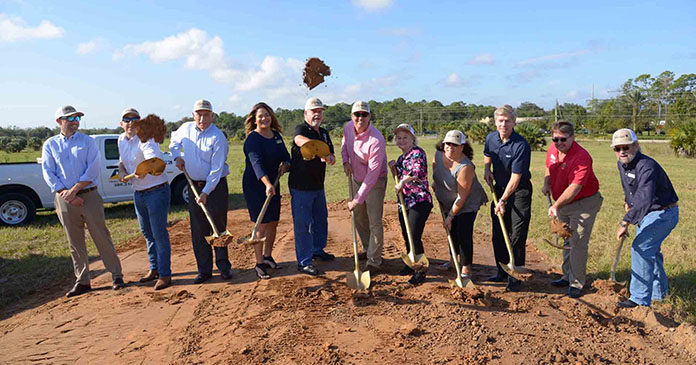 An enthusiastic group of DeBary and West Volusia community leaders joined the staffs of Charles Wayne Properties and Integra Land Company earlier this month to officially break ground on Integra 289 Exchange at The Junction. The luxury apartment community is the first phase of DeBary's long-awaited town center adjacent to the north leg of the SunRail route.
Steve Costa, who's leading the sales and marketing at the $200 Million development, said in addressing the crowd that the 68-acre parcel is part of larger acreage acquired in the 1940s by his grandfather. "It took the last 15 years of successful re-platting and re-zoning with the help of my partners at Charles Wayne Properties, City of DeBary, Volusia County and DOT officials, to structure the land into its current use plan. Integra's apartment community is the cornerstone," said Costa.
David McDaniel, founder and principal of Integra Land Co., which is well-known in the Volusia area for quality apartment communities, said not only is this his company's first transit-oriented project,  "It will also augment the existing Gemini Springs trail system in DeBary that will wind through the landscape of the apartment community that supports the natural environment."  CPH Engineers and Architect ACI Consultants are on the Integra team.
Longtime DeBary Mayor Bob Garcia said he was privileged to lead the City Council who worked tirelessly with Costa and Charles Wayne principals throughout the last 15 years because it serves as the foundation for DeBary's future growth.
Incoming Mayor Karen Chasez said "These 289 apartments first and foremost fill an essential niche in the DeBary area and the retail that follows will be a welcome addition for several other surrounding residential developments in southern DeBary as well."
Shari Simmans, Executive Director of the West Volusia Regional Chamber, said "The diversity of the residential and commercial buildings will create a real hometown center that we have been waiting for in DeBary."
Costa is in discussions with national grocery chains and a variety of commercial users to complete The Junction's mix of office, retail, entertainment and residential enhanced by natural amenities.
"This is a fantastic opportunity for investors, developers, professional firms, and retailers.   The several nearby residential developments underway provide a growing demand for retail, medical, and office space."
Stuart, Fla.-based Seacoast Bank is handling financing for Charles Wayne Properties' development that will feature 104,000 square feet of retail space including a planned 46,000 square foot major grocery store, as well as restaurants and offices. Costa is talking to selected builders for the project's next phase – 150 single family detached homes.
The high-profile location of The Junction affords easy access to major arterial highways and international airports via U.S. 17-92, Interstate 4 and SR 417.  The property is surrounded by state parks, with interconnecting trails that extend from Saint Augustine to Saint Petersburg.  "All this, and it's just 5 minutes north of the Orlando MSA's booming Lake Mary office and retail corridor," Costa said.
Even City Council of Orange City representatives Jeff Allebach and Bill Crippin attended the event to voice their City's support because "This will help more people ride the SunRail which should in turn help Orange City get a station too," said Allebach, "The development is a great complement that will support and increase 'ecotourism' – travel to Southwest Volusia's trail system, parks and the area's natural habitats," according to Crippin.
---
About Charles Wayne Properties
Charles Wayne Properties is an industry leader with a 40-year track record as an investor and developer throughout the Southeast having developed and managed grocery anchored shopping centers, freestanding retail facilities, and office and industrial parks. Since 1978 the firm has worked with local and national brands in various capacities including brokerage, development, investment sales, tenant representation, property management and receivership.