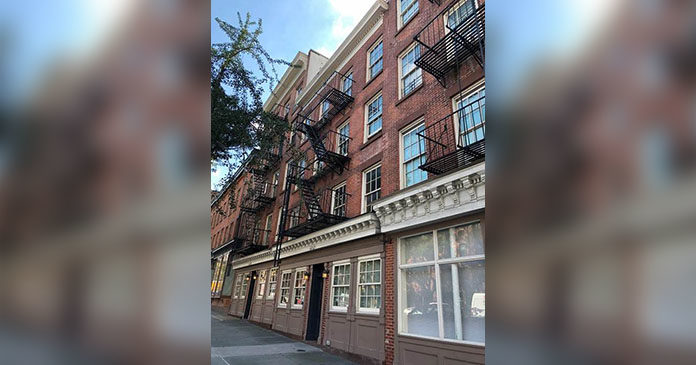 Thorofare Capital has provided a $15 million floating-rate first mortgage to Highpoint Property Group (Highpoint) to acquire, renovate and stabilize a mixed-use multifamily property in Brooklyn, NY.
Located at 88-92 Atlantic Avenue in the Brooklyn Heights/Cobble Hill neighborhood, the property consists of three contiguous buildings totaling 30 residential apartment units. There are two, four-story buildings and one, five-story structure, over 1,009 square-feet of ground floor retail space. The seller was a Georgia-based investor who had owned the property for more than 40 years.
Highpoint's value-add business plan involves renovating and repositioning the property into a Class-A mixed-use building. The floor plans will be reconfigured to maximize efficiency and a new unit mix will include: 10 one-bedroom duplexes, three rent stabilized two-bedroom units, 16 three-bedroom units, and one three-bedroom unit with mezzanine space.
Given the scope of planned renovations, Highpoint's experience in vertical construction, assemblage and new development made Thorofare comfortable with providing the financing according to Felix Gutnikov, Head of Origination.
"With a `time-of-essence' closing requirement, Highpoint saw Thorofare as a reliable lender with an extensive track record of financing other Brooklyn commercial real estate properties in such neighborhoods as Bushwick, Williamsburg, Gowanus, Brownsville, Bedford-Stuyvesant," Gutnikov said. "Thorofare was able to offer a highly structured future funding facility toward the planned renovations, utilizing a local construction consultant to help streamline the draw approval process."
Highpoint invests in residential and mixed-use assets throughout the Tri-State area, making the Brooklyn Heights assets a strong fit for its expanding portfolio, according to Founder and Principal Drew Popkin.
"The Brooklyn Heights/ Cobble Hill neighborhood is a good example of our investment strategy to acquire value-add opportunities in markets that exhibit strong multifamily fundamentals and substantial economic growth," Popkin said. "Thorofare's strong understanding of the market and subsequent financial structure will benefit to contributing to our producing the type of return that we are looking for."
---
About Thorofare
Thorofare Capital, Inc. is a national commercial real estate loan origination and servicing company. The firm focuses on $5 million to $100 million financing transactions, targeting value-add and opportunistic acquisitions, recapitalizations, and distressed debt secured by transitional properties. Its affiliate, Thorofare LLC, is a registered investment adviser specializing in alternative fixed-income opportunities through US commercial real estate debt investments. With a national presence, Thorofare has originated more than $1.6 billion structured as senior secured short and intermediate-term loans, across 10+ property types throughout 28 states.
About Highpoint
Highpoint Property Group is a real estate developer, operator, owner, and manager based in New York City with a primary focus on residential and mixed-use assets throughout the Tri-State area. Highpoint launched its platform in January 2017, and today either owns, has developed and is operating, or is in contract for 15 properties representing over $200 million of value. They have deep joint venture partnerships with institutional investors, high net worth individuals, and family offices. In addition, we have well-established relationships with many major lending institutions. They are a firm that has a unique vision and expertise in every aspect of the development process. The Executive Team at Highpoint collectively has nearly 40 years' worth of New York City-specific real estate experience: sourcing, identifying, acquiring, investing, managing, designing, developing, building, and handling the day-to-day operations of over $600 million of real estate acquisitions, $1 billion of debt and equity transactions, and well in excess of 3 million square feet.