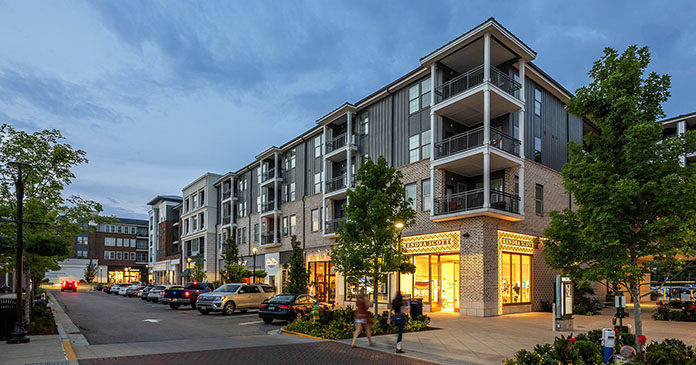 Passco Companies, a privately-held California-based real estate company that specializes in the investment, acquisition, development, and management of commercial properties throughout the U.S., has acquired The Henry at Fritz Farm, a 306-unit, Class A+ multifamily community in the high-growth market of Lexington, Kentucky, for $62.4 million from the Dobbins Group of Birmingham, Alabama, according to Colin Gillis, Vice President of Acquisitions at Passco.
The apartment community is integrated into one of the Southeast's leading entertainment and retail districts, The Summit at Fritz Farm. Developed by Bayer Properties of Birmingham, Alabama, this highly-walkable, mixed-use, master planned community features over 280,000 square feet of Class A+ retail with a mix of local, regional and national tenants, including notable anchors Whole Foods, William Sonoma, Pottery Barn, lululemon and Anthropologie.
The Summit is also home to twenty restaurants including J Alexanders, The Barn: a nationally-recognized local-fare food hall, and the state of Kentucky's only Shake Shack. The Summit is rounded out by a high-end office component and a soon-to-be-open 120-room upscale Origin Hotel, the boutique's third location in the United States.
Characterized by affluence, a highly educated talent pool, and an abundance of high-paying employment opportunities, the Lexington market has demonstrated tremendous growth in recent years, including a population increase of nearly 25 percent from since 2010, notes Gillis.
"Lexington is a very wealthy, established community that continues to grow and create numerous new high-paying jobs, and that is certainly reflected in the absorption rate and the on-site demographics at The Henry," explains Gillis. "The property has one of the most affluent tenant bases of any community in any market in which we have ever acquired, and perhaps the lowest rent-to-income ratio in our portfolio. We have enjoyed tremendous success in recent years employing the strategy of identifying unique, irreplaceable assets with exceptional demographics and little-to-no competition in the secondary markets of the Southeast. We find that that properties as unique as The Henry with a top-tier resident profile often perform exceptionally better than their primary-market peers"
Gillis notes that Lexington has been rated by Moody's as in an expansion cycle phase, with the metro seeing an influx of business and development.
"The metro's economy has traditionally been led by healthcare and tourism; however, the strong job and population growth have begun to attract big-name Fortune 500 companies including Amazon and Xerox," continues Gillis. "Among the top employers in the region are the University of Kentucky, Toyota, Amazon, Lexmark International, and Lockheed Martin."
The city has also been recognized multiple times in recent years as a Small American City of the Future, based on the categories of Economic Potential, Business Friendliness, Human Capital and Lifestyle, Cost Effectiveness, and Connectivity, by fDi Intelligence.
In addition to earning accolades for its small-town appeal, Money Magazine named Lexington in the top ten for "Best Big Cities to Live in Now," in November 2018 while Forbes recently named Lexington as one of the best places to retire.
"The Summit and residences at The Henry at Fritz Farm are unlike anything the Lexington market has ever seen, and we are just now beginning to see the whole development stabilize and being fully-embraced by the local community," continues Gillis. "The completion of the Origin Hotel represents the conclusion of nearly five years of construction at The Summit, and we are excited to see this truly remarkable mixed-use project come to completion."
According to Gillis, as the master planned community's retail and hotel assets mature, the multifamily asset will be able to gain further momentum and realize its full potential.
Dobbins Group, developer of The Henry at Fritz Farm, engaged the Cushman & Wakefield/Commercial Kentucky team of Mike Kemether and Craig Collins to market The Henry.
"We are delighted to work with Passco once again and bring them an opportunity to add this exceptional asset to its portfolio. Colin and the team have demonstrated the utmost professionalism and integrity, making this a smooth process and close for all parties involved," says Kemether. "Henry at Fritz Farm is truly one of the most unique multifamily treasures in the entire Southeast. Embedded within Summit at Fritz Farm, quite possibly the best example of successful mixed-use development integration anywhere, Henry residents have immediate access to over 70 street-level shops, including more than 20 dining options, outside their front doors. I would stack this lineup up against any gateway city mixed use deal in the country."
Collins adds: "Henry at Fritz Farm has raised the bar with regard to apartment living in my state of Kentucky, with incredible amenities both within the apartment complex and with the surrounding Summit at Fritz Farm."
Completed in 2017, The Henry features a mix of one-bedroom, two-bedroom, and three-bedroom flats with modern design elements including open-concept floorplans, 9-foot ceilings, plank flooring, oversized patios or balconies, and oversized windows.
Aside from unmatched walkability to nearly every modern continence, the luxury community amenities at The Henry include a resort-style saline swimming pool with oversized sundeck, poolside fire pits, a clubroom with a coffee bar, a business center with reservable suites and conference room, and a 24-hour fitness center with yoga classes. Leading-edge features include lawn chess, a pet spa with washing and drying station, a pet walk, Luxer package system, concierge service, and dry-cleaning service. All buildings are elevator served, offer internal air-conditioned corridors, and include a resident/guest call system.
In-unit amenities also include chef-inspired gourmet kitchens offer stainless-steel appliances, granite countertops, premium 42-inch cabinets, and a walk-in pantry. Other in-unit amenities include 2-inch designer wood blinds, fiberoptic internet speed compatibility, ceiling fans, garden tubs, and full-size high-efficiency washers and dryers. Select units offer vaulted ceilings and double-sink bathroom vanities, and most bedrooms feature expansive walk-in closets.
Chris Black and Caleb Marten of KeyBank Real Estate Capital's Commercial Mortgage Group arranged acquisition financing on behalf of Passco Companies.
---
About Passco Companies, LLC
Passco Companies, LLC is a nationally recognized market leader in the acquisition, development, and management of multi-family and commercial properties throughout the U.S.
Passco offers a full set of real estate services including asset and property management, leasing, as well as property development and construction.
Headquartered in Irvine, California, Passco currently has $2.8 billion assets under management and is involved with over 53 properties in 18 states. Passco is actively growing its portfolio in primary and secondary markets throughout the nation.
About Cushman & Wakefield
Cushman & Wakefield is a leading global real estate services firm that delivers exceptional value by putting ideas into action for real estate occupiers and owners. Cushman & Wakefield is among the largest real estate services firms with 48,000 employees in approximately 400 offices and 70 countries. In 2017, the firm had revenue of $6.9 billion across core services of property, facilities and project management, leasing, capital markets, advisory and other services.