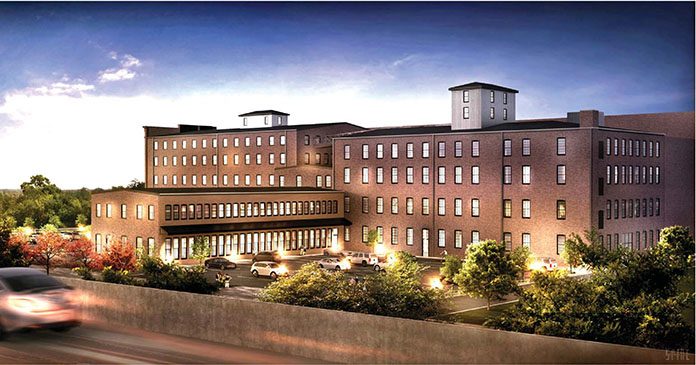 Transwestern Commercial Services (TCS) today announces its Mid-Atlantic Multifamily Group has been named the exclusive advisor for the adaptive reuse of the 138,000-square-foot historic warehouse at 1901 Light St. in Baltimore. The project could potentially support more than 140 apartments. TCS Executive Vice Presidents Dean Sigmon and Robin Williams and Vice President Justin Shay are seeking a joint venture development partner on behalf of the ownership.
"1901 Light St. provides unique aspects that will attract tenants such as high ceilings, historic brick façade, and exposed wood beams," said Shay. "These features help differentiate the project from the thousands of other apartment units that have delivered in recent years."
Originally built in the late 1800s, the site is listed on the National Register of Historic Places. Ownership will look for the redevelopment to take advantage of both State and Federal Historic Tax Credits. The south Baltimore location is within walking distance of historic Federal Hill and the recently renovated Cross Street Market. The property is adjacent to Interstate 95 and just north of Port Covington, a 226-acre development site that will include the future Under Armour headquarters campus.
"Despite what appears to be a glut of new multifamily deliveries in recent years, Baltimore has continued to display strong multifamily market fundamentals," said Sigmon.
According to Delta Associates' First Quarter 2019 Mid-Atlantic Class A Apartment Market Report, annual absorption in the city was nearly 1,900 units, almost double citywide absorption from one year ago. The Federal Hill/Locust Point submarket outperformed other Baltimore submarkets with 3.8 percent effective rent growth in the 12 months ending March 2019. 
The TCS Mid-Atlantic Multifamily group provides a full range of Investment Sales Services throughout Washington, D.C., Northern Virginia, Richmond, Baltimore, Philadelphia, and Delaware. The group's recent client roster includes Sentinel Real Estate, Federal Capital Partners, Foulger Pratt with DLJ, Hampshire Properties, Aimco, Avalon Bay, Equity Residential, The Bozzuto Group, Fannie Mae, AIG Investment, Morgan Properties, Goldman Sachs, JP Morgan and Angelo Gordon.
---
About Transwestern Commercial Services
Transwestern Commercial Services (TCS) is a privately held real estate firm of collaborative entrepreneurs who deliver a higher level of personalized service and innovative client solutions. Applying a consultative approach to Agency Leasing, Asset Services, Occupier Solutions, Capital Markets and Research, our fully integrated global organization adds value for investors, owners and occupiers of all commercial property types. We leverage market insight and operational expertise from across the Transwestern enterprise, which includes firms specializing in development and real estate investment management. TCS has 34 U.S. offices and assists clients from more than 200 offices in 37 countries through strategic alliances with France-based BNP Paribas Real Estate and Canada-based Devencore.