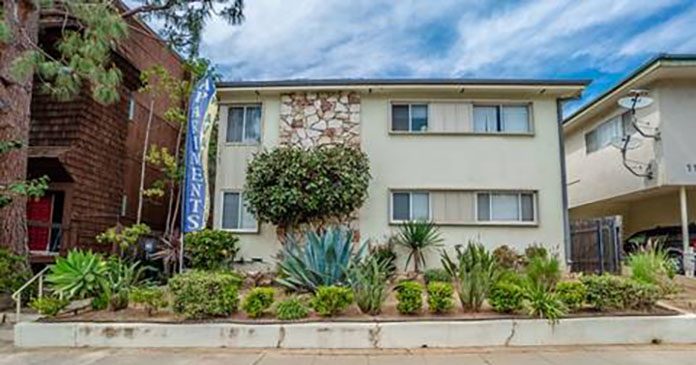 Transwestern Commercial Services (TCS) today announces it has brokered the sale of 11747 Mayfield Ave., an eight-unit multifamily building in Brentwood, a prime Los Angeles neighborhood. Senior Vice Presidents John Swartz and Josh Kaplan of the TCS Los Angeles Multifamily Investment Services group represented the seller, a private investor, in the transaction valued at $4.13 million.
"This sale shows that despite the shifting tides of statewide rent control and a second version of Proposition 10 already proposed for the November 2020 California ballot, there is still high demand for properties in A-plus neighborhoods," said Swartz. "The surrounding amenities in Brentwood Village are major contributing factors to tenant attraction and retention as well as increased multifamily investor interest in this area."
The Los Angeles apartment market remains healthy with historically low vacancy and strong rental rate growth. According to Moody's REIS, average asking rents increased to $2,043 per month, a 5 percent year-over-year increase, while the total vacancy rate remained flat at 3.6 percent in second quarter 2019. Established and supply-constrained submarkets on the Westside such as Santa Monica, Brentwood, and Westwood continue to see some of the highest average apartment rents in Southern California due to their large growing employment clusters, including Silicon Beach, and high quality of life.
---
About Transwestern Commercial Services
Transwestern Commercial Services (TCS) is a privately held real estate firm of collaborative entrepreneurs who deliver a higher level of personalized service and innovative client solutions. Applying a consultative approach to Agency Leasing, Asset Services, Occupier Solutions, Capital Markets and Research, our fully integrated global organization adds value for investors, owners and occupiers of all commercial property types. We leverage market insight and operational expertise from across the Transwestern enterprise, which includes firms specializing in development and real estate investment management. TCS has 34 U.S. offices and assists clients from more than 200 offices in 37 countries through strategic alliances with France-based BNP Paribas Real Estate and Canada-based Devencore.