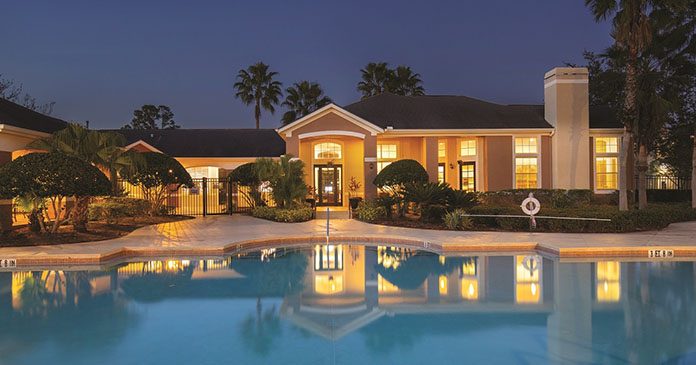 Cushman & Wakefield has arranged the sale of Lakes at North Point, a 312-unit, garden-style apartment community located in North Port, Florida. The value-add property sold for $43 million, or $137,821 per unit, and is currently 95 percent occupied.
Executive Director Nick Meoli and Executive Director Mike Donaldson, with Cushman & Wakefield's Florida Multifamily Investment Sales Team, represented Symcor Capital Properties, a Canadian real estate investment firm, in the disposition. The buyer is Cohen-Esrey Apartment Investors, LLC, an Overland Park, Kansas-based investor and developer focused on multifamily assets.
Lakes at North Port is situated on approximately 27 acres at 1015 Ohana Way, with convenient access to Interstate 75 and U.S. 41, providing access to over 700,000 jobs within a 30-minute commute in nearby Sarasota and Fort Myers. The location also provides convenience to numerous award-winning beaches along Florida's Gulf coast.
The property is comprised of 14 three-story buildings offering a mix of one-, two- and three-bedroom residences. The average unit size is 923 square feet, and average market rent is $1,020
Onsite amenities include a resort-style swimming pool with expansive sundeck, a clubhouse with two lounge areas and a computer center, a pet park, playground, picnic area with new grilling stations and pergola, a laundry facility, state-of-the-art fitness center, car care center and 10 reserved parking spaces for boats and RVs.
"North Port experienced over 6 percent annual rent growth in 2018," said Meoli. "This gives the buyer an excellent opportunity to renovate the existing, classic units and implement average rent premiums of $268, increasing the effective rental income by 22 percent."
Added Donaldson, "With over 215 registered investors, this deal is an excellent example of investors targeting secondary or tertiary markets with high-yield opportunities on the West Coast of Florida."
Cushman & Wakefield's Florida Multifamily Team is directed by Robert Given and includes Meoli and Donaldson as well as Luis Elorza and Brad Capas in West-Central Florida; Jay Ballardand Ken Delvillar in Central Florida; and Zachary Sackley, Troy Ballard, Calum Weaver, Errol Blumer, Neal Victor, James Quinn and Perry Synanidis in South Florida. Robert Kaplan, Chris Lentz and Mark Rutherford facilitate debt, equity and structured finance for the team throughout Florida.
---
About Cushman & Wakefield
Cushman & Wakefield is a leading global real estate services firm that delivers exceptional value for real estate occupiers and owners. Cushman & Wakefield is among the largest real estate services firms with approximately 51,000 employees in 400 offices and 70 countries. In 2018, the firm had revenue of $8.2 billion across core services of property, facilities and project management, leasing, capital markets, valuation and other services.