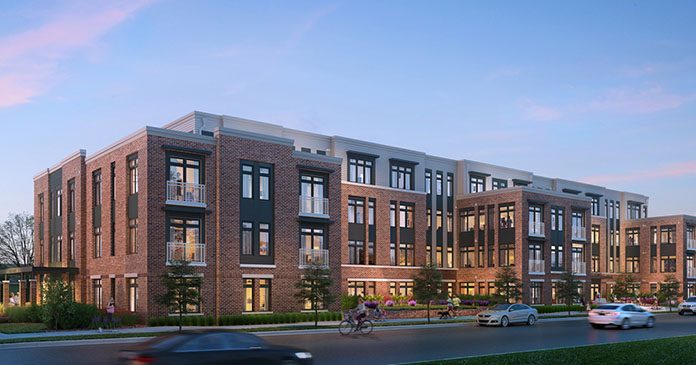 The Tysons office of KTGY Architecture + Planning, an international award-winning architecture firm, today revealed details behind the design of Ramsey Homes Apartments, a 52-unit affordable rental community in the Parker-Gray Historic District of Alexandria, Va. Developed by the Alexandria Redevelopment and Housing Authority (ARHA), the four-story, KTGY-designed community at 699 N. Patrick St. replaces the original Ramsey Homes public housing development, which ARHA razed in June 2018 after relocating residents to temporary housing. The new community, which broke ground in December 2018, is scheduled to deliver in early 2020.
"One of the biggest hurdles for any new development can be building consensus with the variety of stakeholders and gaining necessary approvals," said Smita Anand, AIA, principal of KTGY Architecture + Planning's Tysons office. "Because this site is part of the National Register of Historic Places, we worked in collaboration with our client, neighborhood groups, the historical society and the city of Alexandria to refine the design and ensure seamless integration with the surrounding neighborhood."
The Project: Ramsey Homes
This historic district dates back to the Civil War era during which it was used as military housing and a hospital. In later years, it was converted to affordable housing for immigrants, military housing during World War II and, since the mid-1940s, public housing.
Ramsey Homes sits on a .71-acre site that occupies half a city block. Most recently, the site had 15 two-bedroom townhouses in four buildings. The new development will replace those four structures with a single, four-story affordable rental community consisting of 52 one-, two- and three-bedroom units – more than triple the number of residential units originally on the site. The development includes 32 underground parking spaces in addition to approximately 6,000 square feet of green space for use as a public park and recreation area.
Ramsey Homes will serve families with annual incomes ranging from 30 percent to 60 percent of the Area Medium Income (AMI). "The redevelopment of Ramsey Homes will add much-needed affordable housing units to the city of Alexandria," said Keith Pettigrew, CEO of ARHA. "The new building will be an asset to the neighborhood as a vibrant and sustainable mixed-income community."
"KTGY has been involved in every aspect of the design and public approval process of Ramsey Homes since 2014," said Patricia Mao Booker, director of production at KTGY. "We designed the building to fit in with the character and scale of the surrounding neighborhood and selected building materials already used in existing residential buildings in Alexandria."
Architectural Vision
The Parker-Gray Historic District is a 40-block area in northwest Alexandria named for the Parker-Gray School that opened in 1920. The district consists mostly of small rowhouses and townhouses, but there are also commercial buildings and more than 200 units of public housing. The buildings in Parker-Gray represent several popular 19th-century architectural styles, including Greek Revival and Queen Anne. The district was added to the National Register of Historic Places in 2010.
---
About KTGY Architecture + Planning
KTGY Architecture + Planning is an international award-winning full-service architecture and planning firm delivering innovation, artistry and attention to detail across multiple offices and studios, ensuring that clients and communities get the best the firm has to offer no matter the building type or location. KTGY's architects and planners combine big picture opportunities, leading-edge sustainable practices and impeccable design standards to help create developments of enduring value. KTGY serves clients worldwide from offices located in Chicago, Denver, Irvine, Los Angeles, Oakland, Pune and Tysons.