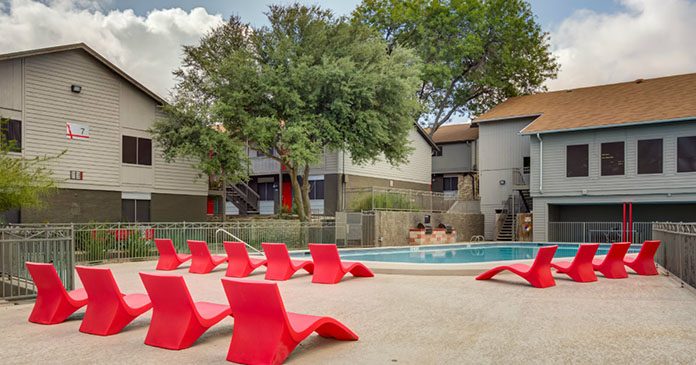 Castle Lanterra Properties (CLP), a New York-based national real estate investment firm, announced the $47.5-million sale of Array, a 370-unit apartment community located at 2101 Burton Drive in the East Riverside-Oltorf section of Austin, Texas. For CLP, which acquired the property for $38.5 million in 2016, the transaction marks the completion of the firm's value-add plan for Array, and highlights the success of the company's strategic investment approach.
The 14-acre property was originally constructed in 1973 and then completely renovated in 2013. It includes 370 one-, two- and three-unit apartments in 40 two-story residential buildings. Array features a wide range of amenities, including two pools, two dog parks, a fully equipped fitness center with an elevated spinning room and yoga room, an outdoor sports court and a resident lounge. Nearly all of the well-appointed apartments have received significant renovations within the past six years, with many featuring granite countertops, mosaic tile backsplashes, modern lighting and stainless-steel appliances.
When CLP acquired the community—then called "Arrangement"—the East Riverside-Oltorf section of southeast Austin was beginning to emerge as an attractive neighborhood for young professionals. In the past three years, the neighborhood has exploded in popularity, with significant new residential development and a new Oracle corporate campus bringing thousands of jobs to the area. By capitalizing on the neighborhood's upside, CLP was able to successfully implement operational and physical improvements at Array to enhance the property's curb appeal, stabilize its tenant base, and improve cash flow.
"With Austin's overall rejuvenation over the past decade, the city has boasted one of the country's strongest multifamily markets this cycle, and we're very proud of our success at enhancing the amenities and infrastructure at this prime residential community," said CLP CEO Elie Rieder. "When we purchased Array in 2016, this pocket of the city was just beginning its revitalization, and we recognized that applying our successful management style in a burgeoning neighborhood would be extremely effective. By acquiring Array below replacement cost and executing our business plan, we were able to create value very quickly. We ultimately capitalized on the strong investor interest in East Riverside and were able to exit our investment several years ahead of schedule while meeting our projected sales price."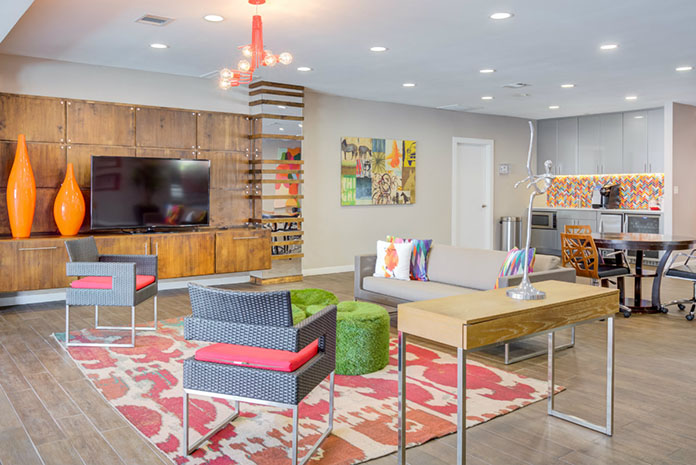 While the property had received a multi-million dollar makeover in 2013 to apartment units and amenity spaces by the previous owner, CLP also invested heavily in Array, enhancing the fitness center and pool areas, refurbishing the outdoor sports court, building a new dog park and pet spa, and creating outdoor seating areas and grilling stations. CLP also added washer-dryers to select units, providing residents with an increasingly sought-after amenity. Significantly, CLP also addressed all of Array's deferred maintenance—fixing gutters and roofing and re-pitching concrete to prevent water pooling—enabling Array to withstand Hurricane Harvey with minimal damage.
"We utilize a very methodical approach in choosing which markets to invest in, paying close attention to factors including business climate, infrastructure and homeownership costs to help us pinpoint which areas are primed for growth," said Rieder. "Just three years after making this acquisition, it's very gratifying to see that our vision for the neighborhood has already become a reality. With the market likely to continue appreciating, investment interest in East Riverside-Oltorf is very strong, and we fielded significant interest in this property from a wide range of buyers, including regional owners, private equity funds and national REITs."
Array is located within blocks of IH-35, placing it within three miles of Austin's central business district and the University of Texas at Austin. The property is directly across the street from a bus stop, providing convenient access to the 7 and 483 bus routes and is proximate to a wide range of dining and retail options.
---
About Castle Lanterra Properties
Formed in 2009, Castle Lanterra Properties (CLP) is a privately held real estate investment company focused on the acquisition and management of quality income producing multifamily properties within strategic growth markets throughout the United States. Through a rigorous value-enhancement program that includes thoughtful renovations, operational improvements and ancillary income development, CLP aims to reposition each asset with the goal of maximizing NOI, elevating its competitive position within the market, and providing attractive risk-adjusted returns for its investment partners. CLP currently owns and manages over 7,000 units across 22 properties throughout the United States.