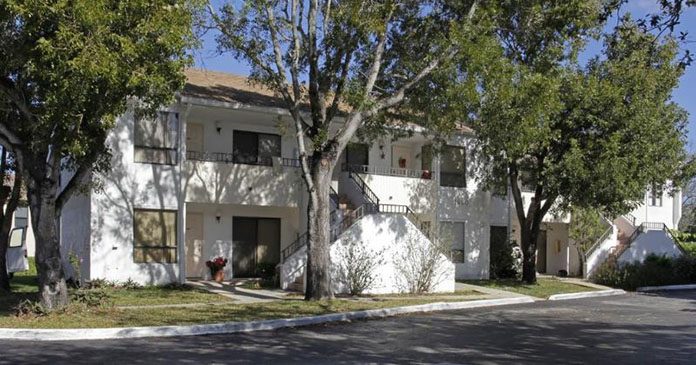 With South Florida's appeal continuing to attract out-of-state investors, Colliers International South Florida's Associate Virgilio Fernandez, Director Mitash Kripalani, Associate and Analyst Julian Zuniga and Executive Director Gerard Yetming recently closed on the $4.8 million sale of a 1.7-acre multifamily apartment community, Bouganvillas Apartments, in East Boca Raton.
Colliers International South Florida represented the buyer, a New York-based private equity group in a 1031 exchange, in this transaction and identified the ideal property in the buyer's desired location and condition.
Located at 1500-1650 N.W. Fourth Avenue in Boca Raton, the garden-style apartment community is comprised of 23, two-bedroom and two-bathroom units throughout the three apartment buildings.
"We're pleased to have been able to identify this ideal match for our buyer, who was looking for a unique property in South Florida, which could be repositioned and that had under market rates," said Fernandez, who served as lead broker in the transaction. "We continue to see robust demand from out-of-state investors turning to South Florida, and especially high barrier-to-entry markets, this transaction is indicative of the appeal, quality of life and offerings, which attracts investors to our market."
As certain states are affected by capped State and Local Tax (SALT) deductions coupled with rent control, Florida is likely to experience population growth because it is a lower taxed state with no legislation for rent control. In particular, Boca Raton consistently attracts out-of-state and local investors due to its location, infrastructure, amenities and demographics, with the East Boca Raton market showcasing an average household income of $120,625 and more than 98,000 residents.
Bouganvillas Apartments is centrally located in close proximity to Florida Atlantic University, offering the property the opportunity to be adaptively re-used as student housing, and it affords access to the amenities and destinations along Glades Road, including Mizner Park and the Boca Raton Airport Authority.
---
About Colliers International Group
Colliers International Group Inc. is a top tier global real estate services and investment management company operating in 69 countries with a workforce of more than 12,000 professionals. Colliers is the fastest-growing publicly listed global real estate services and investment management company, with 2017 corporate revenues of $2.3 billion ($2.7 billion including affiliates). With an enterprising culture and significant employee ownership and control, Colliers professionals provide a full range of services to real estate occupiers, owners and investors worldwide, and through its investment management services platform, has more than $20 billion of assets under management from the world's most respected institutional real estate investors.
Colliers professionals think differently, share great ideas and offer thoughtful and innovative advice to accelerate the success of its clients. Colliers has been ranked among the top 100 global outsourcing firms by the International Association of Outsourcing Professionals for 13 consecutive years, more than any other real estate services firm. Colliers is ranked the number one property manager in the world by Commercial Property Executive for two years in a row.
Colliers is led by an experienced leadership team with a proven record of delivering more than 20% annualized returns for shareholders, over more than 20 years.