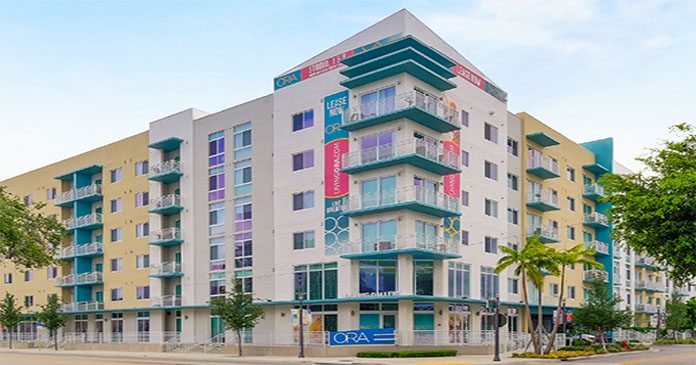 Cushman & Wakefield has negotiated the financing in the acquisition of ORA Flagler Village, a newly completed, 292-unit luxury mid-rise apartment community in Fort Lauderdale.
The Cushman & Wakefield Equity Debt & Structured Finance Team of Senior Director Chris Lentz and Executive Managing Director Robert Kaplan secured a $55 million, 12-year fixed-rate loan with Nuveen on behalf of the buyer, Riverview Peninsula Investments. Fairfield Residential sold the asset for an undisclosed price.
ORA Flagler Village is situated at 673 NE Third St. in Fort Lauderdale's burgeoning Flagler Village submarket. The six-story property was completed in 2018 and was 95% occupied at the time of sale. It offers 26 distinct floorplans that average 856 square feet and range from functional studios to spacious two-bedroom residences. Amenities include an expansive pool with summer kitchen and cabanas; a large fitness center and yoga room; dog washing station; and several gathering rooms for entertaining, working and socializing.
Just north of downtown, the Flagler Village submarket is a rapidly expanding area offering a unique blend of walkability, trending retail and convenient access to one of the most active office markets in the country. The millennial-centric, art-oriented neighborhood has emerged as a creative enclave over the last-decade and is experiencing a flurry of new development.
"Employing long-term, fixed-rate life company financing represents the optimal strategy for conservative investors seeking to maximize returns and minimize interest rate risk when acquiring new construction, Class A multifamily assets such as this one," said Lentz. "We are very pleased with our ability to secure this financing during lease-up and assist an out-of-state client in identifying the appropriate capital sources for the local market."
---
About Cushman & Wakefield
Cushman & Wakefield is a leading global real estate services firm that delivers exceptional value for real estate occupiers and owners. Cushman & Wakefield is among the largest real estate services firms with approximately 51,000 employees in 400 offices and 70 countries. In 2018, the firm had revenue of $8.2 billion across core services of property, facilities and project management, leasing, capital markets, valuation and other services.