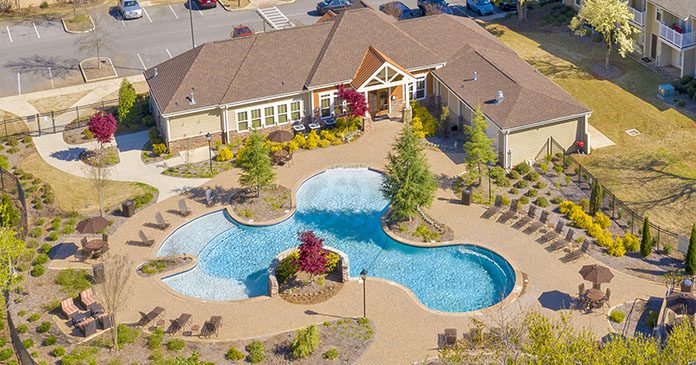 Cushman & Wakefield has arranged the $27.45 million sale of Fern Parc, a 343-unit apartment community located in Huntsville, Alabama. Jimmy Adams and Craig Hey of Cushman & Wakefield's Birmingham, Alabama, office represented the seller, Panther Residential Management, in the transaction. Wicker Park Capital Management, LLC acquired the property.
"Fern Parc arrived to market fully renovated with market-backed, value-add upside," Adams said. "Huntsville continues to draw national interest, driven by its robust job market (No. 6 in the U.S.) and rent growth (No. 4 nationally), strong demographic profile and heavy capital investments. New ownership is excited to capture further momentum as Huntsville continues to build upon its national reputation as a premier investment locale."
Fern Parc, built in 1974 and renovated in 2015, is highly visible off U.S. Highway 231 in south Huntsville and boasts excellent connectivity to primary economic drivers including Redstone Arsenal and Downtown Huntsville.
Cushman & Wakefield's Southeast Multifamily Advisory Group ranked No. 1 in market share in 2018 based on closed transactions, totaling more than $4.5 billion in sales volume, according to Real Capital Analytics.
---
About Cushman & Wakefield
Cushman & Wakefield is a leading global real estate services firm that delivers exceptional value for real estate occupiers and owners. Cushman & Wakefield is among the largest real estate services firms with approximately 51,000 employees in 400 offices and 70 countries. In 2018, the firm had revenue of $8.2 billion across core services of property, facilities and project management, leasing, capital markets, valuation and other services.