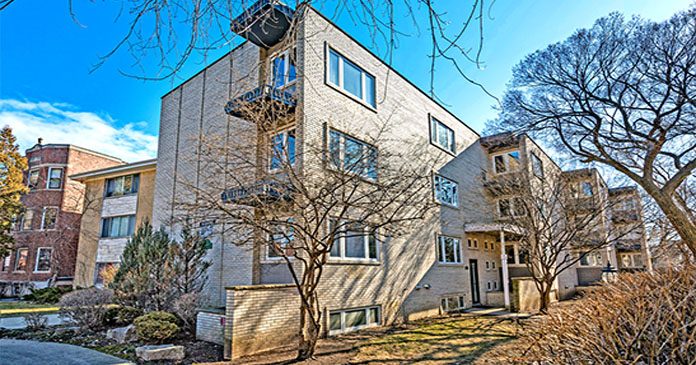 Interra Realty, a Chicago-based commercial real estate investment services firm, today announced it brokered the $3.3 million deconversion sale of 2151 Ridge Ave., a three-story multifamily building near Northwestern University in Evanston, Ill.
Patrick Kennelly, managing partner of Interra, and Paul Waterloo, director, represented the seller, The Avenue Ridge Condominium Association. The sale price equates to an average of $277,000 per unit.
"Investor demand remains high for rental buildings in Evanston, particularly near the Northwestern campus," said Kennelly. "This sale marks the third condo deconversion that Paul and I have completed in Evanston in the past two years. We're proud to have earned a great reputation for successfully executing deconversion sales, which are usually more complicated than other multifamily transactions."
Built in 1963, the courtyard building includes 11 two-bedroom units and one three-bedroom duplex. The residences feature hardwood flooring, updated kitchens with granite countertops and stainless steel appliances, marble baths with double sinks, and in-unit laundry. Residents also have access to a heated garage and exterior parking.
While most deconversions require getting a majority of individual owners to agree to a sale, this transaction was different in that a single entity—which converted the building's apartments to condos as part of a renovation in 2006—owned and rented out 10 of the 12 units. This allowed the buyer, who was not involved in the building's redevelopment, to exceed the 75 percent approval threshold required for deconversions under Illinois condo law.
"The well-maintained building was already full of renters, a unique situation for a deconversion candidate that expedited the closing and saved the buyer the expense of marketing to new tenants," said Waterloo. "We procured a buyer and offer on the first day of marketing, which is further evidence of the strong interest we've seen for properties in inner-ring suburbs that offer convenient access to the city."
2151 Ridge Ave. is two blocks from the Noyes Purple Line station and less than a mile from the Evanston Davis Street Metra stop. The property is also within walking distance of Northwestern University, the lakefront, and retail, restaurants and nightlife in downtown Evanston.
---
About Interra Realty
Founded in 2010, Interra Realty is a Chicago-based commercial real estate services firm that delivers integrated, tailored solutions through its boutique, client-focused approach and team of experienced professionals. Since its inception, the firm has closed thousands of transactions valued in excess of $1 billion spanning the multifamily, office and retail sectors, as well as loan sales. Interra's clients range from private investors and high-net-worth individuals to large financial institutions, private equity groups and hedge funds.