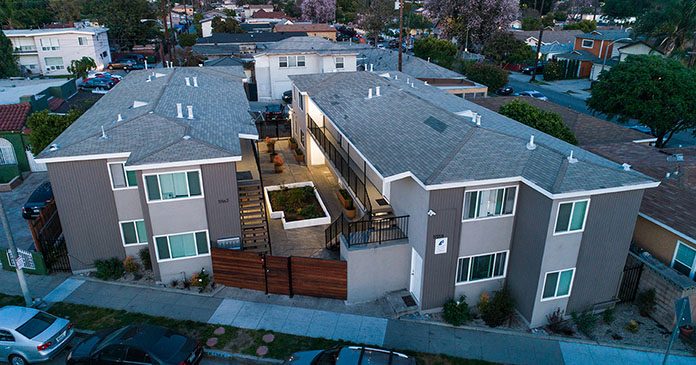 Stepp Commercial, a leading multifamily brokerage firm in the Los Angeles market, has completed the $2.85 million sale of a 12-unit apartment property located at 5558 to 5562 Dairy Avenue in Long Beach, CA.
Principal Robert Stepp of Stepp Commercial represented the seller, a San Diego-based private investment group. Travis Traweek of Stepp Commercial represented the buyer, Los Angeles-based LB View, Inc. The transaction closed at a 6 percent cap rate and sold at a price per unit of $237,500.
"This property offered the buyer a turnkey investment in the heart of the north long beach submarket, an area that is undergoing an infusion of capital investment with a number of new projects in the various stages of development," said Stepp. "We worked with the seller who was in a 1031 exchange and trading out of Long Beach, as well as the buyer who was in the upleg of an exchange. Ultimately, we provided a smooth transaction process meeting timely requirements of both 1031s."
Built in 1961, the two-building property totals 7,712 square feet and features four one-bedroom units and eight two-bedroom units. All 12 units were recently renovated to include hardwood flooring, custom cabinetry, granite countertops, stainless steel appliances and modern lighting and fixtures.
The north Long Beach submarket has been experiencing a revitalization, benefitting from the billions of dollars of investment in recent years in in downtown Long Beach and neighboring areas. Some of the projects in north Long Beach include The Uptown, an $8.5 million retail project, expected to open soon and will encompass about 35,000 square feet of building space. Additionally, Uptown Commons on Atlantic Avenue will feature restaurants and a full service bank, among other projects which include residential and public facilities.
---
About Stepp Commercial
Stepp Commercial is a brokerage firm specializing in the multifamily property sector. Stepp Commercial's mission is to provide apartment owners with a fully integrated sales platform that includes comprehensive market knowledge and local real estate expertise to successfully complete any type of multifamily transaction.