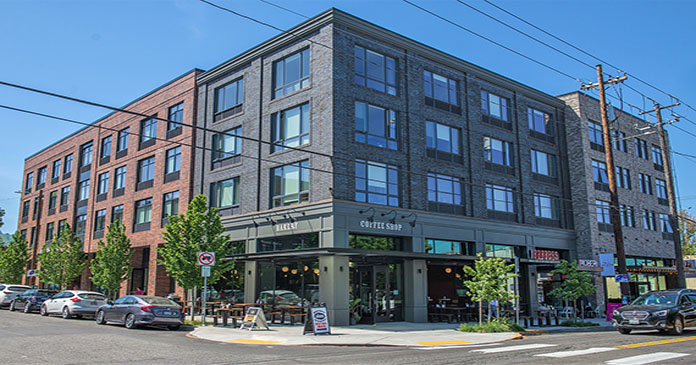 Kidder Mathews is pleased to announce the sale of The George Besaw for $23,625,000. The 51-unit, apartment / mixed-use building is located at 2323 NW Savier Street in Portland, Oregon. Kidder Mathews' team of multifamily investment brokers, Clay Newton, Jordan Carter, and Tyler Linn, exclusively represented the seller, C.E. John Company, a Vancouver, Washington-based developer.
"There are only so many properties located in A+ locations, and with its iconic location at NW 23rd Avenue and NW Savier Street, The George Besaw fits that bill," said Kidder Mathews Executive Vice President Clay Newton. "It's rewarding to be a part of a sale like this—especially with such great parties involved on both sides of the transaction," he said.
Located in NW Portland's historic Alphabet District, The George Besaw was completed in 2018. The LEED Gold-certified asset features 51 luxury apartment homes on three floors over ground floor retail, which are occupied by some of Portland's best-known retailers, including Pine State Biscuits, Life of Pie, Moberi, and The Barbers.