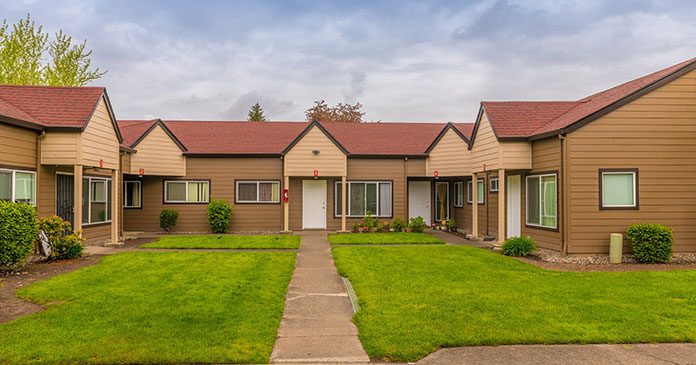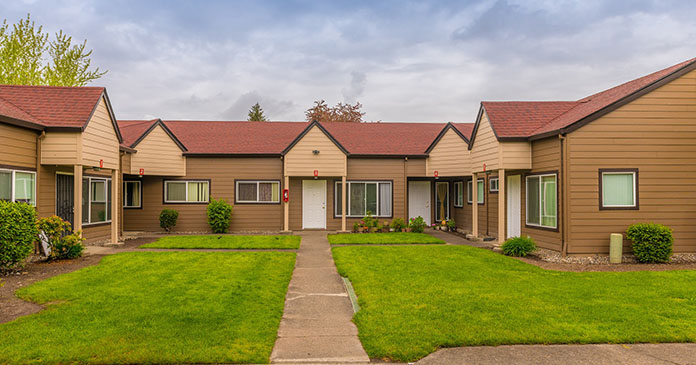 Trion Properties, a private equity real estate firm that specializes in value-add multifamily investments along the west coast, recently sold two renovated multifamily communities totaling 108 units in Los Angeles, California, and Beaverton, Oregon, according to Max Sharkansky, Managing Partner of Trion Properties.
"The success of these two dispositions is a testament to the continued health of the Los Angeles and Portland areas and high demand for quality multifamily product in these resilient markets, which we've been bullish on for the past several years," says Sharkansky. "These projects also demonstrate the wide range of our value-add capabilities, from a full rehabilitation and rebranding to light renovations and improved operations, in both cases ultimately bringing something to the market that satisfies today's resident demands."
The two dispositions include: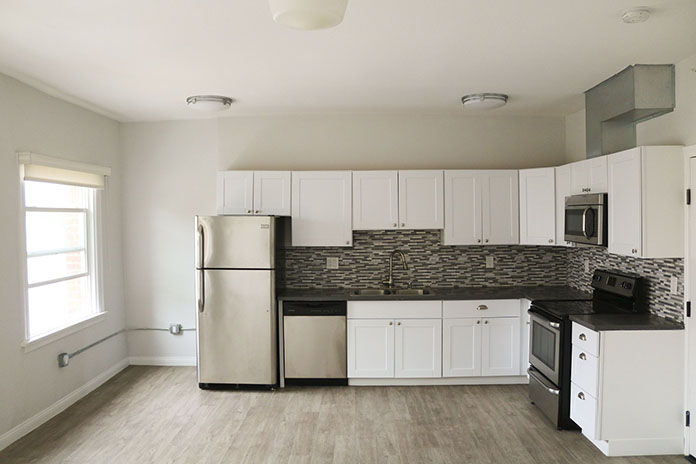 Repositioning and rebranding of boutique LA community
Trion Properties has sold The Eleanor, a 41-unit, 1920s-built boutique apartment community in Los Angeles, California, after more than quadrupling the asset's equity since its acquisition in 2013, according to Sharkansky.
The property, located just west of Downtown LA in the Westlake/MacArthur Park neighborhood, was completely vacant and boarded up when purchased by Trion Properties from St. Vincent Medical Center for just $1.6 million in 2013.
Max Sanchez, Director of Operations at Trion Properties, explains: "While our typical value-add strategy is to implement light-to-moderate upgrades on properties of younger vintages, we saw an excellent, rare opportunity to acquire this urban infill location and complete a heavy rehab to capitalize on the upward pressure on rents throughout Los Angeles. From the beginning, our goal was to preserve the 1920s charm while also creating a modern feel. We saw opportunities where others saw challenges, and through a collaborative effort, we devised creative ways to get over any humps."
Sanchez notes that the firm replaced all vertical lines, completely reworking sewage and plumbing system, and removing gas lines that ran through units. Further, the firm completely rewired the entire property's electrical system, windows, and added ductless mini split air conditioners and heating HVAC systems to all units. The firm designed a signature interior by marrying a 1920s-inspired faux-brick façade with contemporary touches like vinyl plank and stainless steel appliances. The basement, once containing old meters and boilers, was revamped to include a laundry room and lounge with unique graffiti art on the walls. The property also features a community garden with heat lamps and a barbecue.
Sharkansky adds: "We invested a total of approximately $2.8 million into renovations and successfully brought the property to 100 percent occupancy within 30 months. Ultimately, we operated a strong, cash-flowing asset with a 102.65% internal rate of return over a period 74 months, and sold the property for nearly $9 million."
Since leasing up the community, The Eleanor has maintained an occupancy of over 93 percent at all times, which is impressive given that the units are mostly studio apartments, which typically see high turnover, notes Sanchez. He also credits the community's success to creative marketing and operations strategies, such as offering free Uber credits to residents.
Trion is still highly active in the Los Angeles market, currently working through various stages of development on three ground-up multifamily projects in the region.
Tony Azzi and Rabbie Banafsheha of Marcus & Millichap represented Trion Properties as the seller in this transaction.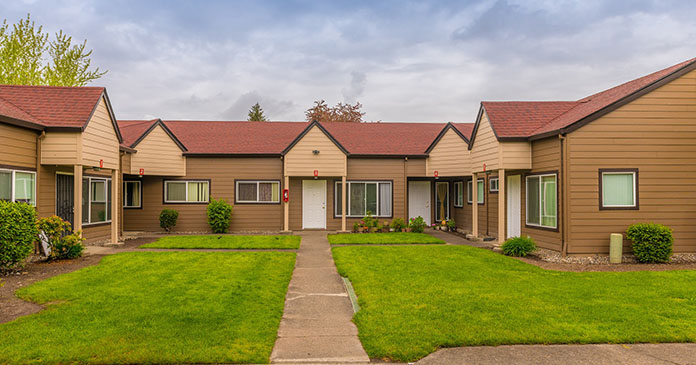 Light upgrades and improved operations drive 49 percent IRR at Beaverton community
Trion Properties has also sold Bel Aire Court, a 67-unit multifamily community in the Portland submarket of Beaverton, Oregon. The firm's value-add strategy resulted in a significant 49 percent internal rate of return on the property during a two-year hold, according to Sharkansky.
Trion also increased the asset's value by over 40 percent, selling the property to a private investor for $13 million after purchasing the property for just over $9 million in 2017. To achieve this return, the team implemented approximately $1.3 million in value-add renovations including new cabinetry, stainless steel kitchen appliances, countertops, and fresh exterior paint, in addition to operating its hands-on, in-house property management platform to optimize operations at the community.
"We immediately recognized Bel Aire Court as a rare asset in a thriving submarket of Portland that presented an opportunity to drive significant value," explains Sharkansky. "While the community was well maintained for its nearly 60-year vintage, the investment ended up exceeding our already-strong expectations and in a short amount of time, we successfully increased the value by more than 40 percent and achieved a significant return-on-investment."
At the time of acquisition, Bel Aire Court was Trion's fifth multifamily acquisition in the greater Portland area. The firm is continuing to acquire in the region, with its current regional portfolio at 10 properties.
"The greater Portland metropolitan area has continued to grow into one of the strongest multifamily markets in the nation, and we will remain an active buyer in these submarkets," explains Farhan Mahmood, Managing Director of Acquisitions at Trion Properties, who notes that Beaverton and other suburban cities in the area are seeing even higher percentages of population growth than the still-booming city of Portland. "We determined that now was the right time for us to sell this particular asset in order to trade our investors into a larger asset and further expand our portfolio."
Mahmood notes that Bel Aire Court's positioning within close proximity to the OR-217 freeway, which many residents take to commute to work throughout the Portland metro, and location within a high-quality school district are particularly attractive to residents. Further, the property is just 1.5 miles away from several MAX Blue Line stations, also providing residents with easy access to Downtown Portland, East Portland and Hillsboro.
These appealing location-based and property-level features have resulted in strong interest and retention rates, creating a high cash flowing asset for the new ownership, according to Mahmood.
Bel Aire Court, a garden-style community consisting of 15 single-story buildings on 16 parcels, is located at 12020-12275 Why Worry Lane in Beaverton, Oregon.
Jordan Carter, Clay Newton and Tyler Linn of Kidder Matthews represented Trion Properties as the seller in this transaction.