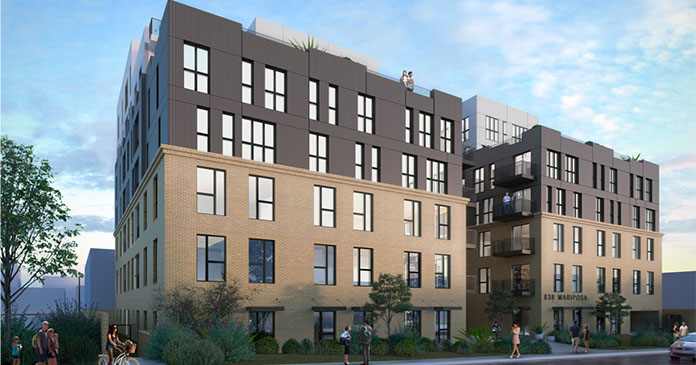 Real estate investment and development firm CGI Strategies has started construction on a 200-unit apartment community at 837 S. Fedora in the heart of Los Angeles' Koreatown. Fedora, which is being developed at a cost of $50 million, is CGI's third ground-up multifamily development in the Koreatown neighborhood in the past 36 months.
Fedora is a seven-story concrete and wood building, over two levels of subterranean parking, that will feature a mix of studio, one- and two-bedroom floor plans ranging in size from 622 to 1,000 square feet. Each unit will feature walk in closets, balconies, stone countertops, contemporary lighting fixtures and stainless steel appliances. Ten percent of the units will be dedicated for low-income earners. Amenities will include a fully equipped fitness center, 6,500-square-foot community lounge and clubhouse, exterior courtyard and a 5,400-square-foot rooftop deck.
With Fedora, CGI continues to establish a significant footprint in Koreatown, a vibrant submarket located four miles east of downtown Los Angeles with a proven appeal to the millennial workforce. Having successfully brought to market 182 market-rate and affordable rental units, with an additional 121 units, 6,000 square feet of retail space and 125 hotel rooms in the pipeline, CGI is one of the most active multifamily developers in Koreatown.
The start of construction on Fedora coincides with the completion of the nearby Mariposa, a mixed-use development with 122-unit apartment homes over 4,600 square feet of street level retail space at 269 S. Mariposa Avenue, on the northwest corner of Mariposa and W. 3rd Street. CGI completed its first Koreatown development in 2018. Kodo, a 60-unit mixed-use development near the Wilshire/Vermont Metro Station was sold last month to a local investment firm for $30 million.
Members of the Fedora construction team include: Frymer Construction and KFA Architecture.
Construction is expected to be completed in April 2022.