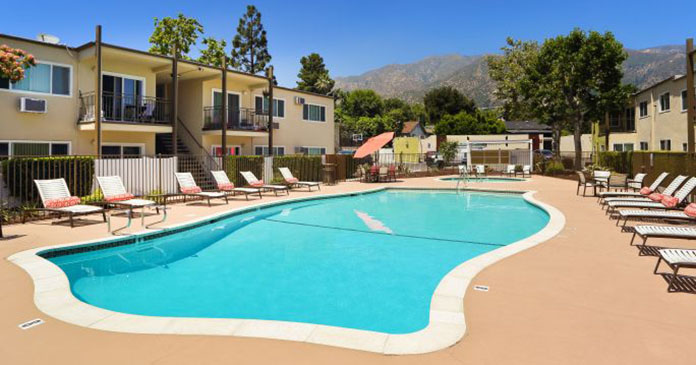 Institutional Property Advisors (IPA), a division of Marcus & Millichap, announced today the sale of The Summit at La Crescenta, a 92-unit apartment complex in La Crescenta-Montrose, California. The property sold for $34,525,000, which equates to $375,272 per unit.
"The Summit at La Crescenta is one of only five buildings greater than 50 units in La Crescenta-Montrose and over the past 20 years, just 44 units have been added as supply is constrained by the lack of available land and the difficulty of aggregating parcels," said Kevin Green, IPA senior director. "As a result, the area is a largely underserved market, as evidenced by the 1 percent residential vacancy rate."
Green, Joe Grabiec, IPA senior director, and Greg Harris, IPA executive director, represented the seller, a joint venture between Stockbridge and NNC Apartment Ventures, and procured the buyer, Raintree Partners. "The property has received many interior and common area improvements over the last five years and strategic renovations can further augment the income stream," added Grabiec.
Built in 1964 on 3.75 acres, The Summit at La Crescenta is adjacent to the Angeles National Forest, approximately five miles from Glendale Community College and about 10 miles from Woodbury University. There are 1.4 million jobs within a 30-minute drive of the community in Burbank, Glendale, Pasadena, and Downtown Los Angeles. "La Crescenta-Montrose's affluent demographics, such as average annual income of $126,598, low density and highly regarded school system make it one of the most desirable places to live in the Tri-Cities submarket, which also includes Burbank, Glendale, Pasadena, and La Canada-Flintridge," noted Harris.
"Including Summit at La Crescenta, we have acquired eight assets in the Glendale/La Crescenta submarket for $114 million over the last nine months," commented Raintree Partners managing director Aaron Hancock. "Our total portfolio in the area now totals 323 units and we intend to add more."