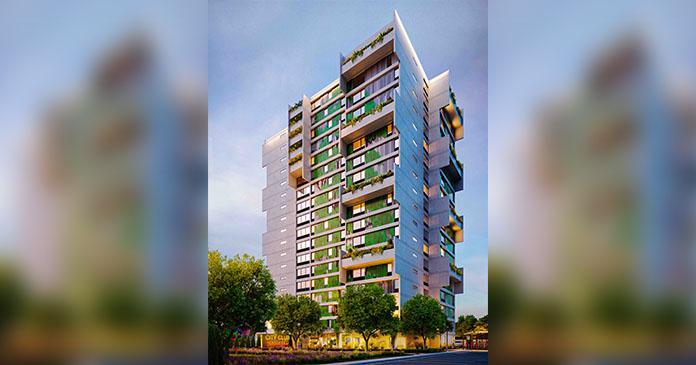 Detroit-based City Club Apartments, a 100-year-old mixed-use multifamily pioneer, broke ground on the redevelopment of the formerly named Elmwood Park Plaza, an innovative and progressive 18-story apartment community built by Toby and David Hotlzman and Holtzman and Silverman in the early 1970s. At the time, it was one of the first mixed-use apartment buildings in Michigan and included a Detroit Public Library branch, retail and a Farmer Jack grocery store. Director of Housing and Revitalization Donald Rencher, Council Pro Tem Mary Sheffield and City Club Apartments Chairman and CEO Jonathan Holtzman were among the speakers at the event.
"We are thrilled to be breaking ground today on the top-to-bottom redevelopment of this historic building with Mayor Duggan, Donald Rencher, Council Pro Tem Mary Sheffield and the City of Detroit," said Holtzman. "This building has a special place in my heart as it was developed by my father nearly 50 years ago. City Club Apartments and its predecessor companies have been actively building for sale and for rent housing in the City of Detroit for more than 100 years and have never been more inspired with its leadership, vision and energy. My family pioneered urban, mixed-use apartment development in Detroit with this building in the 1970s and we are setting the standard once again with this redevelopment. We are redeveloping this community in response to the demand for affordable luxury in the City. It simply does not exist in the market today and we are excited to be delivering it with this market redefining development."
Located at 750 Chene Street in the newly renamed Rivertown District, the 18-story mixed-use high-rise will feature 202 newly redeveloped apartments and penthouses—20 percent of which will be affordable for existing residents.
"Our city's revitalization won't mean much if longtime residents can no longer afford to stay where they have been living when improvements are made," said Rencher. "We've made it one of or highest priorities to work with building owners to preserve affordable rents as these buildings are being renovated. I appreciate the commitment made by Holzman and the hard work of our Housing & Revitalization Department to make sure these tenants will be able to stay in this building at a rate they can afford." According to Holtzman, the full 20 percent affordable will be covered by existing residents. As residents in affordable units choose to move out, it will create an opportunity for someone else who qualifies.
The building will feature international design and resort class amenities and services.  Mature greenery will play a prominent role on the exterior facade of the community and the expansive park and grounds will be extensively landscaped. The community is designed to achieve NAHB Green Building Certification which demonstrates high-performance building and construction practices in six distinct areas: lot design and development, resource efficiency, water efficiency, energy efficiency, indoor environmental quality, and building operation & maintenance. This attention to green building and management, social responsibility and total health and wellness is a top priority for all of City Club Apartments' new and redevelopment communities. As an example, the building is getting a modern HVAC system and new high efficiency windows throughout.
From a lobby lounge library and first floor club room with gourmet kitchen, lounge seating, big screen TVs and a fireplace where residents can host private events, entertain or connect with their neighbors, to a state of the art wellness and fitness center, large outdoor park with a heated pool and hot tub, Zen garden, beach volleyball court, grilling area and custom lounge seating and cabanas, City Club Apartments Lafayette Park will offer the amenities and services of a 5-star hotel with the very best of urban living and lifestyle. The community's Bark Park and dog run will invite pet owners to schedule play dates with their neighbors. The community's list of amenities and services also includes gated and secured parking, sexy bathrooms, 24/7 concierge and social programing, a business conference center and integration of advanced and high-speed fiber technology throughout the building. Perched on top of the completely redeveloped building will be the 18thfloor Sky Lounge where residents and their guests can enjoy comfortable seating, big screen TVs and unobstructed 360-degree views of the Riverfront, Belle Isle, Downtown and Eastern Market.
City Club Apartments Lafayette Park will feature three distinct finish packages in the four one-bedroom apartment and four one-bedroom penthouse floor plans. Balconies are available in select units and CCA's exclusively designed kitchens include European-style cabinets, frosted glass and metal accents, open shelving, built-in wine racks and full-height pantries, slide in front control ranges, refrigerators with ice makers, dishwashers, microwave ovens and gooseneck faucets in select units. Select units also include glass tile backsplash, granite counter tops, undermount sinks, undercabinet LED lighting and moveable multi-function island with drawers.
The community is located directly adjacent to a Detroit Public Library branch, one block from public transportation and four blocks from the Detroit riverfront, parks and trails. The community will provide complimentary onsite bike storage for its residents.
City Club Apartments is the single largest owner of existing, under development and under construction apartment and penthouse units in the City of Detroit. Hotlzman's grandfather Joseph built single family homes in the city of Detroit beginning in 1919. His father Toby and uncle David built the 202-unit Elmwood Plaza in the early 1970s and were partners in the development of Detroit's 802-unit Riverfront Apartments in the early 80's. The company purchased the former Millender Center Apartments during Detroit's bankruptcy and redeveloped them to the 360-unit Renaissance City Club Apartments. The company purchased and redeveloped the 351-unit Detroit City Club Apartments in 2016. The 288-unit City Club Apartments CBD Detroit is currently under construction at Washington and Park and will open this spring. And, City Club Apartments plans to break ground on a significant mixed-use apartment community in Midtown in 2021.
Prior to launching CCA in early 2016, Jonathan Holtzman served as chairman, CEO and 50 percent owner of Village Green Holdings, a 50-year-old, $4.5 billion apartment company that evolved from a single family and land development company founded by his grandfather Joseph Holtzman in 1919. In July 2016, Holtzman announced he had sold his interest in Village Green's operating companies to Dallas-based Compatriot Capital and entered into a partnership with Canadian developer and investor, Alan Greenberg. While he sold his shares in the management company, Holtzman retained his ownership of approximately 10,000 apartments in 30 communities with a combined real estate value exceeding $2 billion. The partners also have $750 million of new communities in various stages of development, construction and lease-up in downtown Cincinnati, Detroit, Kansas City, Louisville, Pittsburgh, Chicago and Cleveland with expansion plans for the East Coast. Holtzman and Greenberg plan to start three new communities each year.
Construction on City Club Apartments Lafayette Park will begin this month with pre-leasing beginning immediately. The first residents are expected to begin moving into the new apartments and penthouses in March. The adjacent property owner has plans to redevelop his property into a complimentary mixed-use community at a future date.