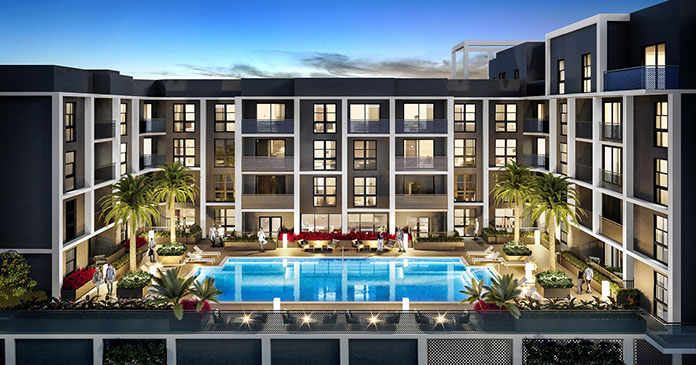 Housing Trust Group (HTG), one of the nation's largest developers of affordable housing, has closed on financing and will be breaking ground at the end of January on its newest affordable housing development in Florida: Village View.
Located at 640 North Andrews Avenue, Village View will create 100 affordable one and two-bedroom apartments for seniors (55 and over) in one of South Florida's trendiest new neighborhoods, Flagler Village of Fort Lauderdale. Apartments are set aside for seniors earning at or below 30, 60 and 70 percent of area median income (AMI). Rents will range from $402 to $1,236.
Funding sources for Village View included approximately $25 million in 9 percent Low Income Housing Tax Credit Equity (LIHTC) provided by Raymond James, a construction loan from Capital One and permanent financing through Walker Dunlop. The property will be delivered in Q1 of 2021, with pre-leasing set to begin in mid-2020.
HTG is an award-winning, full-service developer of multifamily residential communities with over 7,000 affordable and market-rate units throughout Florida, Georgia, Texas and Arizona, and more than 2,000 new apartments in the pipeline. This is HTG's second affordable senior community in Flagler Village. In 2014, HTG completed Village Place at 7210 NE 4th Avenue, providing 112 apartments for seniors. That community has received numerous awards, including the 2016 National Association of Home Builders Silver Achievement Award for Best 55+ Affordable Rental Community.
"We knew from our experience developing Village Place that that there is tremendous need for affordable senior housing in downtown Fort Lauderdale," said HTG President and CEO Matthew A. Rieger. "The Flagler Village neighborhood offers a lot of amenities and resources, all in walkable distance, for seniors to enjoy. We're excited to deliver another well designed, amenity-rich property to the community that our residents and their families can be proud of."
The seven-story Village View will have 68 one-bedroom apartments and 32 two-bedroom apartments ranging from 700 square feet to over 1,100 square feet, with terraces on both first and third floors. Community amenities will include community business centers, a resort-style swimming pool with hardscape patio, a state-of-the-art gym and media center, on-site management and maintenance offices, and structured parking. Units will include washer/dryers, open floor plans, and full-size Energy Star kitchen appliances. The property will be built to National Green Building Standards (NGBS).
The building design team for Village View is led by Corwil Architects who served as lead architect, Bliss & Nyitray, Inc, structural engineers, and Franyie Engineers, Inc. the MEP for the development. Thomas Engineering served as the civil engineer and landscape architect, while B. Pila Design Studio was the interior designer. Village View will be built by General Contractor, ANF Group.