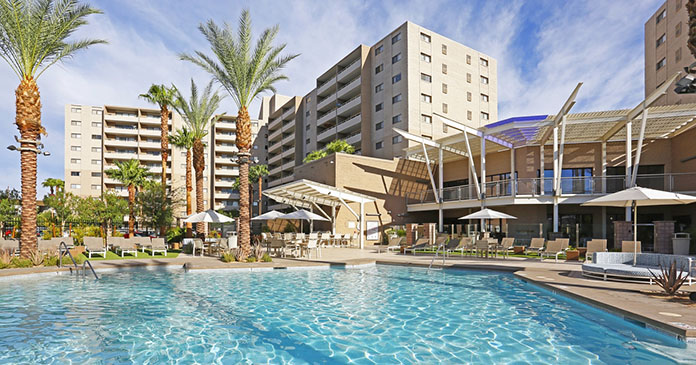 Waterton, a national real estate investor and operator, today announced it has acquired Vegas Towers at 1061 E. Flamingo Rd., less than two miles east of the Las Vegas Strip and adjacent to the University of Nevada Las Vegas campus. Waterton continues to build on its Las Vegas portfolio in response to favorable market conditions including job growth, in-migration and access to business and lifestyle amenities.
Built in 1974, the Vegas Towers property consists of two 10-story towers featuring 264 one-bedroom/one-bath and 192 two-bedroom/two-bath apartments as well as a two-story clubhouse. Amenities include an outdoor courtyard space with cabanas, grilling areas and a new pool and hot tub. Residents here also enjoy laundry rooms on every floor; gathering spaces with a variety of seating options for group entertaining; workspaces for business needs; and, a well-equipped fitness center.
"The high-rise nature of Vegas Towers makes it a unique multifamily asset for Las Vegas and complements Wateron's experience in owning and operating value add, high-rise apartments", said Peter Kuzma, vice president of acquisitions at Waterton. "Combine that with Las Vegas' strong market fundamentals, and we are extremely excited about the acquisition and the value add opportunity it presents."
A combination of a lower tax burden and relative affordability compared to other West Coast cities makes the Las Vegas market attractive for value add multifamily investment as employment and population growth significantly outpace national trends. Strong late-cycle economic growth will continue to fuel demand for attainable rental housing. A $14 billion development pipeline, including projects such as the new Las Vegas Stadium, MSG Sphere and Resorts World Las Vegas, will continue to drive tourism, which is up 9.9 percent year-over-year, and stimulate job creation.
The state of Nevada experienced the largest employment gains in the country in 2018 and Las Vegas' employment base expanded by 21,300 in the 12 months ending in June 2019, up 2.9 percent from the previous year. The positive effect of strong demand characteristics is also evident in year-over-year rent growth. The average rent in Las Vegas increased 7.6 percent from the previous year as of August 2019, more than double the national average.
"The strength of the Las Vegas market and the physical quality of the property create an ideal value add opportunity for Waterton", said Kuzma. "The business plan contemplates a curated renovation strategy which is expected to deliver value to a diverse resident demographic seeking  well located, high quality housing."
Waterton plans to implement a combination of renovation strategies that will see interior renovations including upgrades to living rooms and bathrooms throughout the property. Select residences will also benefit from the addition of high-end finishes such as quartz countertops, upgraded lighting and plumbing fixtures, new hardware, two-inch blinds and ceiling fans.
Las Vegas Towers is situated just east of the Las Vegas Strip, the state's largest employment center (400,000 jobs) and adjacent to the University of Nevada Las Vegas, with over 30,000 students and 4,300 faculty members. Daily needs retailers such as Target, Albertsons and Walgreens are all within walking distance. The location also provides immediate access to the Las Vegas Convention Center, McCarran International Airport, and Las Vegas' most popular retail and hospitality amenities.
CBRE represented the seller.