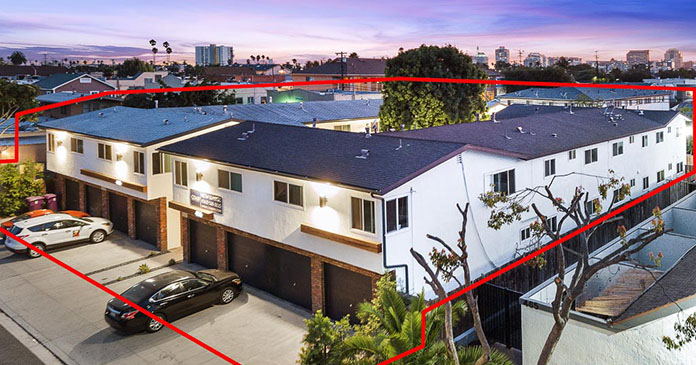 Stepp Commercial, a leading multifamily brokerage firm in the Los Angeles market, has completed the approximately $5.71 million sale of a 16-unit apartment property located at 445-455 Rose Avenue in the heart of the 4th Street/Retro Row submarket of Long Beach, CA.
Principal Robert Stepp of Stepp Commercial represented the seller, Santa Monica-based VMG Properties, LLC, as well as the buyer, a private investor from Orange County. The transaction closed at a 4.8 percent cap rate and a price per unit of nearly $357,000.
Built in 1963, the two-building asset features newly renovated units with open floor plans and mid-century architectural lines surrounding a beautifully landscaped central courtyard with a BBQ and built-in seating on an approximately 13,000-square-foot lot. The property includes four three-bedroom units, eight two-bedroom units and four one-bedroom units.  Fourteen of the units have been completely remodeled and offer wood laminate flooring, custom cabinetry, quartz countertops, stainless steel appliances, and designer lighting and fixtures throughout. There are also 12 parking spaces.
"The 4th Street/Retro Row area is one of the most highly sought after neighborhoods to live in Long Beach," said Stepp. "It provides residents a highly walkable and amenity rich community with dozens of trendy shopping, dining and nightlife options. That said, this well-maintained asset offers the new ownership a cash-flowing property that is poised to appreciate over the coming years as the area continues to see even more gentrification and demand."