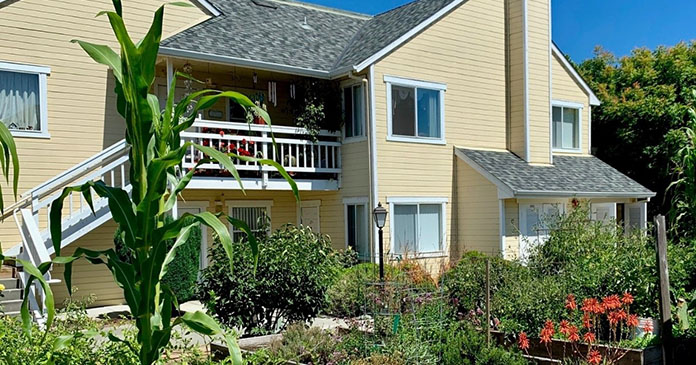 BRIDGE Housing has acquired the 130-apartment Paloma Del Mar Apartments in Freedom, a community that is partially within the incorporated city of Watsonville in Santa Cruz County.
Originally built in 1993, Paloma Del Mar features 104 one-bedroom and 26 two-bedroom apartments, as well as a property management office, community room, laundry rooms and landscaped outdoor spaces.
Rents at Paloma Del Mar are affordable to seniors whose income is below 60 percent of Area Median Income (approximately $51,540 for a one-person household). The original income restrictions were slated to expire in 2024, at which point the property could have been converted to market-rate housing. Through this acquisition, BRIDGE is preserving the affordable rents, and all current residents have been able to keep their homes.
Sara Escobar, who did administrative work and housecleaning before she retired, has lived at Paloma Del Mar for more than a decade. She enjoys socializing with her neighbors, and is happy that the grocery store is a short walk away. "I have a roof over my head, and my daughter and two grandchildren live nearby," she said. "I'm really happy to be here."
This acquisition was made possible through a number of funding sources, including a $4 million loan from Housing Trust Silicon Valley (HTSV) and the Monterey Bay Housing Trust—a program of the Monterey Bay Economic Partnership—and a $13.4 million loan from HTSV using dollars from the CDFI Fund of the U.S. Treasury.
"Preserving the affordable housing we already have and reducing displacement is a critical way to address the regional housing crisis," said Kevin Zwick, CEO of Housing Trust Silicon Valley. "We're proud of our work with Monterey Bay Economic Partnership and are thankful we can help the residents of Paloma Del Mar keep the places they call home."
"For seniors, especially those with lower incomes, it makes all the difference in the world to have a stable, affordable place to live," said Cynthia A. Parker, President and CEO of BRIDGE. "We're grateful for the innovative partnership and loans, which will help us keep Paloma Del Mar affordable for the long term."