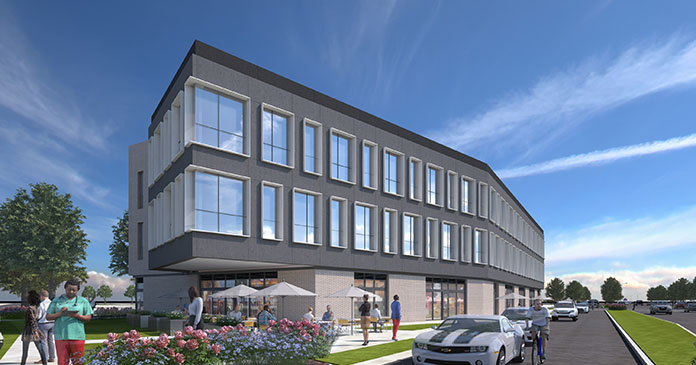 Chicago-based The Habitat Company has announced construction is underway for phase one at Ogden Commons, the $200 million mixed-use project in Chicago's North Lawndale neighborhood being developed in a public-private partnership between Habitat, Sinai Health System, Cinespace Chicago Film Studios, the Chicago Housing Authority and the city of Chicago. Upon completion, the 10-acre development will offer 120,000 square feet of commercial and retail space and over 350 mixed-income housing units.
"This is a great moment for the North Lawndale community, which hasn't seen new development and investment for too long," said Matt Fiascone, president of The Habitat Company. "It's our mission to build impactful developments, and Ogden Commons will create a positive ripple effect in the neighborhood for years to come. Not only will it bring the first new outpatient facilities to the area in more than 20 years, but the project will also add new restaurants, a bank, office space and much-needed affordable housing—all while creating jobs and building the local economy."
Located in a federally designated Qualified Opportunity Zone, the site is bordered by Ogden Avenue to the south, Fairfield Avenue to the west and Rockwell Street to the east. Ogden Commons will be located on land that once was occupied by the Chicago Housing Authority's former Ogden Courts and Lawndale public housing developments. Through a combination of debt and Opportunity Zone equity, PNC Bank funded $15 million of the $22 million development cost for phase one at Ogden Commons.
"PNC's involvement in this mixed-use project reflects our core commitment to help stabilize and revitalize low-income communities," said Thurman "Tony" Smith, senior vice president and PNC Community Development Banking market manager in Chicago. "As the first to go to market with our Opportunity Zone Fund, we were able to work with the city of Chicago, the CHA and Habitat to equitably reinvest in a project on Chicago's west side, which will provide affordable community healthcare, small business growth, job creation and other positive economic impact."
Ogden Commons will be developed in multiple phases, the first of which will comprise 50,000 square feet of commercial and retail space housed in a three-story building. Ground-floor space will be occupied by retail tenants, including Steak n' Shake, Ja' Grill and Wintrust Bank. The rest of the building will be leased to Sinai Health System and Cinespace Chicago Film Studios. A catalyst for other phases of the project, the commercial development will be followed by the first phase of the mixed-income housing.
Sinai Health System has had a presence in North Lawndale for nearly 100 years with its Mount Sinai Hospital, along with the Schwab Rehabilitation Hospital and Sinai Community Institute, all located along Ogden Avenue. With its new space at Ogden Commons, Sinai will be able to offer more outpatient services, while adding capacity and efficiency to their dialysis therapy programs in a state-of-the-art facility that is close to its other medical buildings.
"For Sinai Health System, taking an active role to improve the health and quality of life in the neighborhoods we serve on Chicago's West and Southwest sides is not new work, it's been central to our mission for over 100 years," said Karen Teitelbaum, president and CEO of Sinai Health System. "Ogden Commons is an extension of that legacy of reaching beyond our own hospital walls to provide much-needed resources to our community. It will be transformative in building the future for the people of North Lawndale and the entire West Side."
"Cinespace has been proud to call the North Lawndale neighborhood home for nine years and Ogden Commons only strengthens our commitment to investing in the community's ongoing revitalization," said Alex Pissios, president of Cinespace Chicago Film Studios. "The new facilities at Ogden Commons will not only introduce more people to the neighborhood, but also help spur economic growth through job creation."
Cinespace Chicago Film Studios is the second-largest studio in the U.S. and occupies 1.45 million square feet of what used to be the Ryerson Steel Company along Ogden Avenue. Its new office space at Ogden Commons will be dedicated to its two nonprofit affiliates: Cinecares, which offers a job-training program in film production for disadvantaged youth; and Stage 18, a film industry incubator designed to expand Chicago's talent pool in movie and TV production.
"We've been talking to Sinai for many years about this site," said Fiascone. "But the project involves a very unconventional capital stack and certainly wouldn't have happened without the OZ funding. As we worked to get the layered and creative financing in place, we also aligned ourselves with strategic partners—each of which shares in our mission and brings something special to the project.
"We like to say that Sinai will take care of you, Cinespace will entertain you and Habitat and the CHA will put a roof over your head," added Fiascone. "Ogden Commons will leverage all of our strengths."
The residential component of Ogden Commons will take place across multiple phases, with an anticipated start in 2021. Current plans for the first residential phase calls for a 92-unit multifamily building and three six-flat buildings. The entire Ogden Commons project is expected to be complete by 2026.