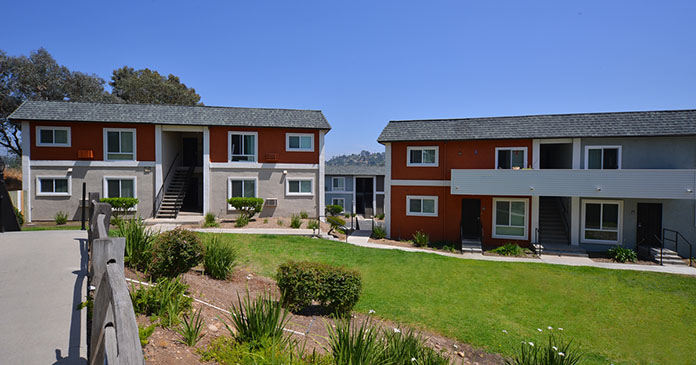 Universe Holdings has acquired Serena Vista, a 110-unit apartment community in the prime San Diego submarket of La Mesa for $34.45 million.
With the acquisition of Serena Vista, located at 5810 Amaya Drive, Universe increases its footprint in La Mesa to 300 units, which are spread out among four properties. Getting an opportunity to add significant volume to its San Diego portfolio with one acquisition was extremely appealing, according to Universe CEO Henry Manoucheri.
"Only 14 multifamily properties with more than 100 units were put on the market in the Greater San Diego market over the last 12 months, so the chance to acquire Serena Vista was an opportunity we simply could not pass up," Manoucheri said. "It's a challenging market in which to acquire larger properties because they simply don't change hands that often. With three other properties in La Mesa, we have a good feel for the market, as well as strong operations already in place, which added synergy to this deal."
Built in 1971, Serena Vista is a fully leased, stabilized asset in an area ranked among the 10 most expensive real estate markets in the country. This has created strong demand for rental properties to accommodate those priced out of homeownership. The area is a hub of major employers, including Kaiser Permanente, Booz Allen Hamilton and the San Diego Union-Tribune. In addition, the military maintains a large presence in San Diego, which serves as a homeport to more than 60 percent of the ships from the U.S. Pacific Fleet and more than one-third of the combat power of the U.S. Marine Corps., resulting in additional demand for rental properties.
The continuing population growth has forced many would-be renters away from downtown, creating strong market rent growth in submarkets like La Mesa, which is located within 15 miles of several major employment centers. This includes San Diego State University, which is 5.3 miles from the property, making La Mesa a prime spot for both students and those employed by the university to reside.
La Mesa, known as the "Jewel of the Hills," is located within access to all of San Diego via Interstate 8 and California State Route 125. The Amaya Drive Trolley Center, located within walking distance, offers residents easy access to mass transit lines servicing the region. Known for its quaint downtown, La Mesa is located within 1.5 miles of the Grossmont Shopping Center, a 1.2-million-square-foot regional shopping center.
Serena Vista features one- and two-bedroom apartment homes in  17 low-rise residential buildings on a 5.17 acres site. Property amenities include a swimming pool, spa, two laundry facilities, fitness center, a clubhouse with kitchen area, garages and covered parking with storage. The property has undergone significant interior and exterior upgrades, with Universe planning to institute a light capital improvement plan aimed at upgrading the property's common areas.
The acquisition of Serena Vista is one of five properties in a  new investment vehicle consisting of small value-add and larger core assets located in Los Angeles and San Diego Counties.
"Grouping strong stabilized assets like Serena Vista with value-add properties creates diversified investment opportunities for our investors that we feel will lead to superior blended returns," said Manoucheri.