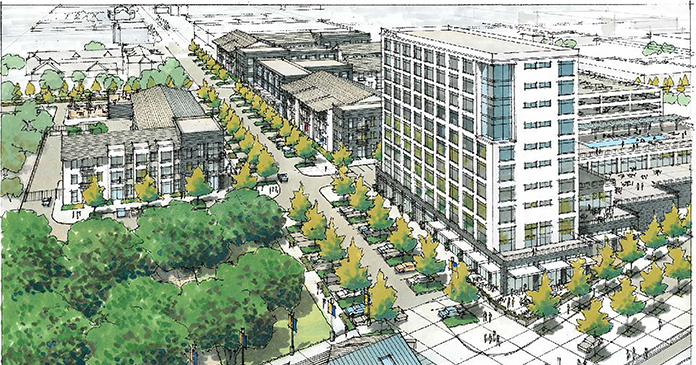 JLL Capital Markets announced that it has arranged construction financing for The Riverfront Lofts, a 266-unit, Class A multihousing project, which will be the first phase of The Riverfront mixed-use waterfront district in downtown Waco, Texas.
JLL worked exclusively on behalf of the developer, Catalyst Urban Development, to secure the floating-rate construction loan that was provided by First United Bank. This development is the result of a collaborative multi-year effort leading to a proactive public/private partnership with the City of Waco aimed at creating a vibrant urban riverfront experience complete with a new public park, farmers market venue, interactive streetscapes and destination venues.
The Riverfront Lofts will be the first phase of the planned mixed-use district and will be constructed on a 6.37-acre site along S. University Parks Drive just west of Interstate 35 and within walking distance to the Baylor University campus and Waco's largest attraction, Magnolia Market at the Silos. The property will be an urban residential project designed to combine seamlessly with the upcoming restaurants, hotel, small office and public uses within the walkable urban district that is situated along the Brazos River. The buildings are designed in a Texas loft style that will create a distinct identity for the community and will feature a signature sign that will add a unique touch to this downtown expansion.
This first residential phase will include amenities such as a clubroom with a large fitness facility, coffee lounge, entertainment and gaming areas, community catering kitchen with dining area, and a fully amenitized business center with work rooms. Homes will feature high ceilings, designer finishes, large windows, built-in shelving, walk-in closets, unique lighting and exterior balconies. Units will offer multiple options for a ground-floor home office with the option to hang signage if desired. The property will also offer a host of parking options, including structured parking, private garages, covered spaces and convenient front-unit parking along the streets.
The JLL Capital Markets team representing the borrower was led by Managing Director Jeremy Sain.
JLL Capital Markets is a full-service global provider of capital solutions for real estate investors and occupiers. The firm's in-depth local market and global investor knowledge delivers the best-in-class solutions for clients—whether investment advisory, debt placement, equity placement or a recapitalization. The firm has more than 3,700 Capital Markets specialists worldwide with offices in nearly 50 countries.