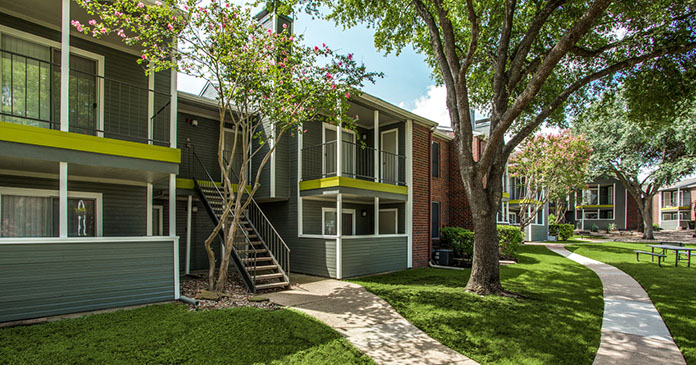 Mesa West Capital has provided Austin, TX-based real estate investment firm Wildhorn Capital with $33.5 million in short-term, first mortgage debt for the acquisition of a 284-unit multifamily community in Austin, TX.
The five-year, floating rate loan is secured by Patten East, a low-density garden-style community located in the southeast Austin submarket of East Riverside, three miles from the city's central business district. While the property has been well maintained by the seller, Greensboro, NC-based Hawthorne Residential Partners, Patten East represents an attractive value-add opportunity in one of the fastest growing rental markets in Austin, according to Vice President Brian Hirsh who led the origination team out of Mesa West Capital's Chicago office.
"The story is similar to other major markets around the United States experiencing strong population and job growth, in which renters are being priced out of some of the core urban locations and seek more affordable submarkets," said Hirsh. "However, unlike many other major metros, East Riverside is an affordable submarket in very close proximity to the CBD, creating robust demand for well-maintained, well-operated rental communities."
Located at 2239 Cromwell Circle, the property also is less than one mile from Oracle's new 550,000-square-foot Waterfront Campus. The first major office development on the Southeast Waterfront, Oracle's new campus is credited with transforming the Riverside submarket as a new business hub. Other nearby employers include Google, Facebook, Cirrus Logic and Silicon Laboratories. Approximately 178,000 people work within a five-mile radius of Patten East
Patten East features a mix of one- and two-bedroom apartment homes in 19 low-rise residential buildings on a 12-acre site. Community amenities include a clubhouse with resident lounge and Starbucks coffee bar, 24-hour fitness center, saltwater swimming pool, outdoor kitchen and fireplace, and dog park.
Wildhorn Capital, whose current portfolio consists of 1,570 multifamily units located primarily in Austin and San Antonio, plans to make improvements to building interiors, common areas and unit interiors upon rollover.
Financing was arranged by Newmark Knight Frank out of Austin.