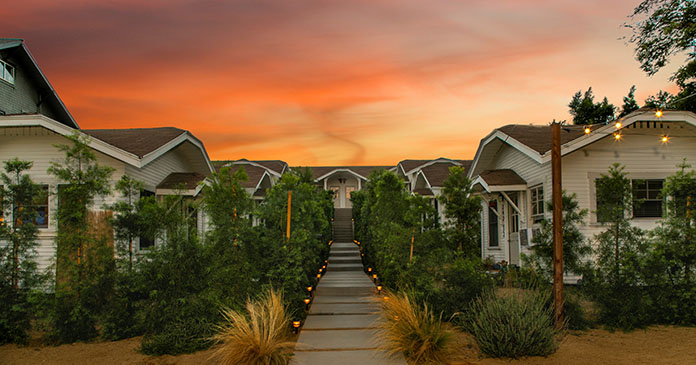 Dunleer, a Los Angeles-based private real estate investment and development firm, announced the $3.222 million sale of The Cottage Club, an iconic rental community consisting of eight stand-alone cottages located at 336 N Avenue 57 in the Highland Park neighborhood of Los Angeles. The price per square foot was just over $638, and the price per unit was $402,750.
The buyer, a Los Angeles-based private investor who was in a 1031 exchange, was represented by Jenny Morant of Compass Real Estate. Dario Svidler, Morgan McMulin and Patrick Barakat of Compass Real Estate represented Dunleer in the transaction.
Dunleer acquired the property approximately three years ago and immediately embarked on a major renovation of the community's exterior landscaping as well as a total transformation of each unit's Scandinavian-inspired interior. The extensive remodel included the addition of high-end finishes such as Dutch doors, stone counters, stainless steel appliances, and flooring, as well as the installation of a new washer/dryer, among other enhancements.
"This community was the most charming rental product we have ever had in our portfolio," said BJ Turner, Founder of Dunleer. "Tenants absolutely loved the concept of their own cottage with their own yard, and we feel this product could be in even higher demand in a post-COVID environment. With a comprehensive and thoughtfully curated capital improvement program, we were able to maximize rent rates and bring the property to full occupancy which resulted in securing a very attractive sales price despite the closing occurring during this pandemic."
Built in 1921, The Cottage Club is situated on .41 acres and totals 5,048 square feet across eight one-bedroom/one-bathroom freestanding homes. It features private, large landscaped yards, private vegetable garden plots along with generous outdoor common area spaces available for bocce, writing, reading and relaxing.
The Cottage Club is walking distance to the trendy stretch of retail of Figueroa Street which includes a variety of coffee shops, boutique stores, bars and restaurant options. It also provides quick access to the Metro Gold Line stop which gives travelers a short traffic-free trip to downtown Los Angeles and Pasadena.