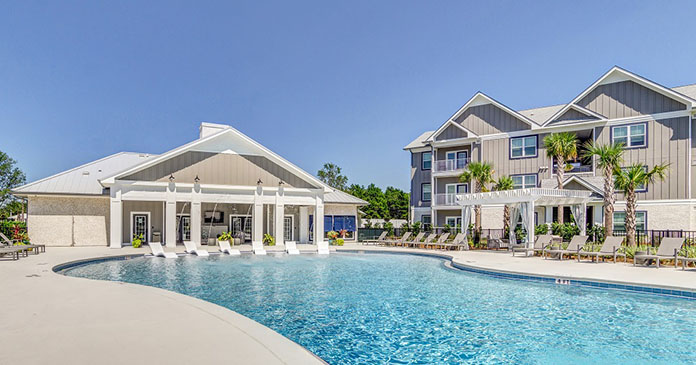 Transwestern Real Estate Services (TRS) announces its Southeast Multifamily Investment Services Group has negotiated the sale of Parkside at the Beach, a 288-unit luxury apartment community at 17225 Panama City Beach Parkway in Panama City Beach, Florida. Transwestern Managing Directors Mike McGaughy and Jon Kleinberg represented Easlan Capital and The Ardent Companies in the disposition to Preferred Apartment Communities Inc.
"Parkside at the Beach experienced tremendous lease-up success, averaging 32 leases per month and reaching stabilization within months of completion," said McGaughy. "By paying off the existing  Department of Housing and Urban Development debt and replacing it with more favorable financing, Preferred Apartment Communities is in a good position to weather current events and has future opportunity to increase net operating income by bringing property rents to market rates without jeopardizing overall affordability."
Completed in April 2019, Parkside at the Beach is one of the Gulf Coast's top-tier apartment communities, featuring spacious one-, two, and three-bedroom floorplans with an average size of 1,041 square feet and average market rent of $1,603 per unit. The 20.9-acre property includes 12 three-story residential buildings with a resort-style pool, modern fitness center, clubhouse and smart technology.
Located on Highway 98, the region's major east-west connector traversing Northern Florida's Gulf Coast, the community is surrounded by a multitude of shopping, dining and employment options, and less than a mile from Pier Park and multiple public beach access points.
"High-quality multifamily real estate that's well located and operated is always in demand," said Kleinberg. "Parkside at the Beach is a rare occurrence where you have a new, institutional-quality asset in a thriving market with considerable long-term upside potential. These fundamentals are difficult to replicate."
The population within 3 miles of Parkside at the Beach is expected to grow 7.5 percent by 2024. The average home value within this radius is $267,810, and average household income exceeds $79,000, with 30 percent of households earning more than $100,000.