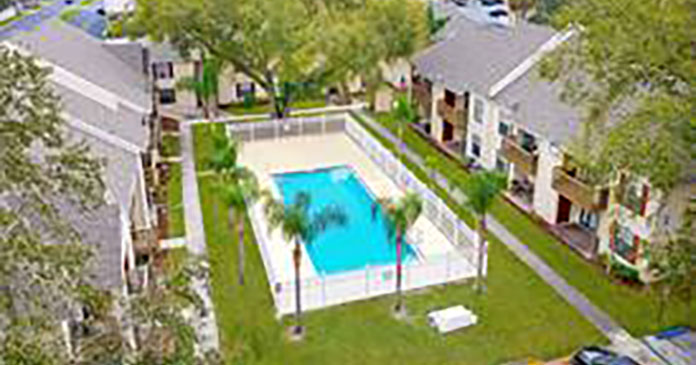 Marcus & Millichap, a leading commercial real estate brokerage firm specializing in investment sales, financing, research and advisory services, announced the sale of Walden Landing, a 44-unit apartment property located in Plant City, Fla., according to Chris Travis, regional manager of the firm's Tampa office. The asset sold for $3,425,000.
Luis Baez, CCIM, Miles Tombrink, Casey Babb, CCIM and Shawn Rupp, investment specialists of The Babb Group in Marcus & Millichap's Tampa office, had the exclusive listing to market the property on behalf of the seller, a private investor. The buyer, a private investor, was secured and represented by Luis Baez, CCIM, Miles Tombrink, Casey Babb, CCIM and Shawn Rupp.
"Due to our teams experience, track record, and relationships with the buyer and seller, we were able to navigate the potential pitfalls that COVID-19 brought on. All parties worked tirelessly to reach an amicable solution that benefitted both parties and allowed each of them to accomplish their end goal," said Miles Tombrink.
"This was the 9th deal that our team was able to close since the pandemic caused statewide shutdowns and further illustrates that The Babb Group can provide the highest quality service to our clients no matter the situation," stated Luis Baez, CCIM.
Walden Landing is located at 305 West Grant Street in Plant City, Fla. The property consists of three, two-story buildings comprising of 16 one-bedroom/one-bathroom units each 587 square feet, 16 two-bedroom/two-bathroom units each 776 square feet and 12 three-bedroom/two-bathroom units each 1,100 square feet. All three buildings are 1980's construction with wood frame and pitched shingle roofs. All tenants have access to ample off-street parking, a swimming pool, an on-site laundry facility and in-unit washer/dryer hookups. Residents are convenienced by the close proximity to I-4 which provides easy access to an abundance of jobs ranging from Tampa to Orlando.
Walden Landing is conveniently located 0.5 miles south of the East Gateway Enterprise, a half-mile stretch of property that contains nearly 200,000 square feet of commercial space and within walking distance of the historic district. Situated just minutes from employers and employment hubs, the property offers residents a central location with convenient access to many jobs. Major points of interest in close proximity to Walden Landing include I-4 (1.99 miles), Downtown Plant City (0.70 miles) and Hillsborough Community College (2.05 miles). Major cities of interest among Walden Landing residents include: Tampa (25 miles), Brandon (10 miles), Lakeland (11 miles) and Orlando (62 miles).