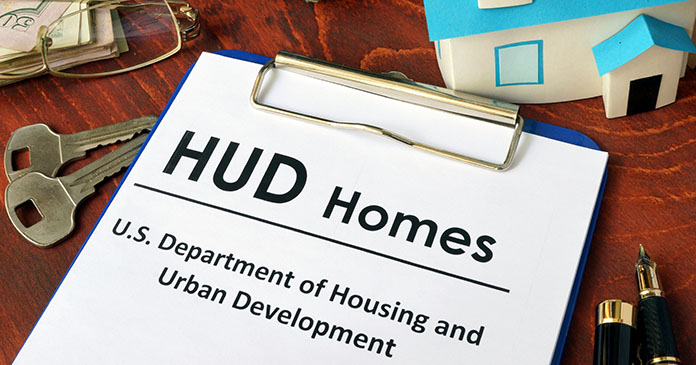 The U.S. Department of Housing and Urban Development (HUD) awarded nearly $40 million in housing counseling grants to help over one million individuals and families access HUD-approved housing counseling to help them avoid foreclosure and make more informed homebuying and rental choices.
The grants awarded today will directly support the housing counseling services provided by 204 HUD-approved local housing counseling agencies, national and regional organizations, and state housing finance agencies (SHFAs). Recipients of these grants competed through the Department's two-year (FY 2019 and 2020) Comprehensive Housing Counseling Grant Program Notice of Funding Availability (NOFA) published May 24, 2019.
"HUD-approved housing counseling agencies are on the front lines of helping individuals and families struggling financially as a result of the COVID-19 pandemic," said HUD Secretary Ben Carson. "These housing counselors help individuals and families in need to get mortgage payment relief assistance now, and to take the steps necessary to save their homes in the future."
HUD-approved housing counseling agencies provide services to address a full range of housing counseling needs. This includes assisting homebuyers in evaluating their readiness for a home purchase and navigating through the homebuying process. Nearly half of the state and local counseling agencies that were awarded HUD grants received preference because they will provide counseling to individuals and families within designated Opportunity Zones (see attached list).
"Today's funding reinforces HUD's commitment to the important role counseling plays in helping families make responsible choices to address their housing needs," said Acting Federal Housing Commissioner Len Wolfson. "In the midst of the COVID-19 pandemic, HUD-approved counselors are there to assist millions of homeowners and renters nationwide and help them keep a roof over their heads."
HUD-approved housing counseling agencies also help households find affordable rental housing, offer financial literacy training to individuals and families, and provide foreclosure prevention counseling. In addition to providing counseling to homeowners and renters, HUD-approved housing counseling agencies support emergency preparedness and disaster recovery efforts, assist homeless persons in finding transitional housing, and help seniors determine whether a reverse mortgage makes sense for them.
In Fiscal Year 2019, HUD-approved housing counseling agencies served 1,015,911 households. Approximately 52 percent of those households were minorities, including 38 percent African American and 10 percent identified as multiple races. Additionally, 19 percent of households served were Hispanic.
The following is a state-by-state breakdown of the funding announced:
Office of Housing Counseling

FY20 Comprehensive Housing Counseling Awards – HUD-718 Attachment

State
City
HCS ID
Grant Number
Agency Name
Total FY20 Award
Alabama
Florence
80197
HC200421012
Community Action Agency Of Northwest Alabama, Inc.
$22,720
Huntsville
80198
HC200421014
Community Action Partnership Huntsville/Madison & Limestone
$19,067
Decatur
82231
HC200421013
Community Action Partnership Of North Alabama, Inc.
$24,089
Tuscaloosa
80199
HC200421017
Community Service Programs Of West Alabama, Inc.
$27,285
Birmingham
82746
HC200011025
United Way Of Central Alabama Inc.*
$385,963
Alabama State Total
$479,124
Arkansas
Harrison
82081
HC200821019
Northwest Regional Housing Authority
$13,599
Little Rock
84020
HC200821021
Southern Bancorp Community Partners Dba "Community Partners"*
$23,176
Russellville
80022
HC200821023
Universal Housing Development Corporation
$21,812
Arkansas State Total
$58,587
California
San Francisco
82197
HC200921001
Asian, Inc.
$35,943
Vacaville
80142
HC200921013
City Of Vacaville
$17,251
Concord
90199
HC200011019
Consumer Credit Counseling Service Of San Francisco*
$593,495
Hayward
80139
HC200921003
Eden Council For Hope And Opportunity
$25,775
San Rafael
84852
HC200921004
Fair Housing Advocates Of Northern California
$22,263
Riverside
83810
HC200921005
Fair Housing Council Of Riverside County, Inc.
$32,747
Modesto
82528
HC200921007
Habitat For Humanity, Stanislaus
$19,073
Oakland
80759
HC200011007
National Assoc. Of Real Estate Brokers, Inv Div Housing Cns.*
$983,245
Milpitas
81203
HC200921011
Project Sentinel, Inc.
$61,159
West Sacramento
82559
HC200011013
Rural Community Assistance Corporation*
$602,705
San Francisco
81472
HC200921012
San Francisco Housing Development Corporation
$35,030
Riverside
82722
HC200011024
Springboard Nonprofit Consumer Credit Management, Inc. (credit.org)
$267,335
California State Total
$2,696,021
Colorado
Denver                                     80814                                                  HC200841001
Colorado Housing And Finance Authority*
$453,026
Colorado State Total
$453,026
Connecticut
Hartford
84080
HC200321048
Community Renewal Team, Inc.
$16,338
Rocky Hill
81218
HC200341008
Connecticut Housing Finance Authority*
$119,792
Connecticut State Total
$136,130
District of Columbia
Washington
80216
HC200321052
Housing Counseling Services*
$113,128
Washington
80221
HC200321026
Marshall Heights Community Development Organization*
$21,355
Washington
82339
HC200011011
National Coalition For Asian Pacific American Community Dev.
$350,309
Washington
84434
HC200011014
National Community Reinvestment Coalition
$830,870
Washington
80751
HC200011004
National Foundation For Credit Counseling*
$749,958
Washington
80754
HC200011005
Neighborhood Reinvestment Corporation Dba Neighborworks Amer*
$3,000,000
Washington
80758
HC200011006
UnidosUS*
$1,607,632
District of Columbia State Total
$6,673,252
Florida
Davie
84819
HC200421001
Adopt a Hurricane Family, Inc.
$9,491
Fort Myers
81174
HC200421002
Affordable Homeownership Foundation Inc.
$31,233
Pensacola
81196
HC200421015
Community Enterprise Investments Inc.
$10,405
Melbourne
81271
HC200421016
Community Housing Initiative, Inc.
$18,611
Port Charlotte
84939
HC200421018
Comprehensive Housing Resources, Inc.
$18,611
Plantation
84804
HC200421019
Consolidated Credit Solutions, Inc.
$57,664
West Palm Beach
81215
HC200431001
Credit Card Management Services, Inc.
$166,593
Lighthouse Point
90116
HC200431002
Debt Management Credit Counseling Corp.*
$95,233
Jacksonville
84859
HC200421022
Habitat for Humanity of Jacksonville, Inc.*
$14,051
Jacksonville
82224
HC200421028
Jacksonville Area Legal Aid, Inc.
$19,298
Fort Myers
84401
HC200421030
Lee County Housing Development Corporation
$18,160
Daytona Beach
81466
HC200421034
Mid-Florida Housing Partnership, Inc.
$27,595
Ocala
81664
HC200421035
Ocala Housing Authority
$41,399
Opa-locka
82411
HC200421036
Opa-Locka Community Development Corporation, Inc.
$24,546
Tampa
84639
HC200421039
Solitas House Inc.
$30,018
St Augustine
90443
HC200421042
St Johns County Board Of County Commissioners
$21,360
Sarasota
80048
HC200421043
Step Up Suncoast, Inc.
$13,599
Tallahassee
80061
HC200421045
Tallahassee Urban League, Inc.
$15,421
Clearwater
81370
HC200421046
Tampa Bay Community Development Corporation
$33,208
Lake Alfred
80049
HC200421047
The Agricultural and Labor Program, Incorporated*
$11,318
Fort Myers
84403
HC200421025
The Housing Authority of the City of Fort Myers*
$12,683
West Palm Beach
81044
HC200421049
West Palm Beach Housing Authority
$17,691
Florida State Total
$708,188
Georgia
Griffin
82241
HC200421003
Affordable Housing Enterprises Inc.
$13,595
Rome
81266
HC200421004
Appalachian Housing Redevelopment Corporation*
$16,338
Athens
82510
HC200421005
Area Committee To Improve Opportunities Now, Inc.
$13,599
Albany
80260
HC200421009
City Of Albany Dept Of Community & Economic Development
$14,512
Atlanta
81208
HC200441001
Georgia Housing And Finance*
$612,822
Atlanta
84855
HC200431003
Operation Hope*
$341,526
Stone Mountain
84149
HC200421037
Refugee Family Assistance Program
$22,432
Atlanta
83890
HC200421044
Summech Community Development Corporation, Inc.*
$14,964
Georgia State Total
$1,049,788
Hawaii
Wailuku
90276
HC200921006
Habitat For Humanity Maui, Inc.*
$16,338
Honolulu
80972
HC200921009
Legal Aid Society Of Hawaii
$20,379
Hawaii State Total
$36,717
Idaho
Boise                                        81204                                                  HC200941001
Idaho Housing And Finance Association
$222,060
Idaho State Total
$222,060
Illinois
Chicago
90062
HC200011029
Housing Action Illinois*
$1,000,206
Carlinville
83860
HC200421033
Macoupin County Housing Authority
$16,795
Chicago
84399
HC200421038
Smart Women / Smart Money Educational Foundation (Dba Smh)*
$40,933
Springfield
82240
HC200421041
Springfield Housing Authority
$12,686
Joliet
80129
HC200421051
Will County Center For Community Concerns
$29,410
Illinois State Total
$1,100,030
Indiana
Bloomington
80266
HC200421010
City Of Bloomington*
$10,135
Mitchell
80279
HC200421024
Hoosier Uplands Economic Development Corporation*
$17,247
Indianapolis
82529
HC200441002
Indiana Housing & Community Development Authority*
$97,539
Tell City
80703
HC200421031
Lincoln Hills Development Corporation*
$16,338
Indiana State Total
$141,259
Iowa
Sioux City
80262
HC200821003
Center For Siouxland
$34,888
Dubuque
82531
HC200821010
Eastern Iowa Regional Housing Authority
$12,231
Waterloo
81088
HC200821011
Family Management Financial Solutions, Inc.
$25,915
Des Moines
82457
HC200821013
Home Opportunities Made Easy, Inc. (HOME, Inc.)*
$18,836
Muscatine
80038
HC200821029
Muscatine, City Of D/B/A Muscatine Municipal Housing Agency*
$14,287
Iowa State Total
$106,157
Kentucky
Campbellsville
80146
HC200421006
Campbellsville Housing & Redevelopment Authority*
$15,882
Gray
84484
HC200421029
Kceoc Community Action Partnership
$15,425
Frankfort
81213
HC200441003
Kentucky Housing Corporation*
$173,478
Bowling Green
84247
HC200421032
Live The Dream Development, Inc.*
$11,774
Kentucky State Total
$216,559
Louisiana
Baton Rouge                          80867                                                  HC200841002
Louisiana Housing Corporation
$483,583
Louisiana State Total
$483,583
Maine
Augusta                                   81227                                                  HC200341002
Maine State Housing Authority
$24,543
Maine State Total
$24,543
Maryland
Cumberland
90373
HC200321003
Allegany County Human Resources Development Commission, Inc.*
$18,621
Annapolis
81851
HC200321004
Arundel Community Development Services, Inc.
$24,997
Riverdale
90394
HC200331001
Centro de Apoyo Familiar*
$57,274
Baltimore
90120
HC200321010
Comprehensive Housing Assistance, Inc.
$19,529
Columbia
90302
HC200011021
Consumer Credit Counseling Service Of Maryland And Delaware*
$340,489
Windsor Mill
84922
HC200321012
Diversified Housing Development, Inc.
$22,578
Baltimore
84557
HC200321015
Garwyn Oaks Northwest Housing Resource Center
$20,300
Hagerstown
83896
HC200321018
Hagerstown Neighborhood Development Partnership, Inc.
$22,725
Bel Air
80331
HC200321019
Harford County, Maryland
$36,249
Joppa
81069
HC200321051
Home Partnership Inc.
$25,002
Riverdale
80816
HC200011008
Homefree Usa, Inc.*
$1,626,403
Hyattsville
81843
HC200321023
Housing Initiative Partnership, Inc.*
$65,623
Salisbury
80334
HC200321036
Shore'Up
$12,686
Hughesville
81350
HC200321037
Southern Maryland Tri-County Community Action Committee
$25,627
Frederick
81056
HC200321014
The City Of Frederick
$30,865
Hagerstown
81797
HC200321040
Washington County Community Action Council*
$28,724
Maryland State Total
$2,377,692
Massachusetts
Boston
84865
HC200321001
Action For Boston Community Development, Inc.
$19,524
Fall River
81032
HC200321007
Catholic Social Services – Fall River*
$28,192
Boston
81504
HC200811001
Citizens' Housing And Planning Association, Inc.*
$521,015
Stoneham
81850
HC200321049
Community Service Network, Inc.*
$23,934
Boston
90101
HC200011018
Neighborhood Stabilization Corporation
$2,151,133
Taunton
81747
HC200321032
Pro-Home, Inc.*
$17,247
Springfield
82447
HC200321038
Springfield Partners For Community Action, Inc.*
$14,056
Boston
80989
HC200011009
The Housing Partnership Network*
$501,132
Massachusetts State Total
$3,276,233
Michigan
Bay City
82922
HC200321005
Bay Area Housing, Inc.*
$22,725
Jackson
83679
HC200321009
Community Action Agency*
$23,182
Grand Rapids
80310
HC200321016
Grand Rapids Urban League*
$23,171
Farmington Hills
84871
HC200011017
Greenpath, Inc.*
$1,825,372
Charlotte
90079
HC200321024
Housing Services Mid Michigan*
$25,915
Lansing
81228
HC200341003
Michigan State Housing Development Authority
$533,782
Traverse City
80312
HC200321028
Northwest Michigan Community Action Agency, Inc.
$28,649
Pontiac
82025
HC200321030
Oakland Livingston Human Service Agency
$18,621
Pontiac
80711
HC200321029
Oakland, County Of
$38,838
Michigan State Total
$2,540,255
Minnesota
St. Cloud
80822
HC200821027
Catholic Charities Of The Diocese Of St. Cloud*
$39,976
Saint Paul
82238
HC200011022
Minnesota Homeownership Center*
$502,065
St. Paul
80162
HC200821022
Southern Minnesota Regional Legal Services*
$30,921
Minnesota State Total
$572,962
Mississippi
Jackson
80035
HC200421052
Housing Education And Economic Development, Inc.
$27,896
Jackson
82376
HC200441004
Mississippi Home Corporation*
$238,201
Jackson
82507
HC200011023
Mississippi Homebuyer Education Center*
$245,379
Mississippi State Total
$511,476
Missouri
Independence
81128
HC200821008
Community Services League Of Jackson County*
$27,274
University City
90300
HC200011020
Housing Options Provided For The Elderly, Inc.*
$153,773
Kansas City
90400
HC200821017
Neighborhood Housing Services Of Kansas City, Inc.
$12,686
St. Louis
82040
HC200821026
Youth Education And Health In Soulard
$22,569
Missouri State Total
$216,302
Montana
Great Falls                               83698                                                  HC200011027
Montana Homeownership Network Dba Neighborworks Montana*                                                                                $370,189
Montana State Total                                                                                                                                                                                                                                                                                                $370,189
Nebraska
Fairbury
90219
HC200821002
Blue Valley Community Action, Inc.*
$19,986
Omaha
82478
HC200831001
Credit Advisors Foundation
$110,045
Omaha
80556
HC200821028
Family Housing Advisory Services, Inc.
$37,307
Chadron
81530
HC200821012
High Plains Community Development Corp., Inc.
$40,659
Nebraska State Total
$207,997
New Hampshire
Bedford                                   81229                  HC200341004
New Hampshire Housing Finance Authority*
$146,124
New Hampshire State Total
$146,124
New Jersey
Marmora
81761
HC200331002
Consumer Credit And Budget Counseling, Inc.*
$139,008
Manalapan
84870
HC200411001
Garden State Ccc, Inc. Dba Navicore Solutions*
$473,199
Trenton
84009
HC200011028
Housing And Community Development Network Of New Jersey*
$240,773
Trenton
81231
HC200341005
New Jersey Housing And Mortgage Finance Agency*
$214,449
Union City
80255
HC200321053
North Hudson Community Action Corporation
$13,599
Paterson
81792
HC200321022
Paterson Housing Authority*
$13,599
Audubon
80409
HC200321035
Senior Citizens United Community Services, Inc.
$28,950
New Jersey State Total
$1,123,577
New York
Belmont
83459
HC200321002
Allegany County Community Opportunities & Rural Development*
$33,208
Brooklyn
90253
HC200321017
Greater Sheepshead Bay Development Corporation
$9,491
New York
81639
HC200011010
National Urban League*
$721,416
New York
82772
HC200011026
New York Mortgage Coalition, Inc.*
$311,594
New York
80938
HC200341001
New York State Housing Finance Agency*
$804,256
Niagara Falls
84845
HC200321027
Niagara Falls Neighborhood Housing Services, Inc.
$14,969
Rochester
90142
HC200011030
Pathstone Corporation*
$245,181
Far Rockaway
81091
HC200321034
Rockaway Dev & Revitalization
$12,686
New York
82204
HC200321039
Strycker's Bay Neighborhood Council, Inc.
$9,948
New York
90284
HC200321008
The Center for New York City Neighborhoods, Inc.
$30,459
New York State Total
$2,193,208
North Carolina
Siler
83853
HC200421008
Chatham County Housing Authority
$13,143
Greensboro
82576
HC200421026
Housing Authority Of The City Of Greensboro*
$24,089
High Point
81642
HC200421027
Housing Authority Of The City Of High Point
$14,738
Raleigh
90188
HC200011031
North Carolina Housing Coalition
$644,257
Raleigh
84494
HC200011015
Telamon Corporation*
$329,353
New Bern
81665
HC200421048
Twin Rivers Opportunities, Inc.
$20,899
Hickory
80193
HC200421050
Western Piedmont Council Of Governments*
$35,787
North Carolina State Total
$1,082,266
Ohio
Cleveland
80421
HC200321047
Community Housing Solutions*
$19,986
Dayton
81033
HC200321011
County Corp*
$32,602
Akron
81234
HC200321050
Fair Housing Contact Service, Inc.
$27,130
Painesville
82134
HC200321013
Fair Housing Resource Center, Inc.*
$26,366
Lima
84585
HC200321041
West Ohio Community Action Partnership
$18,160
Cincinnati
83451
HC200321043
Working In The Neighborhoods*
$20,442
Fremont
82239
HC200321044
Wsos Community Action Commission Inc.*
$11,774
Youngstown
84158
HC200321045
Youngstown Metro Housing Authority
$16,338
Youngstown
82697
HC200321046
Youngstown Neighborhood Development Corporation
$21,355
Ohio State Total
$194,153
Oklahoma
Oklahoma City
81015
HC200821005
Community Action Agency Of Okc & Ok/Canadian Counties, Inc.
$15,135
Enid
81135
HC200821007
Community Development Support Association, Inc. (Cdsa)
$12,686
Hugo
81317
HC200821014
Housing Authority Of The Choctaw Nation Of Oklahoma*
$37,757
TULSA
81255
HC200821015
Housing Partners Of Tulsa, Inc.
$25,459
Tulsa
84311
HC200821020
Quickcert, Inc.
$119,448
Oklahoma State Total
$210,485
Oregon
La Grande
83237
HC200921002
Community Connection Of Northeast Oregon, Inc.*
$17,708
McMinnville
81970
HC200921008
Housing Authority of Yamhill County (HAYC)*
$19,986
Hillsboro
80013
HC200921010
Open Door Counseling Center*
$37,021
Oregon State Total
$74,715
Pennsylvania
Philadelphia
82152
HC200321020
Hispanic Association Of Contractors And Enterprises*
$42,214
Philadelphia
90182
HC200321025
Intercommunity Action Inc.
$14,051
Philadelphia
84546
HC200011016
Nueva Esperanza, Inc.*
$530,674
Philadelphia
82758
HC200321031
Pennsylvania Community Real Estate Corp
$28,555
Harrisburg
81236
HC200341006
Pennsylvania Housing Finance Agency*
$1,355,454
Homestead
80084
HC200011001
The Mon Valley Initiative*
$509,487
Greensburg
82463
HC200321042
Westmoreland Community Action
$18,013
Pennsylvania State Total
$2,498,448
Rhode Island
Providence                              81892                                                  HC200321033
The Housing Authority Of The City Of Providence*
$15,425
Rhode Island State Total
$15,425
South Carolina
Charleston
81469
HC200421007
Charleston Trident Urban League
$20,442
Greenville
81745
HC200421021
Greenville County Human Relations Commission*
$34,428
Barnwell
90167
HC200421040
Southeastern Housing And Community Development*
$25,915
South Carolina State Total
$80,785
South Dakota
Pierre                                       81249                                                  HC200841003
South Dakota Housing Development Authority
$177,252
South Dakota State Total
$177,252
Tennessee
Rutledge
82934
HC200421011
Clinch-Powell Resource Conservation And Development Council*
$20,899
Johnson City
90115
HC200421020
Eastern Eight Community Development Corporation*
$26,823
Nashville
82378
HC200441005
Tennessee Housing Development Agency
$160,712
Jackson
80293
HC200011002
West Tennessee Legal Services, Inc.*
$658,051
Tennessee State Total
$866,485
Texas
Austin
81507
HC200821001
Austin Habitat For Humanity, Inc.
$19,165
San Antonio
80999
HC200821004
City Of San Antonio /Neighborhood & Housing Services Dept.
$22,263
Houston
83625
HC200821009
Easter Seals Of Greater Houston, Inc.
$24,084
Sugar Land
82554
HC200011012
Money Management International, Inc.
$943,528
Lubbock
83903
HC200821018
North & East Lubbock Community Development Corporation
$12,050
Waco
82519
HC200821025
Waco Community Development
$19,986
Texas State Total
$1,041,076
Utah
Provo
80228
HC200821006
Community Action Services And Food Bank*
$17,708
Logan
80561
HC200821024
Utah State University*
$37,708
Utah State Total
$55,416
Vermont
Rutland                                    83618                                                  HC200321006
Bennington Rutland Opportunity Council, Inc.*
$34,348
Vermont State Total
$34,348
Virgin Islands
St. Thomas                              84878                                                  HC200441006
Virgin Islands Housing Finance Authority*
$42,614
Virgin Islands State Total
$42,614
Virginia
Alexandria
80750
HC200011003
Catholic Charities USA*
$781,518
Richmond
82561
HC200341007
Virginia Housing Development Authority*
$976,078
Virginia State Total
$1,757,596
Washington
Seattle                                     81205                                                  HC200941002
Washington State Housing Finance Commission*
$311,638
Washington State Total
$311,638
West Virginia
Delbarton                                80591                                                  HC200321021
Housing Authority Of Mingo County
$16,648
West Virginia State Total
$16,648
Wisconsin
Madison                                                                                                            84473                       HC200821016            Movin' Out, Inc.*
$27,741
Wisconsin State Total
$27,741
* Grantees received preference points for qualified activities within a designated Opportunity Zone.