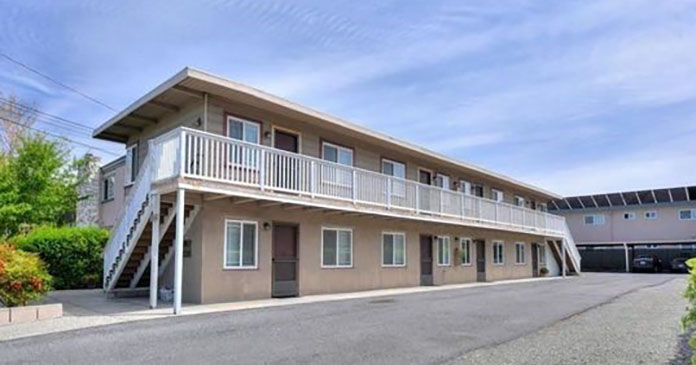 Levin Johnston of Marcus and Millichap, one of the top multifamily brokerage teams in the U.S. specializing in wealth management through commercial real estate investments, has completed the sale of a 59-unit multifamily portfolio comprised of three adjacent buildings in Santa Clara, California for a total consideration of approximately $24.7 million.
Levin Johnston's Executive Managing Director Adam Levin and Senior Managing Director Robert Johnston represented the seller and procured the buyer in the off-market transaction.
"We initially helped the seller acquire these properties a few years ago, so we were well acquainted with the assets and the recent upgrades made across the portfolio," explains Johnston. "We were ultimately able to secure a strong price for the seller, while setting up the buyer with a long-term investment opportunity with further value-add potential. By purchasing all three properties together, the new owner will also benefit from economies of scale."
According to Levin, investor demand outweighs the current supply of available multifamily properties in the Bay Area. Drawing upon strong relationships and knowledge of the local market, Levin Johnston was able to bring this deal to the finish line, even in the midst of the pandemic.
"The investment appeal of this portfolio is driven by Santa Clara's strong employment fundamentals and low vacancy levels," says Levin. "This portfolio is primarily located in the thriving tech hub of Silicon Valley—Santa Clara is the ninth most populous city in the San Francisco Bay Area and is positioned to drive long-term resident demand for years to come."
The portfolio is situated near many of the largest tech companies, including Intel, Google, Apple, and LinkedIn, and provides easy access to major highways, shopping, dining, and entertainment options, Johnston notes.
The three properties in the portfolio, also known as Marymount Place Apartments, include:
1962 Bellomy Street, a 37-unit multifamily property that is situated on 0.96 acres, which sold for approximately $15.9 million. Originally constructed in 1961, the property features an attractive mix of one studio apartment, fourteen one-bedroom/one-bathroom apartments, eighteen two-bedroom/one-bathroom apartments, and four three-bedroom/two-bathroom apartments. The asset's interior has been recently renovated with new paint, hardwood floors, cabinets, and modern stainless-steel appliances.
1978 Bellomy Street, a 14-unit multifamily property which sold for a total of approximately $6.1 million. The building was constructed in 1964 and offers renters a mix of one-bedroom/one-bathroom, two-bedroom/one-bathroom, and four-bedroom/two-bathroom apartments. Recent interior upgrades made to the property include new paint and carpet, modern kitchen appliances, and the installation of A/C units.
1972 Bellomy Street, an 8-unit multifamily property that sold for approximately $2.7 million. The asset was originally constructed in 1951 and has a gross building area of 2,880 square feet, offering its tenants strategically designed one-bedroom floor plans.
Shared community amenities include on-site laundry facilities, a swimming pool, and covered parking.