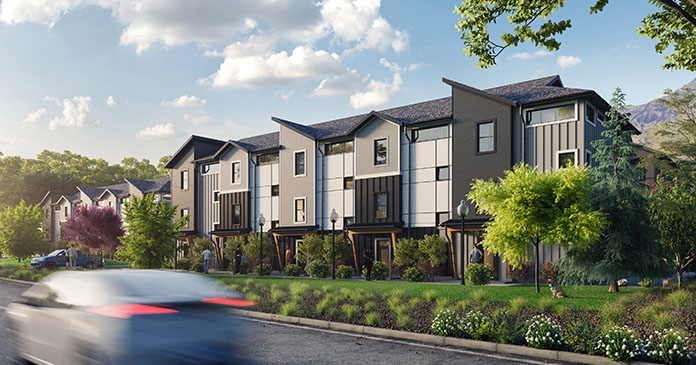 Trez Capital announced the closing of construction loans for Lotus Company's two townhome communities, Foxridge and Whisperwood, in Ogden, Utah. The two loans, totaling $12.1 million, are part of Trez's first financing agreement with Lotus Company to develop Class A affordable townhome rental properties.
"Utah's overall population has experienced rapid growth according to census data and Ogden in particular has been ranked among the top in the nation for job growth as of 2019 federal statistics, so the demand is  high for affordable, for-rent housing in the area," said Jason Stowe, vice president at Trez Capital. "This is our first financing deal with Lotus Company—they are widely recognized for their varied expertise in large-scale residential and mixed-use projects, and we know these communities will be another economic driver for the city."
Foxridge spans 38,000 square feet of rentable space and will feature 26 townhomes with two- and three-bedroom floorplans. The project broke ground in January of this year and is expected to be complete by December 2020.
Whisperwood also broke ground in January and will feature 40 townhomes with 57,000 square feet of rentable space. Residents can choose from two- and three-bedroom floorplans. All units are comprised of a modern aesthetic, high-end design featuring two-car garages and energy efficient upgrades throughout. It is slated for completion by February 2021.
Interior finish-out at Whisperwood and Foxridge will feature stainless steel appliance packages and custom kitchens with high-end countertops, upgraded plumbing and electrical fixtures and oversized windows and artful sightlines throughout. And, residents will enjoy outdoor residence community areas with amenities such as communal barbecues, manicured walking paths and gazebos perfect for celebrating with friends and family.
"I have a deep appreciation for the natural character of Ogden City and both Foxridge and Whisperwood will enhance the urban vitality of Ogden as a whole. These two new developments are destined to become the high watermark for residential community design in the area and beyond," said Lotus Company Founder and CEO, Bryan Wrigley. "Trez has been a valuable partner throughout and we look forward to sourcing more deal opportunities."
The Lotus Company, recognized for thoughtful design and sustainability, has evolved into an award-winning property venture and hospitality organization mastering urban infill and revitalization, large-scale residential & commercial mixed-use projects and best-in-class hospitality projects that include brewing, distilling and roasting, as well as bar and restaurant ownership.
Both communities are 40 miles north of Salt Lake City and are located along Canyon Road, east of Washington Blvd., offering easy access to restaurants, shopping and the most scenic parts of Ogden. Ogden River Parkway, situated near Ogden River, is a beautiful 4.4-mile trip through nature in the heart of downtown Ogden. El Monte Golf Course, Ogden Botanical Gardens and Big D Sports Park are also nearby.