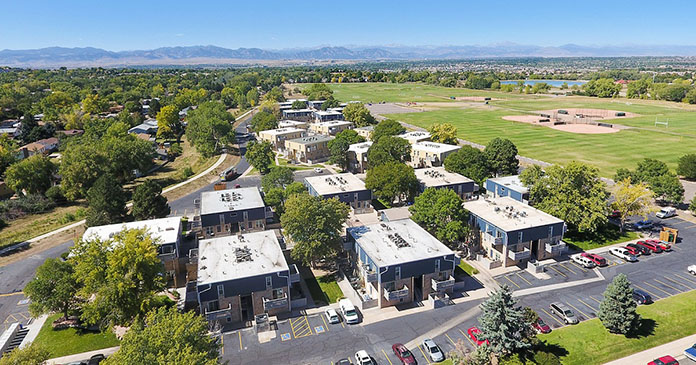 Trion Properties, a real estate private equity firm that specializes in multifamily investments in western markets, has acquired The View at North Peak, a 288-unit multifamily community in Northglenn, Colorado, a suburb of Denver. The mixed-income property was purchased in an off-market transaction for $38 million.
The transaction is Trion's first acquisition in the Denver market, where the company has been strategically evaluating acquisition opportunities since last year, according to Max Sharkansky, Managing Partner at Trion Properties.
"As an experienced owner and operator of apartment communities in the western region, including the Greater Portland, Bay Area, and Los Angeles markets, we recognize Denver as a market with powerful potential for return on investment," Sharkansky says. "Denver benefits from strong employment, an affordable cost of living relative to the very high quality of life the area offers, a pool of sophisticated top talent, and the expansion of several prominent companies. These include Amazon, which recently announced Denver as one of six U.S. tech hubs it's growing in, and Palantir, which is moving its headquarters to Denver and expects to continue to expand in the market, among others."
The Northglenn submarket has been experiencing significant growth in recent years. In 2018 alone, the area saw the completion of $350 million in commercial projects, including a 2.4 million square-foot Amazon distribution facility, a 350,000 square-foot Denver Premium Outlets, and Topgolf's second Colorado location. Other notable employers include Google, which opened a satellite office in the submarket; Maxar Technologies; and Park 12 Hundred Tech Center.
David Moghavem, Director of Acquisitions at Trion Properties, adds: "Northglenn is well positioned geographically to serve as an affordable suburb to a multitude of major employment hubs. Downtown Denver, Denver's top employment hub, is just 11 miles south of Northglenn via the I-25. Northglenn also serves as a feeder to the US-36 Interlocken Tech Corridor and Broomfield to the west, Boulder to the northwest, and the booming DIA submarket to the East."
Moghavem also notes that the submarket is well positioned to continue to thrive, with the City of Northglenn embracing its ongoing growth by further improving the neighborhood, most notably through its $53 million-plus Civic Center Master Plan.
Craig Stack from Colliers represented both the buyer and the seller in this transaction. Continental Partners arranged the acquisition financing with Fannie Mae.
Because of the pandemic, Trion was careful to underwrite conservative worst-case scenarios and implemented a well-planned strategy to acquire the asset using favorable debt, according to Moghavem.
Trion plans to rebrand the property to View Apartments and implement a series of cosmetic renovations, continuing along a successful existing program of upgrades to the community.
Built in 1970, The View features spacious one- and two-bedroom apartment homes. Units include living and dining rooms with access to private patios or balconies. Community amenities include two swimming pools and large outdoor green spaces. View Apartments is surrounded by nature trails and offers panoramic views of the Rocky Mountains.
View Apartments is located at 10701 North Pecos Street in Northglenn, Colorado.