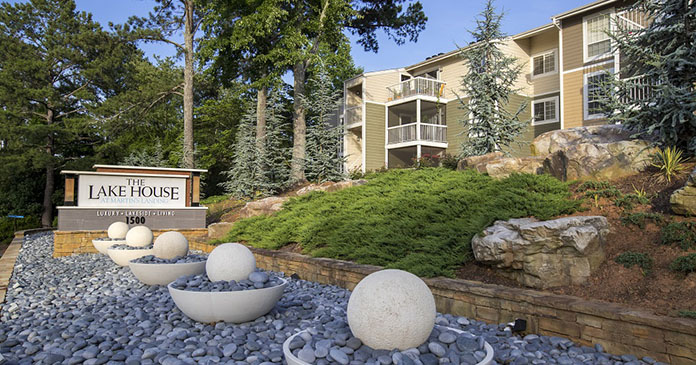 Transwestern Real Estate Services (TRS) announces its Southeast Investment Services team has brokered the disposition of The Lake House at Martin's Landing at 1500 Harbor Landing in Roswell, Georgia. Transwestern Senior Managing Directors Mike McGaughy and Jon Kleinberg represented Aspen Square Management in the transaction. Privately held real estate investment firm 29th Street Capital purchased the suburban Atlanta apartment community for an undisclosed price.
"The Lake House at Martin's Landing is unique, offering direct access to a 53-acre lake and more than 2 miles of walking trails in a location surrounded by high-end residential," said McGaughy. "With a unit mix weighted toward two- and three-bedroom residences and an average unit size of 1,413 square feet, the buyers have an opportunity to capitalize on renters desiring more living space."
The Lake House at Martin's Landing consists of 300 garden-style units within a 1,030-acre master-planned residential community. Benefitting from exclusive amenities, including a rare lakeside setting, the property completed a $5.6 million capital improvement campaign to renovate units, enhance community features and upgrade the property elements and systems. Adjacent to new, award-winning Esther Jackson Elementary, The Lake House at Martin's Landing is the only multifamily community among 1,200 single-family residences.
The Lake House at Martin's Landing offers residents an unrivaled central location in the middle of one of Atlanta's most dynamic and vibrant growth corridors. The employment base in the northern suburbs has increased substantially over the past decade due to the corporate relocations and expansions of companies such as Comcast, Mercedes-Benz and State Farm. Additionally, the highest concentration of healthcare jobs in metro Atlanta is located just south of the property in the Central Perimeter submarket.
"We are extremely pleased with the transaction," said Aspen Square Management Vice President Jeff Strole. "Having a buyer like 29th Street Capital and an experienced brokerage team like Mike and Jon always leads to a good outcome. Lake House has been a great asset in the Aspen Square portfolio."
Transwestern's Southeast Investment Services Group combines capital markets and investment banking expertise with local market knowledge and proven transaction execution to provide strategic disposition services for multifamily, office, retail, medical, industrial and land assets across the Southeast. Based in Atlanta and Miami, the team has established a successful track record for maximizing value and creating long-term relationships with clients that range from local entrepreneurs to the largest corporations in the country.
Since the beginning of the year, the group has facilitated investment sales transactions totaling more than $300 million.