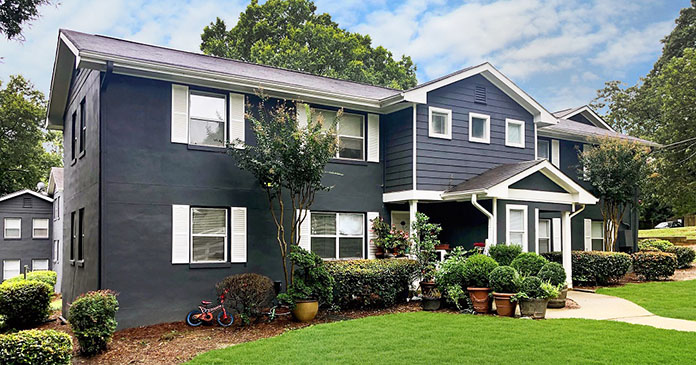 Cushman & Wakefield has arranged the $85.2 million sale of six properties totaling 872 units on behalf of JEM Holdings and Zavala Capital Group. Three of the properties are located in Atlanta, two are located in Charlotte, North Carolina, and one is located in Raleigh, North Carolina.
Cushman & Wakefield represented the sellers in the transactions. Watson Bryant and Paul Marley represented JEM Holdings in the Carolinas while Travis Presnell and Wesley Kenney represented Zavala Capital Group in Atlanta. New Jersey-based property owner Friedlam Partners acquired the properties.
"This well-located infill portfolio creates a great base for Friedlam Partners to enter the Atlanta market and expand," Presnell said." Each of these assets have unique value-add opportunities and will create long-term stability offering affordability within high incomes submarkets."
The properties sold by JEM Holdings include:
The 192-unit 59Twenty @ Monroe, previously known as Hanover Landing, located in Charlotte
The 196-unit Two20 @ Branchview, previously known as Windgate Place, located in Charlotte
The 176-unit Enclave @ Crabtree, previously known as Casa del Sol, located in Raleigh
The properties sold by Zavala Capital Group, all of which are located in Atlanta, include:
The 130-unit 743 @ Howell Mill
The 112-unit Lenox Place
The 66-unit Rio at Lenox
"It was a pleasure to work with Nathan Friedman and Evan Goldenberg on this portfolio transaction as they continue to scale and add efficiencies in two of the most sought-after markets in the Southeast," Marley said. "Each individual asset is well positioned for growth due to their strong locations and will benefit greatly from the capital improvement program that is planned."
Cushman & Wakefield's Sunbelt Multifamily Advisory Group ranks No. 1 in Sunbelt market share based on over 300 transactions and $7.0 billion in multifamily and land investment sales in 2019 (Source: Real Capital Analytics). Market share reflects sales for Alabama, Arkansas, Northwest Florida, Georgia, Kentucky, Louisiana, Mississippi, North Carolina, South Carolina, Tennessee and Texas.