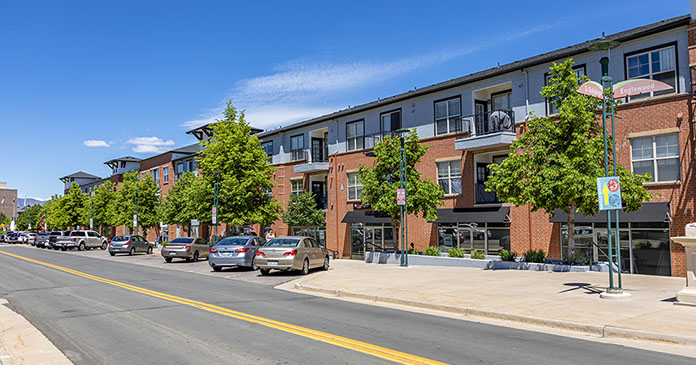 Oak Coast Properties announced the $123.5 million acquisition of ArtWalk Apartments at City Center, a best-in-class 438-unit transit-oriented apartment community located in Englewood, Colorado. The purchase highlights Oak Coast Properties' continued bullish stance on investment in rental housing within Colorado's major metropolitan markets, where demand for rentals outpaces supply. The firm is planning a $4.4 million renovation as part of a continued community value-add investment strategy aimed at enhancing the apartment units and amenities for the region's renters. With the purchase of ArtWalk Apartments, Oak Coast Properties' multifamily portfolio now exceeds 4,608 units under management, with over $1 billion in valuation.
ArtWalk Apartments at City Center is superbly located in one of metro Denver's most desirable suburban submarkets. The transit-oriented community is positioned directly adjacent to the RTD Light Rail Englewood Station, providing easy access to many points within the city. The community's neighborhood offers a suite of amenities encompassing recognized national brands, as well as locally owned shops and restaurants in nearby downtown Englewood. Additionally, residents of the community enjoy easy access to local employment hubs such as Swedish Medical Center, Craig Hospital, Porter Adventist Hospital and University of Denver, as well as to downtown Denver and the Southeast Business Corridor.
"ArtWalk Apartments is an exceptional community that offers renters a value-oriented alternative to options in central Denver, where prices are much higher," says Phil Nahas, managing partner of Oak Coast Properties. "The quality and location of this asset, in a supply-constrained submarket, make it an attractive acquisition for us."
A mixed-use community, ArtWalk Apartments is grounded with 15,329 square feet of streel-level retail space and amenities. Apartment units average 919 square feet and the community is currently 95 percent occupied. ArtWalk Apartments features a robust suite of shared amenities including: an onsite business center, conference room and cyber café; highly amenitized clubhouse; swimming pool and spa; courtyard with patio seating; 24-hour fitness center with yoga studio; and an art studio.
Originally built in 2001, ArtWalk has recently undergone a renovation of a portion of the units under the prior owner. Oak Coast Properties is planning to complete enhancements to the remaining units, in addition to upgrading the community's amenities with the addition of new secure delivery package lockers, dog park, pet washing station, the firm will also make some adjustments to existing amenities.
"We plan to complete the prior owner's upgrade plans to optimize the marketability of all units within the community," adds Nahas. "Apartments are harder to come by in this submarket, while employment and the population both continue to trend upward, thus quality housing options are needed here."
JLL Capital Markets, a full-service global provider of capital solutions for real estate investors and occupiers, arranged a Freddie Mac Optigo loan in the amount of approximately $87 million on behalf of Oak Coast Properties for the acquisition. Financing was led by senior managing director Charles Halladay, senior director Brock Yaffe, director Rick Salinas, and analyst Matt Cimino.
Jordan Robbins and Pamela Koster, managing directors with JLL, represented the seller in the transaction.
"Artwalk's appeal is its location, which feels suburban but still offers a number of urban attributes such as walkability to grocery shopping, restaurants and other local retail," says Robbins. "These factors, coupled with the strength of the Denver market over the past several months, led to exceptional interest in this asset from potential buyers."
Echelon Property Group, one of Colorado's leading apartment management companies, will manage the community.