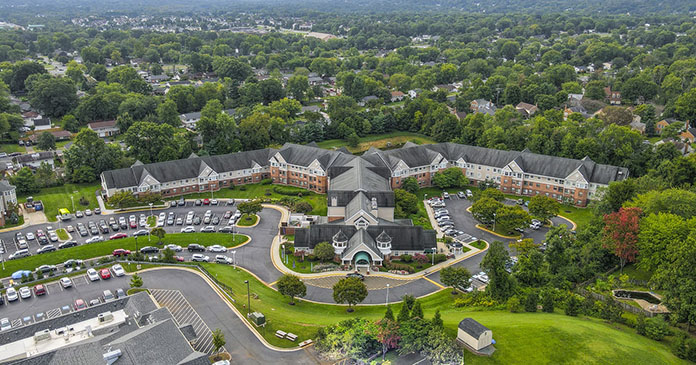 Avanath Capital Management, a private real estate firm that invests in affordable and workforce housing properties throughout the U.S., has announced the acquisition of a senior affordable housing community located in Sterling, Virginia and a historic affordable family community in San Jose, California, comprising 209 units in total. The properties were purchased for $44.65 million.
The acquisitions represent the firm's continued expansion into new markets as well as its ability to realize economies of scale in markets where it currently owns assets, according to John Williams, President and CIO of Avanath Capital Management.
"As a leading owner and operator of affordable housing communities in key markets throughout the country, Avanath is adept at identifying markets with strong population and job growth where opportunity exists to provide attractive and affordable apartment communities for residents throughout the area," says Williams. "Northern Virginia, where we now own four assets, and Northern California, where we now own eight assets, are two regions that show great potential for continued economic growth and affordable housing demand, as well as favorable risk-adjusted returns for our investors."
Avanath has purchased the following properties:
Cascades Village in Sterling, Virginia
Avanath Capital Management has acquired Cascades Village, a 150-unit senior affordable housing community in Sterling, Virginia, for $27.15 million.
Sterling, Virginia is located in Loudon County, one of the most affluent counties in the Metro Washington D.C. area.
"Avanath was attracted to Sterling because home pricing and existing market-rate product in the market are unaffordable to lower income renters, resulting in a significant demand for affordable rental units in the area," says Williams.
Located approximately 26 miles northwest of Washington D.C., Cascades Village provides the firm with the opportunity to increase its footprint in the Washington D.C. region and add a high-quality senior community to its portfolio, notes Williams.
"Cascades Village is located only 2.5 miles away from our affordable community, Acclaim at Sterling, and this proximity will allow for immediate operational efficiencies upon acquisition," says Williams.
In addition to Cascades Village and Acclaim at Sterling, Avanath also owns two other properties in Virginia: Acclaim at Ashburn in Ashburn and Alexandria Station in Alexandria. The firm now owns a combined total of 673 units in Virginia.
Built in 2001, Cascades Village is a three-story apartment community that is restricted to residents ages 55 and older and is 98.7 percent occupied.
Situated on 5.65 acres, Cascades Village features 180 surface parking spaces and community amenities including 24-hour emergency maintenance, a beauty salon, billiards, controlled-access entry, elevator service, a fitness center, a gazebo, a hospitality suite for guests, a library, a multi-purpose entertainment room, on-site laundry facilities, a solarium, an outdoor patio with charcoal grills, and a screened-in porch.
Avanath is planning to implement its value-add strategy to the property, which includes adding tenant wellness services and senior activity planning and improvements to the common areas and amenity spaces.
Cascades Village is located at 46565 Harry Byrd Highway in Sterling, Virginia.
Vintage Tower in San Jose, California
Avanath Capital Management has also acquired Vintage Tower, a 59-unit historic affordable housing community in San Jose, California, for $17.5 million.
The San Jose MSA has undergone significant growth over the last several years, which has placed upwards pressure on housing prices and home affordability.
"There is a demonstrated need for properties that provide important affordable housing to qualifying residents in the San Jose market," says Williams. "While Vintage Tower is Avanath's 13th acquisition in Northern California, it is our first acquisition in San Jose. This community presents an opportunity to acquire a historical, high-rise apartment building that provides housing to low-income families in one of the most expensive markets in the country and the potential for strong returns for our investors."
Built in 1928 in the heart of Downtown San Jose and renovated in 1987 and 2004, Vintage Tower is a fully occupied 12-story mid-rise building with an average of 559 square feet per unit. The community features in-unit amenities including a self-cleaning oven, dishwasher, and garbage disposal. Two penthouse units on the 11th floor also have large private balconies. In addition to 76 parking spaces on the first floor of the adjacent property to the north, the property features community amenities including two elevators, secured access, on-site laundry facility, courtyard, and additional storage space.
Due to its age, history, and location, Vintage Tower has been designated as an historic city landmark in San Jose. Originally constructed as a medical and dental building, the property was converted to apartments and commercial space in 1987 utilizing low-income housing tax credits via Section 42, which went into effect the year prior. San Jose First United Methodist, a church founded in 1847 that is located adjacent to the property, participated in a second LIHTC refunding of Vintage Tower in 2004, which included improving residential units and retail spaces, seismic upgrading, and a new courtyard and exercise facility.
The property contains unique historic features including original art painted on walls and wood on various floors, carved wood banisters in stairwells, two original 2,000-gallon water-storage tanks from 1928 in the maintenance shop, and an original medical incinerator located in the manager's office.
Avanath is planning to invest capital into the property for continued improvements to the units and exterior. In addition, the firm is implementing a free program for residents where it partnered with Wellbeats, a fitness app that offers various virtual classes, to all residents of Vintage Tower, which will allow residents to exercise at home during the COVID-19 pandemic.
In addition to Vintage Tower, Avanath currently owns seven other properties in the Northern California market, including Geneva Pointe and Renwick Square in Elk Grove, Lincoln Creek in Dixon, Oak Village in Oakland, Sierra Creek in Antelope, and Sutter Terrace and Woodcreek Terrace in Roseville. The firm now owns a total of 998 units in Northern California.
Vintage Tower will be managed internally by Avanath's property management group Avanath Realty Inc. The property is located at 235 E. Santa Clara Street in San Jose, California.